$100 spent at Cold Storage!?
27th April 2009, Monday

With my sister off to her 3 weeks travel down under and my folks off for another Genting escapade for the weekend, the missus and myself had the entire house for ourselves and ultimately fend for our gastronomical requirements for the past 3 days.

Well as you know, I ain't earning big bucks and at such arid time of economic uncertainties, never would we have the audacity to grace the Cold Storage at Takashimaya and spending a cool $100 just on mere groceries...
It was what exactly happened on Saturday in a scheduled trip between us...

Of course beside the extravagant spending, we also faced the prospect of decimating the value on our cash card with at least 2 ERP gantries to cross and that obscene amount for parking in Ngee Ann City itself...Then there was the mad traffic both automobile on the expectedly cramped Orchard Boulevard and the human congestion in Takashimaya which really didn't give the missus a pleasant time.
One really ponders why I insist to hit the joint, well days before I recieved some Takashimaya vouchers from my workplace in appreciation for the time (what time?) I put in for some committee.
It was a welcome surprise but I accepted it without a trace of remorse like I damn deserved it maybe I do.

So I better spend the vouchers as fast as I can find the opportunity.
The idea was to get some ingredients to whip up a fast but nice dinner, some for breakfast for the next 2 days as well as my weekly yogurt and juice needs.
So we went around the aisles to pick up the foodstuff which quite a portion was imported from our beloved holiday destination.
Cold Soba would be the main carbohydrate source with

unagi

(eel) and some sushi platter to whet more appetite.
I even went to get some items which I rarely would pick up even to appease myself due to the high cost of it.
Despite our trolley being half failed by the time I went to foot the bill, I could still hardly believe my eyes when the cash register went beyond the $100 mark..
I didn' use up all the vouchers and paid quite a fraction by cash; I still felt the pinch and we might had overspent this time.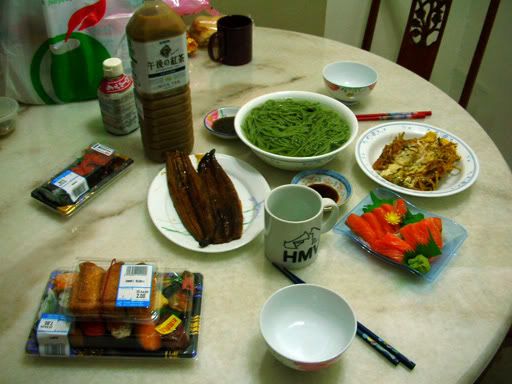 But it was a nice dinner for us which matters most...

Sunday was pretty quiet all by myself for most it before the storm which had been brewing due to the unbearable heat swept the island.
Met up with the La Tendo clique for badminton on Saturday and a good time to catch up especially Chan who had been a no-show for a while now.
Heard that YH was selected for a lucky draw for some spending at Suntec City and had a 1 in 5000 chance to walk home with a car; well she couldn't be more lucky, firstly to be one of the 20 contestants picked up for the key selection and then picking the right key to unlock the Mazda 6 sedan.
Perhaps our birthday boy Vincent (on Saturday) might have brush off some luck to her...

Japanese word of the day: 運命 ~un-me-i~(Fate) Some people get shopping vouchers, others win a car...