No pot of Gold at the end of the Rainbow
Fact: The ousted runner-up of the inaugural "Singapore Idol", Sylvester Sim is releasing his debut Mandarin album today, titled "起飛" in English means "Take off'

It seems like Sony/BMG is tipping Sly (more affectionate known as) to take off into a major superstar.
But seriously I doubt Sly and his Idol compatriot, Taufik Batistuta..I mean Batistah could really last more than 2 albums since this Idol euphoria would be faded into oblivion especially with the memory of us Singaporeans..

However since Sly is dabbling in the mandarin pop scene, there's a chance he would have a slightly longer-lasting success with another album (since Comic Kidz 可米小子& Cyndi Wang 王心凌 can do it, I'm sure Sly can do likewise)

Actually it doesn't seems hard ro break into the Taiwan market, even if I smear manure all over my face and do a pretty lousy cover of a cheesy but upbeat Japanese /Korean /English /Thai /Tagalog/Hindi/Zulu, and have a better singing talent than Leon Lai (which is not that hard by the way trust me), I'm sure I would be a big hit...
Of course I have to make appearances at all entertainment new progams and variety shows, giving out free copies of my CD albums, get punked out by the cpmperes, get physically harassed by Dee Hsu (徐熙娣)from "康熙来了", get slapped by 余天, and of course fooling around with Jacky Wu's gang...
Then again there would be the 3 billion people China market... can even peddle bootleg versions of my own album CDs using bootleg Compact Disc on bootleg tables using bootleg stereo system and loudspeakers, and no worried about caught out by law since the police are bootlegs as well..

Anyway how Sly sapped the allowance money of his young fans/suckers, it's really not my problem. But what really aggravated me is that as reported by Today (on 7th April 2005) is that he would doing a cover of L'Arc~en~ciel's song...Oh hell no that he is doing so, no way he's ruining my fave J rock band... no way he can emulate Hyde-sama's vocal ability... He couldn't be breathing the same air as Laruku is breathing...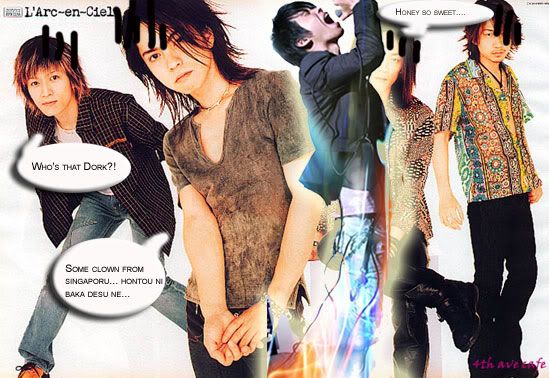 Then again who am I to prejudice him when myself had a woeful experience when doing my own tribute to Laruku...

The year was 1999 or was it 2000... anywah I was still doing my Japanese classes at JCS (Japanese Culture Society), they had their annual karaoke competition. With a return ticket to Japan and $2000 prize money, I decided to give it a try...
I felt I had to revitalised the dour competition usually marred by elderlys doing "enka", thus choosing to do "虹" by L'Arc~en~ciel.
It had a haunting yet soothing tune and generally a much simpler lyrics to follow (of course plenty of English inside as well like "labyrinth to your heart").

We have to submit a copy of the background music to the song we were performing a week before. But I looked in vain for the karaoke version to the song, thus decided to tape the song using the "Karaoke" mode of my stereo system then which helped to mask a large portion of the vocals but not completely. Feeling it's ok, I submitted my tape...

At the meantime, I used whatever free time available (shower, answering nature's call) to practise.
I even force an innocent Japanese girl who at that time was coming over to Singapore for homestay at my place, to listen to my rendition.
After which she just kept proclaiming, "sugoi (great)!", of course we know there is not limit to how courteous Japanese can be. Then again most probably she was numb by the whole process after spending so much time with a fat, pockmarked Singaporean loser. I guess she is most probably scarred for life, so if you happened to be reading this, Ayano..."お元気ですか?"

So came the day for the preliminary round. Beaming with confidence I proceed to the battle ground.
However I felt something amiss when I reported my name to the auntie who was in charge of the tapes had that stunned look and started rummaging the entire place.
Eventually she informed me that she has left my tape at home!



WTF?!?!



She claimed that she thought that my tape was a mistake as she could hear some vocals within...urgh...
She then gleefully suggested I should do an aucostic, no more like no-music version since I was already there...After reconsideration I guess why not. Perhaps the judges would really be impressed by my vocal ability.

So after a few obasan and ojisan doing their "enka" and a few "First Love(by Hikaru Utada)" and "長い間(by Kiroro)", it's finally my turn.
Among the audience were 3 of my supporters, much thanks to Jack, Loke & Mich to witness such folly on my part.

So after explaining to the audience about my "mishap", I began the first few lines...
Suddenly the atmosphere become really cold and awkard, because it's hard to go into the next part without the music...
Then what I fear most actually happened, suddenly my mind went blank and I lost all traces of lyrics... and after 10 seconds of silence, I decided just to jump out of the spotlight as soon as possible... from the corner of my eye, I could see the judges gesturing to each other, "that clown must be kidding", I could also see my supporters totally embarrassed while some of the audience left for the loo, or taking out their earplugs, one even taking a short break...

Muttered "Thank You", I made my escape...

I felt the urge to get out of the place and no requirement to confirm the final results. Just take the case that if I was competing against William Hung, I might still not make it as well.

As I was leaving the same auntie still got the cheek to come over and gave me a grave advise,
"Next time don't see this kind of song, the judges won't appreciate it!"

.... .... .....

Japanese word of the day: 虹 ~niji~ (rainbow), for me there was never a pot of gold at the end of this rainbow...