Something Weird Brewing in Our Island
5th September 2007, Wednesday

Since August, our usual-dour island had been spicing itself with some unusual ongoings...I'm not talking about the supernatural kind since it is that time of the year...

The ODEX saga had been hogging the scene for a while now and the latest is that they are willing to offer the olive branch to those who heed their warning and stopped all downloading of animes since 2 days ago...
This drew more furore within the netizens especially the anti-ODEX bunch (perhaps me included) were suspicious of the actual motive behind this...
Then again the swords had been drawn and blood been spilled since, people are so incensed with the organization that no one can forgive them simply by some sugar-coated words they muttered to spite the market...
At least they finally launched their Video on Demand (VoD) program and seek to improve their quality which they should had look upon at the very beginning...
It will take them a longshot to win me, my anime-loving friends and perhaps all those who were pissed off from this fracas...almost impossible
Perhaps they produce good quality anime episodes at the fastest time span possible with no awful local dubbing, fansubbers-level subbing and at perhaps $1 an episode...
Well the principle aspect still makes boycotting them the just way...

With the success of the movie "881", Royston Tan maybe the favored director for Mediacorp's Raintree Pictures, taking the limelight of their incumbent No. 1 director, Jack Neo...
Recently there was a case when a prankster hurled a rotten egg towards one of the cast during a promotion event... The same prankster (or is the same guy?) went onto Jack Neo's blog and proclaimed it was the latter that instigate this unruly actions, drawing the ire of the one-time comedian who stated his innocence...
I doubt Director Neo would be such an unmagnanimous character and surely would lend a shoulder of support to a fellow local film-maker; however since he is such a genius to tell story from scratch, perhaps he was indeed the instigator...
It's anyone's call...

Since my days with the National Cadet Corps, we were thought possessing live round or merely expended shell was a chargeable offense since Singapore has such stringent states law for non-possession of firearms...
Recently a soldier from the 1st SIR ran off from his camp with a rifle and some live rounds...
The army and police went on a rabid search for this lad with a wretched consequences the moment he ran off with his weapon...
They caught him in Orchard Road, without any commotion...Then they interrogate him for the exact reason for his folly...
Apparently his girlfriend of 4 years decided to break up with him when he was in perhaps the worst stage of his life, grueling it out in perhaps the worst infantry unit in the army...
What's worse, she left him for another woman...Woah man..brother I feel your pain dude... BURN!!
Seriously the male ego is a dangerous tool that can make or break one's life...Losing your girl to another man, ok it's a hard pill to swallow, but time can ease the agony bit by bit...
But if the opposition was another woman (butch or whatever you call the androgynous female being), somehow absconding with your perilous firearms seem a pretty sane option to indulge in..
You may label me MCP or something and perhaps the unfortunate party should had try to up his stats as a boyfriend his squeeze would not let go; but it is blasphemous to let your woman go into another woman's arms without putting a fight...
Then again

h

ot

l

esbian

a

ction, that's another matter altogether...I'm so mean at this juncture..heehee

Last evening Yu-kun's 3 weeks stay in our usually-dour island came in an end as he took a flight back to Tokyo... He would be sorely missed for sure, especially for the likes of Karen and EK, the latter getting pretty emotional, kept requesting our poor Japanese friend to try drop a tear or 2 this time...
A carbon copy of last year farewell dinner, with the exception of Chan (at work once again), Miyano & Vincent (on another cultural exchange trip) & of course my missus, the rest made their presence at Roma's Deli, Singapore's only vegetarian pasta & pizza place...
Then we literally saw him off at Terminal One at Changi Airport with the Chong brothers actually came after EK coerced the elder Chong to do so...
There wasn't a tear dropped just handshakes all round Yu as an appreciation of the time we spent with him, a video farewell for Chan who couldn't be here and some photos as seen below: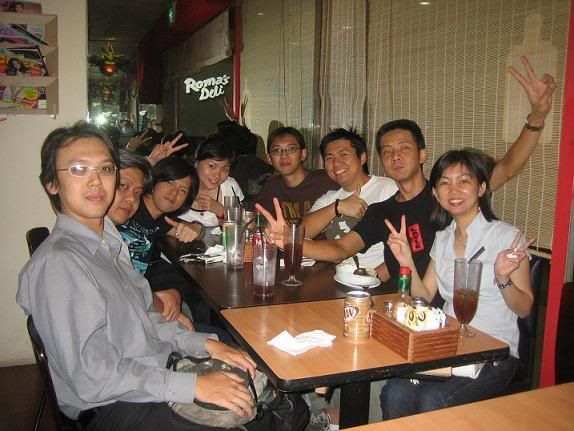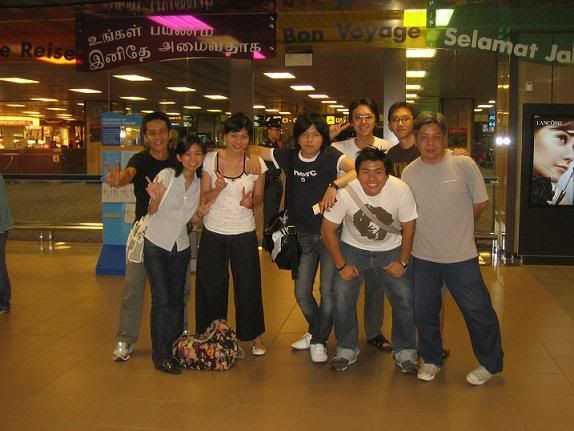 We would see him in half a year's time but for myself November would be a good time to fix a rendezvous with him somewhere in Tokyo...
Next up, Nao from Iwate is coming to town for one night only...


Japanese word of the day: 薄暗い (Dour) Some find news on papers gloomy others like myself just want to make fun of it...
Labels: Singapore