Starting to Gather the Pieces for the Autumn Trip
13th August 2007, Monday

After such a super duper long weekend, coming back to work is a drag especially the premature end to the last work week isn't such a pleasant one with my newly-acquired students producing quite horrendous results on my platform...I will be required to figure out what had actually went wrong before my French supervisor return from her Gallic home-coming up the French Alps...

My autumn trip is slowly molding into a proper shape after some discussion with the missus...

The journey will begin at Kansai International Airport (despite my umpteen visit, this would actually be the very first time I am gracing Japan's 2nd most famous airport)
A train journey to Tennoji Eki which is the nearest train station to Namba where I am hoping to return to the comfy Riva Nankai Hotel we stayed back in 2005... (though now the hotel embedded strategically within the heart of Namba by Shinsaibashi has revamped to a more modern outlook known as Cross Hotel)
So we shall initiate the start of the trip with endless shopping at Namba and Umeda and of course the tempting local cuisine...
I am hoping for the same package we had 2 years ago which incorporated air tickets with 3D2N hotel stay for a pretty good price and once again the forthcoming NATAS travel exhibition should be the perfect channel to grab the deal, however I am jittery whether the tickets would be snapped up by then...

One aspect we were not taking chances with is the ryokan stay in Kyoto...
After gracing a couple of hi-end ones with spectacular views of maple trees to emphasize the entire autumn feel as well as some simple ones with close proximity to the Kyoto train station, all shared the same characteristic...fully booked...
Therefore when we dropped by the JTB saloon in Takashimaya to make a series of inquiry but was made known of a couple of ryokan with rooms to spare during the dates...
So we returned the following day to snapped up the deal before the rooms were taken up eventually...
So we will be having a ball of a time at Kyoto in the room seen below with complimentary breakfast and dinner (which are part of the hefty price of course):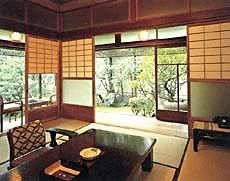 So it would be wandering around Gion where

geishas

put their names in the world, paying a visit to Kinkakuji last heard to be walking distance from Hiiragiya Bekkan, the ryokan we would be staying in and of course try to head towards Arashiyama (loosely translated of the Stormy Mountain) where autumn is at its crimson best...

After 2 days in Kyoto, it would be transiting from the ancient Japanese capital to the modern one, Tokyo...
I have a soft spot for Washington Hotel in Akihabara (not solely because of the attraction of the locality within the otaku paradise) since we last visited in February...
So Disneyland for sis, Odaiba probably for us and then Mt. Fuji-Hakone tour by Sunrise and a final day free & easy thingie and I can confidently say my sister and her beau who are looking forward to their very first Japan visitation will be duly rewarded with the experience... maybe not as "sparkling" as of Korea as Rain might have put it...

Still plenty of issues like air tickets, lodging, JR pass and mini tour to settle, but at least we have a rough sketch of the itinerary to work with from now... time to get all hype up for it!

The new season of the English Premier League has began to quench the thirst of parched soccer fans worldwide and my beloved Red Devils who had assembled with such luxury in the summer began with a meek stalemate against Reading coached by a former Devil greats, Steve Coppell... If that is the trend of not able to grab the full points from teams coached by former players then they will have problem winning against the likes of Blackburn, Birmingham and Sunderland...


Japanese word of day: 旅館~ryo-kan~(Inn) We should have more tatami area than those poor fraternity lads in the pathetically small dorms in some Tokyo university...