OKA~N~~~!! ( ; ___ ; )
2nd August 2007, Thursday

"Shinsengumi(新撰組)"...."Ichi Litoru no Namida(一リトルの涙)"... and perhaps "101 Kaime no Puropozu (
101回目のプロポーズ
)" and "Summer Snow"...some of the Japanese

doramas

that worked their magic to trigger the insuppressible emotions in me and proficiently stimulating my tear glands at the climax of each tale...
I am a human being with emotions afterall although like all ego-driven male species, crying is quite a taboo especially in front of other people...

Of course I had cried, with the excuse of it is the ideal way to cleanse the eyes... But in recent time it was usually triggered from watching Japanese

doramas

more than any other media avenues...Don't even start off with the Korean or Taiwanese drama crap which I had rejected vociferously over the years...sorry to all the fans out there...

Last evening, a new member has joined the above-mentioned elite group, and perhaps the one that inflicted a profuse weeping session with mucus choking me for a moment or two going into the finale... the title of the dorama is none other than "Tokyo Tower ~Okan to Boku, Tokidoki, Oton (Mom & me and sometime Dad)~"

This Fuji terebi-produced dorama set for Monday prime time hour for Spring 2007 tells the tale of multi-talented illustrator Lily Franky (creator of Oden-kun), whose real name was Nakakawa Masaya. He had narrated his life story of growing up in Kokura, Kyuushu and coming to the main capital, Tokyo to acquire his arts degree and ply his trades and how the bond between him and his sole close family, his mother...

Spanning the early 80s with Ma-kun (the name affectionately given by his Okan) adapting to life in the rural, laid-back Kyuushu where people are speaking in a dialect band which I believe maybe make sense to true natives, the story transcended to the early 1990s when Ma-kun traveled alone to Tokyo to pursue an art degree, developed friendship with his neighbors who became his best friends in Tokyo, being cheated in some pyramid business scheme and eventually became penniless, even resorting to eat grass...
Only after the death of his grandmother made him determined to shrug off that slum-like state he was in and getting back to his feet...eventually getting his first illustration stint and fell in love with Manami, a college mate and the very first person he encountered en route to Tokyo...
Throughout the story, the majestic structure of the Tokyo Tower could be seen and it seems to be the spiritual support to Ma-kun which sees his fall and rise, and thus the title...

Meanwhile back in the hometown in Komura, Okan (the way the people affectionately called their mothers) developed throat cancer which was managed to subdue with early detection and surgery through she had vehemently refused to remove her vocal chords which led the cancer cells to resurface later on...
This made Ma-kun realized how important his mother was to him and led him to bring her to Tokyo to live with him...
Okan became a sudden hit with his peers and in no time, a lot of attention was given to her instead of Ma-kun among the friends and the pair suffered many obstacles like financial issues and thr recurring cancer...

After surviving another surgery on the throat, Ma-kun had thought the worst was over till during a check-up, Okan was informed that tumor was formed in her colon and threatened her life...
Ma-kun, who had relied on his mother for support and every single detail of his everyday living, immediately urged her to undergo treatment as surgery seems impossible for the malignant carcinoma...
Enduring the pain of the various therapy, Ma-kun lost all hope that his mother would be well again and couldn't accept the reality...
Okan eventually left him in solitude after the cancer finally caught up with the frail mother...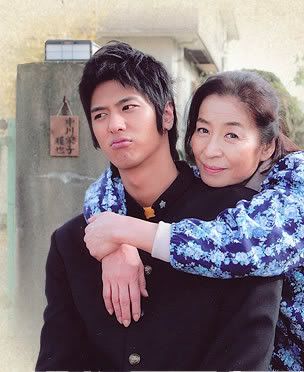 Ma-kun and Okan...Can you feel the motherly love in the air?



All this while, his yakuza father who was never the fatherly-figure would make occasional appearances though in the end he shared the same pain of losing the woman he once loved...

Although I can't really think the cast did a fantastic job reprising their roles including a Taiwanese chap as Leo, special commendation must be given to Hayami Mochimichi (
速水もこみち
)
who shown stark improvement in his acting skills taking on the main role of Ma-kun.. No more is he the tall, dark lad that the girls fancy in "Gokusen 2" or "Densha Otoko" nor the cheeky brother in "Brother Beat", I felt Hayami should be a leading man for J-dorama for years to come with his looks, a smile that resembles Fukuyama Masaharu (which is a good thing) and now his acting skills...
His pain of losing someone so dear surely won me over and resulting in those warm tears that trickled down my cheeks and soak my upholstery...
Baisho Mitsuko (
倍賞 美津子
) was Okan, the loving mother from Kyushuu which everyone grows to love and her affection and care for his son was well-reflected to that of all mothers in the world... It makes me appreciate my own Okan even more after the show...

The show did well to look into details of the everyday accessories and pop cultures crossing the various era spanning the story, like in the mid 1990s, Ma-kun was heard humming to a Mr Children's number which was a hit back then...

Then of course the continuous selling of Tokyo Tower as an icon of the city which everyone should pay a visit throughout the show is evident...

So if you are looking for yet another tears-jerking story with occasional warmth of humanity scattered in it, you should give this dorama series a try...
I don't know whether I would catch the movie adaptation especially it stars one of my favorite

haiyu

in recent times, Odagiri Joe and splendid choice of Matsu Takako as his love interest...
Then again I don't want to weep like a girl anytime soon especially in front of anyone else...


Japanese word of the day: 俳優 ~hai-yu~(Actor) Who's your fave haiyu of all time?