My Wife don't like Crybabies
13th August 2008, Wednesday

Michael Phelps swept the Olympics as we speak with his 5th gold medal for this tournament today and now the only person who won the most gold medals in just 2 tournaments.
He surely isn't a

crybaby

when he lost that 200m freestyle 4 years ago which spurred him on for conquering all the challenges and beat Mark Spitz's record of 7 gold medals in one tournament.

With exposure to regular dosage of Japanese dorama, my missus surely had developed into a certain level of connoisseur for picking the type of male characters she had liked and this might reflect in what kind of personality she found appealing in man....

From the cheeky or naughty type like Yamashita Tomohisa in "Proposal Daisakusen" & "kurosagi" or Narimiya Hiroki in "Orange Days" & "Honey & Clover" to the cool prince type like Oguri Shun in "Hana Yori Dango" & "Hanzakari no Kimitachi e" or Tamaki Hiroshi in "Nodame Cantabile" to her recent badboy with a painful background type like Ichihara Hayato (Aniya) in "Rookies", she couldn't stopped going ga-ga over dashing Japanese

heiyuu

though there's a specific type she might find a distaste for.

In "Rookies", the captain Mikoshiba (portrayed by Koide Keisuke) was constantly weeping like a baby with wet diapers when prompted by frustration or anger...
To her, guys with active tear glands seem too "unmanly" though true men do well their eyes during crucial moments in life (see Shinsengumi).

Then there was Yamada (Itoh Atsushi) from "Densha Otoko" who most probably is the most dislike male character among all doramas she had seen and I couldn't blame her 'cos this Yamada's emotional bursts can be overwhelming at times and was very much the killjoy for the latter part of the series.

There was this pretty popular Taiwanese singer these days which came from this particular singing competition who had the tendency to make those episodes he was in back then a tear-jerking affair which might even put "Titanic" to shame perhaps.
Being an avid listener to Mandarin pop, I assume she would enjoy music from most artistes but she developed a string distaste towards this artist's works, perhaps prejudiced against his wretched crying personality to lure sympathy from his fans.

I do agree a true man shouldn't weep uncontrollably from time to time... But didn't she know that she had married to the biggest wuss in history?
Well at least I don't weep like Otacon when betrayed by women in the Metal Gear series that often...heehee

Personally the male type of character I like mostly lie in the masculine and loud type like Nagase Tomoya's gangster roles in "Tiger & Dragon" & "My Boss My Hero"... Even his Tokio bandmate, Matsuoka Masahiro borrowed some of that in his new dorama series, "Yasuko to Kenji".
It would be better if they had some comedic element but not too slapstick much like the Hiratsuka character from "Rookies" or the all time classic Professor Ueda (Abe Hiroshi) from the Trick series.

To conclude with the Japanese theme of this post, a colleague of mine sent some eye-catching and perhaps pretty "stimulating" pictures to showcase the latest fashion fad in Japan as seen below (the least provocative one at least):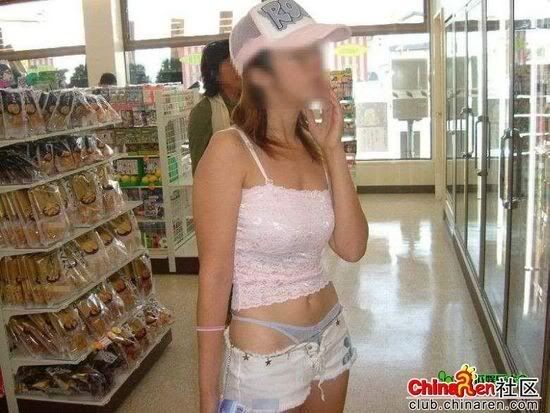 There has been such pictures circulated for the past couple of years of young nubile women of Tokyo and perhaps other major Japanese cities are spotted exposing too much flesh in public but I have been to Japan during summer time twice but never seen it for myself (but the last time was 2005, so it was still a good 3 years back).

In a nation where fetish white-collared workers would pay alot of money for worn undies or sexually-deprived confined-in otaku indulging in their harem style

bishojo

games, these ladies are really asking for troubles...
Definitely in modest Muslim countries in Africa (think Cameroon), a woman wearing skimpy skirt once was warned by a bus driver that she would be raped by him ir she insist to be such clothing....


Japanese word of the day: 泣きなさい ~na-ki-na-sa-i~(Weep) My buddy once nearly wept while watching Buz Lahrmann's "Romeo+Juliet"