Eriko & Sou s' Wedding Part 1
13th October 2009, Tuesday

Would you travel a good 5688km or so to attend the wedding of friends whom you could not converse fluidly without being hindered on what word you had to boggle your mind with the limited command of native language the other person is speaking.
Friends who we had not been able to see on regular basis and until days before we had seen for like 4-5 times in the past 6 years.
But when Eriko and Sou had sent their invitation for the wedding on the auspicious date of 10th October, we just could not resist the once-in-a-lifetime opportunity to attend a traditional Japanese wedding reception or so we thought.

With the air tickets booked at a way appealing price too from Singapore Airlines, we just needed to work on the packing as well as what gifts to buy as the date to fly off drew near.

The flight on the Airbus was comfy (as compared to the return flight) though the Kris Air system over at our end had to run out of service for most of the flight, well on the flipside it made me catch a wink which was a rare phenomenon for me on the usual night flight.
On our flight, there was a Scottish who wore their traditional kilt throughout the flight while his son had the "kamikaze" headband around his forehead.
Then from his T shirt, I realized they were Singapore-based Tartan Army (name of Scottish football fans) who were bound for Tokyo to catch a friendly between their country and the Japanese national team at Yokohama Stadium on Saturday.
When bundled with the rest of the crew, those Scottish started making a din in the most serious place of the Narita Airport, the immigration counter.

Time was of the essence the second we landed at Narita Airport Terminal One as we had like 8 hours or so to get our objectives made at the capital of Japan.

We might have had 30 minutes extra if the queue at the

midori mado

(JR Green Window) had not be asphixiating as many Thai and united Asian population who like ourselves aimed to get their JR passes.

Despite the spiraling fear of the repercussion of Typhoon Melor, the one that known as Typhoon No. 18 which was going to be the most destructive one in 20 years, it left as fast as it appeared with Aichi Prefecture the main focal point to suffer the brunt of its force.
As a good Geography teacher will teach you about the composition of a storm, the skies will definitely open up wonderfully after each storm and it was what had welcomed us on Friday morning as the weather was just great without the need of lugging an extra jacket around.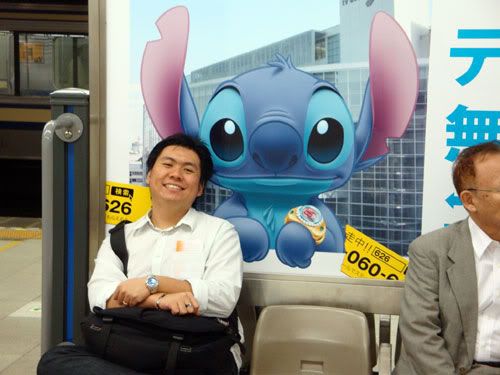 Guess who came and welcome us at Tokyo Station?


Ueno was the first stop where we left the luggage in those giant rental cabinets before trying to find our bearing to Ameya Yokocho to seek that elusive pair of shoes for myself and for the missus, a themed mission of getting the boots she desired.
It was autumn and it was boots galore at all apparel stores except none was accustomed to fit my poor wife who felt her ankles were not Japanese-enough to fit those beauty of the boots.

I did got what I came for, a pair of Nike Air with what you would call in psychedelic color while the missus ended up without her boots though she did splurged on clothing in perhaps the find of the trip, a boutique selling classy ladies' apparels without the cut-throat price tags.

We then made our way to Nakano via the shortest route possible, via Rapid Chuo Line from Kanda station.
For rare finds, I always chose Nakano over Akhabara and it proved to be a fruitful trip as I did got what I came for after a good 60 minutes scouting every inch of the Nakano Broadway.
Realizing I was on a shoestring budget, I withheld my spending although nothing much caught my attention to be exact.

The

shinkansen

we were scheduled to take, Hayate 27 would depart Ueno station at 5.07pm and after stocking ourselves with some pudding and

onigiri

, we tried to locate the exact platform in the labyrinth below the Ueno Station and it was extremely infatuating especially you had to lug a 21 kg heavy suitcase without any electrical assistance.

The seats we were allocated were a 3-seater meaning by the time the train made its planned stop at Omiya, an elderly man in the typical tweed jacket would be joining us, not that it mattered as both of us were knocked cold as the sun made its descent across the horizon.

As the train departed from Sendai to Morioka, I started to feel a tingle down my spine as if a sign was showing me that the temperature had dropped drastically up north and true as it was, when we got on the all familiar platform of Morioka Station, I was all chilly and had to unleash my Zara jacket.

It was always heart-warming to see familiar faces peering across the barricade or window to come full fledged in receiving you after a long trip.
The sight of Eriko and Sou definitely warmed us up as the unforgiving breeze blew into the station.

The logical thing to do first was to unload the energy-sapping pink baggage at Hotel Ruiz where we were staying for the next 3 nights.

The room as we were exclaimed to be

semai

(narrow) but still better Toyogo Inn where we stayed in 2007, which was a stone throw away.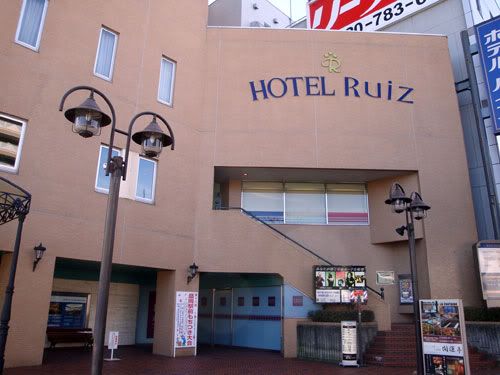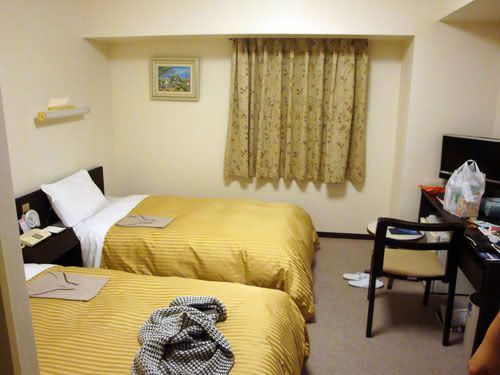 狭い!


As the hospitable hosts as they were, we were invited for dinner to appease the gastronomical storm in our digestive system (little did they know we weren't exactly that famished after the onigiri and the pudding).
Well

reimen

(cold noodle) wasn't the best way to warm the stomach though the turgid glass noodles was still too sumptuous to reject and whoever put a slice of juicy and sweet Japanese pear in a bowl of spicy noodles?

The accompanying

yakiniku

(grilledmeat) though was was it was appetizing especially when Sou was zealous in preparing it for us, and it went down smoothly and exquisitely with that pint of fine malt beer.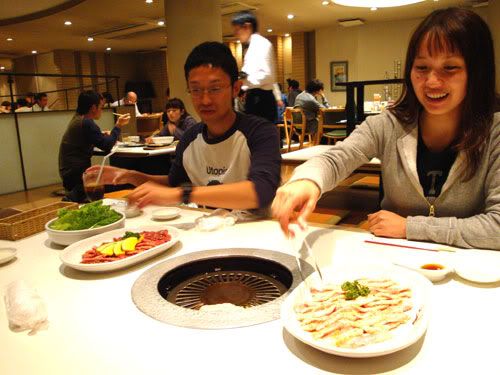 The hosts at work


We chatted a bit of their preparation for the big day tomorrow (though legally they were bound) and how in Chinese traditional, the newly weds were not to meet up on the eve of their customary.
They also showed us some pictures of their honeymoon cum photo taking session at Hawaii which looked legitimately enjoyable for the couple.

We did not drag it long for the night as all four of us needed ample quality rest before a long day the following day.
We left them with a couple of box of

bak gua

we bought from the airport as we though to be used as gifts for their friends whom we thought we might be meeting for dinner after the reception.
It turned out it was a personal thing and we were excused from it.
In the end, we instructed to them that the

bak gua

would be served for their friends to savor during their dinner but little did we know that it would prompt us into the spotlight in the wedding reception itself.

つつぐ