Triumph in Tampines on Silent Night
25th December 2006, Monday...X'mas

One X'mas Monday spent in the comfort of my home, recuperating from a late night exertion celebrating the festival with some of my closest friends hours prior...

On the eve of the day to commemorate the birth of Christ, we began our celebration to one of my missus' university chum, Lisa who previously resided a block behind ours and now in a new flat with her hubby in Toa Payoh and they were very much eager to show it off their high budgeted renovations...
Then the meteorlogical phenomenon which Karen's Korean idol was named after came in the ultimate version and we were kinda stuck in TPY before we could proceed to Eng Kiong's place as it was starting to subside...
We had intended to take a direct bus ride from central to the east of the island but the missus was feeling slightly under the weather and we hailed a cab instead...

The choice was pretty justified as we got to EK's place pretty much shielded off from rainwater though we were bamboozled by the design of his block which is like a weird Tetris block...

Karen and Miyano, the other members of my team were already there and we were prompt to begin plotting the downfall of our opposition who set their base at La Tendo for the afternoon in the game of charades.
While Karen got a wicked list of movie titles which the easiest might include the likes of "Crimson Tide" and "The Truman Show", we took efforts to get some really tough anime titles and idioms from the internet...
From 6 to 9, while Corin and Yanhui were kept busy in the kitchen cooking up some vegetarian delicacies including my wife's famous golden vegetarian "Kong Ba Pow", Miyano started to keep buzzing her hubby and gang to hurry close operation of the shop and rush their way over...

They eventually did just past 9pm and it didn't take long to get the party started:




The food though looked as limited as those WF exclusives but was very much enough to go around especillay it got Vincent and Bryan full, though the latter was down with flu this festive season...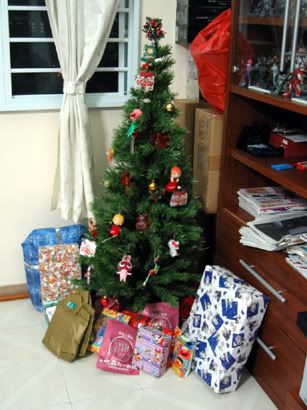 All the presents are placed nicely under the tree with everyone anticipating their prospective one

We kicked off the games we had concocted for weeks now with charades as the 2 teams went to their designated room to do a last minute preparation before squaring off against one another: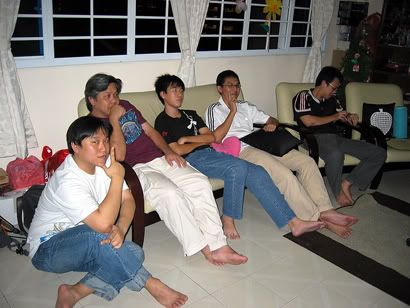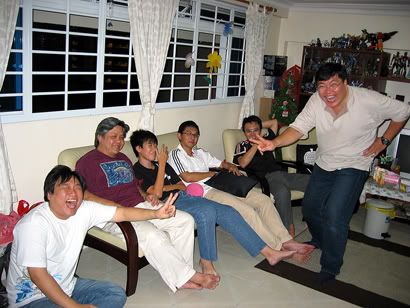 The white team which comprise of the Chong brothers, Thomas Vexar, Kev-Kwa and Reedy weren't really look like a winning squad with the exception of team captain Vincent and Mr Chan...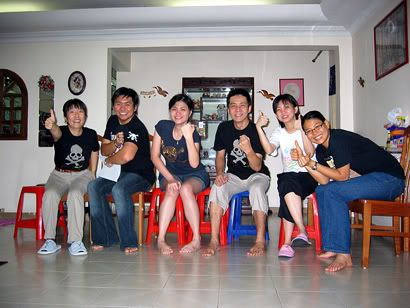 This is the best example of the winning group with similar style T shirt...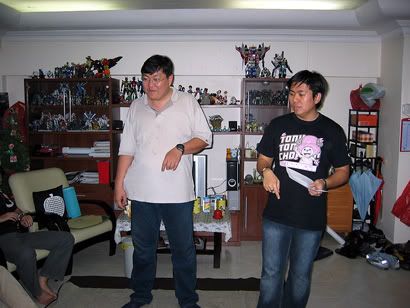 The respective captains clarifying the final rules...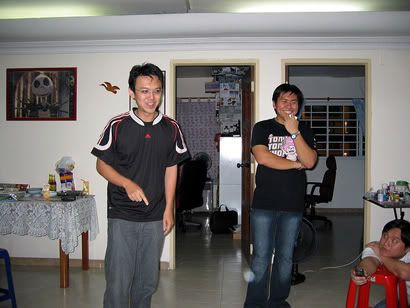 Ferris began the ball rolling with the movie category for their team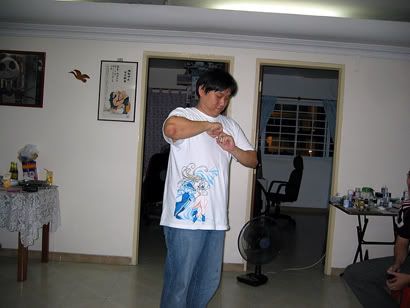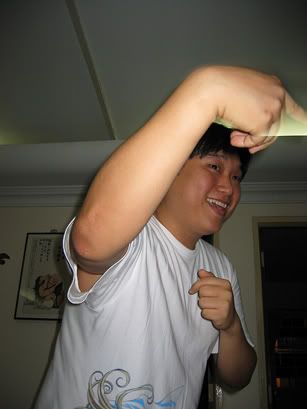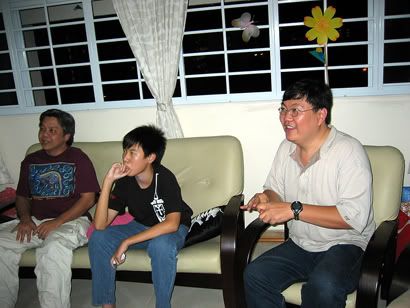 Chan was deemed to be the star player for their team and got his team-mates engrossed with his performance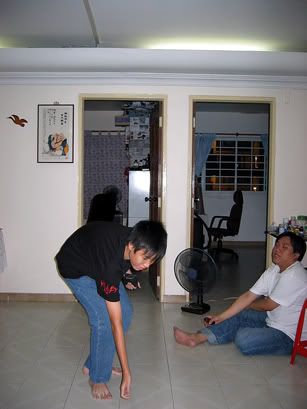 The youngest member of the night doing a dedicated job to score for his team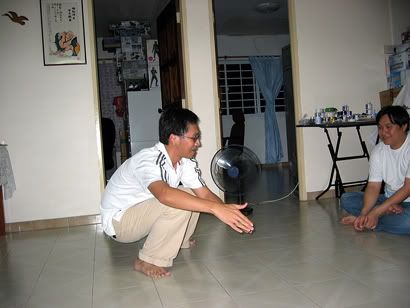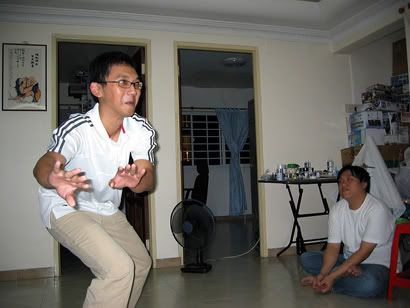 Despite his conditon, Bryan was close to get his team-mates nail the answer for "crimson tide"...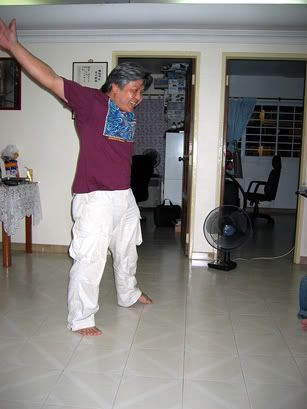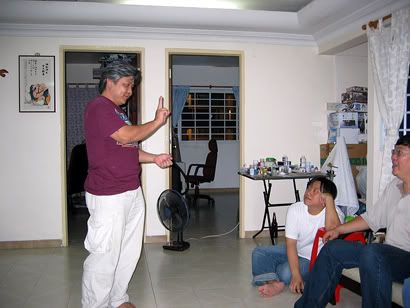 Perhaps his team-mates had "geat expectations" towards his performance, but Reedy like any other people will have problem with the word expectation.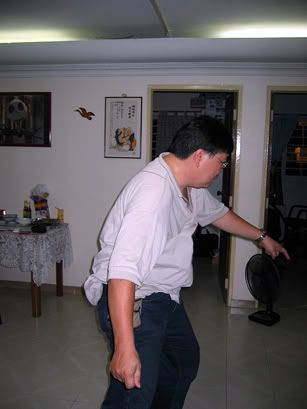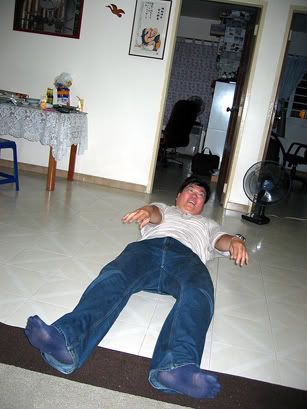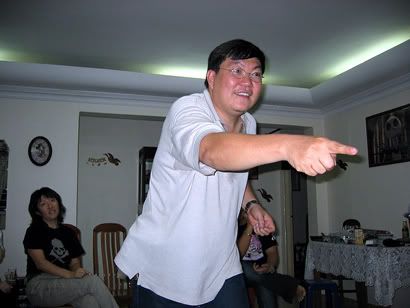 Vincent certainly was the star player of the team and his performance for "Exorcism of Emily Rose" was truly classic...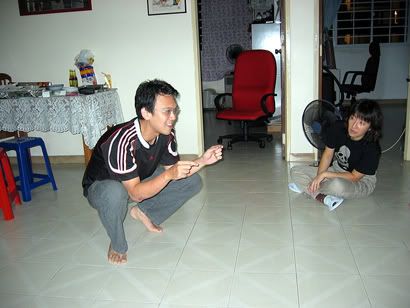 Ferris once again with "Jinki Extend" for animation titles...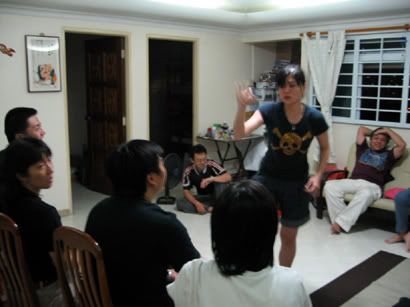 The red teams start their marauding way with Karen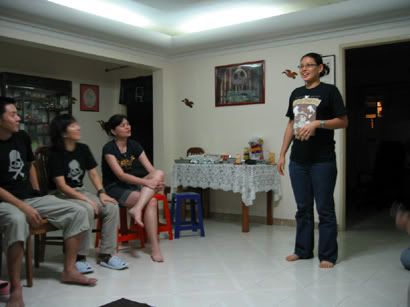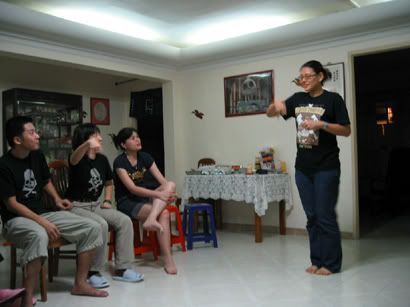 People like Corin and Yanhui starting to have more faith in their abilityas the game progress...



Miyano was pretty good as well, but she was at her prime best when coming to provoke her husband and his group...

AFter 3 rounds as well as the bonus one, our team was in majestic form and score twice as many points to our opponents, much due to our merciless selection of questions which proved so much more difficult....

The clock was ticking closer to midnight and the chimes could be heard from the nearby church and it was time for gift exchange...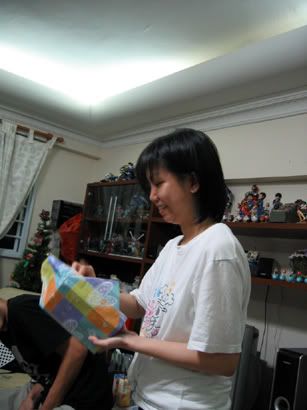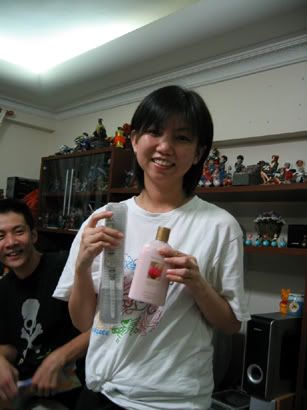 From Karen to Yanhui, a cool Swatch watch and shower foam from Victoria Secret (didn't even realize they produce those)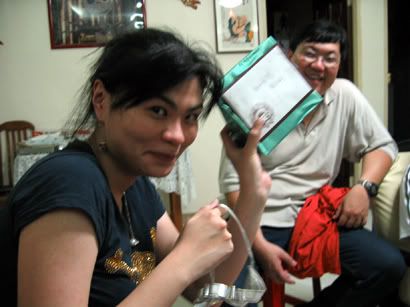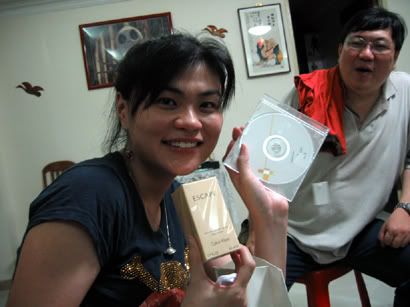 From me to Karen, Calvin Klein Escape for women and 2 DVD worth of J pop mp3s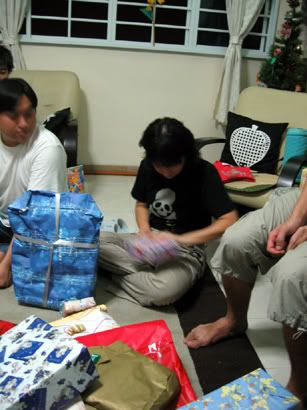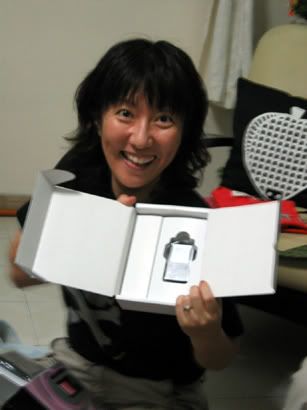 From Vincent to Miyano, a 2 GB Creative Zen MP3 player...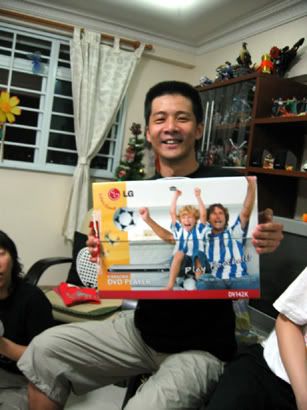 From Chan to Eng Kiong, a LG DVD player which is most suitable to be placed in La Tendo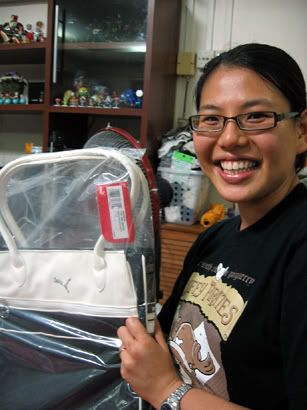 From Bryan to Corin, a stylish Puma carrier bag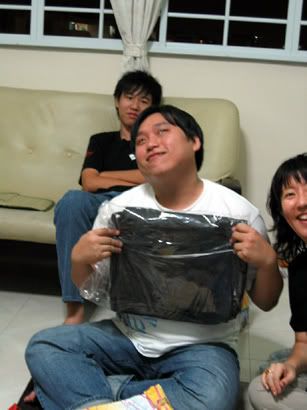 From Ferris to Chan, the leather slling bag he had hoped for...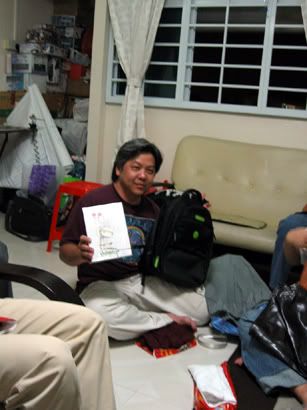 From Corin to Reedy, a backpack with a Tim Burton's Twisted Mind notebook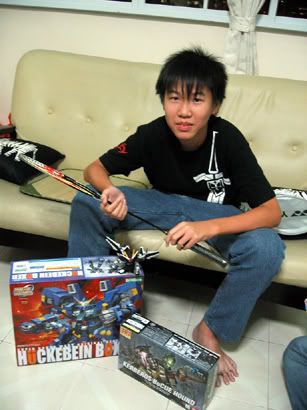 From Ferris, Karen and La Tendo to Kevin, Gundam plastic models
From Chan to Kevin, a Yonex badminton racket.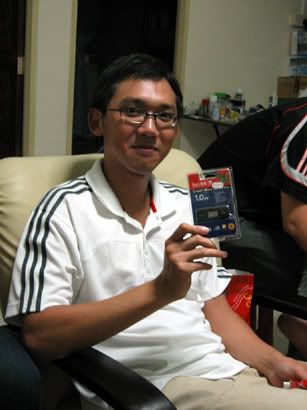 From Miyano to Bryan, a 1GB Sandisk Thumbdrive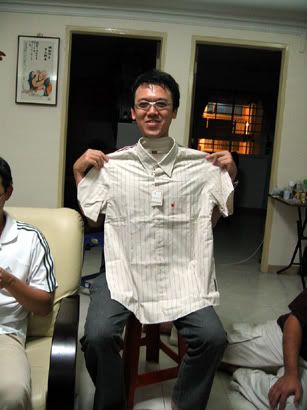 From Eng Kiong to Ferris, a nice short-sleeve business shirt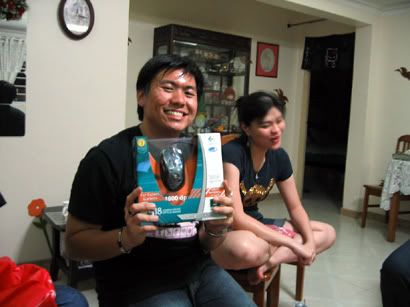 From Reedy to me, a Logitech gaming-suitable mouse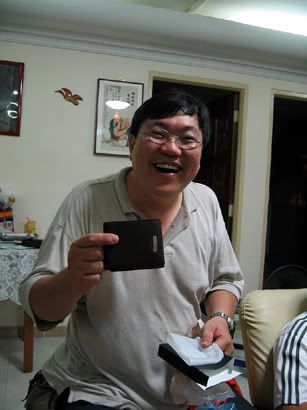 From Yanhui to Vincent, a Picard wallet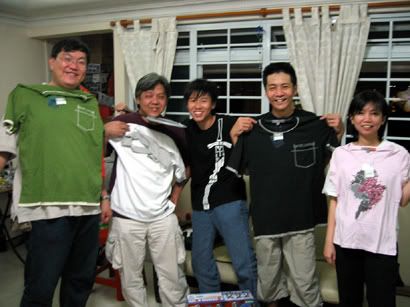 From Kevin to the 4 bosses of La Tendo, Samuel & Kelvin T shirts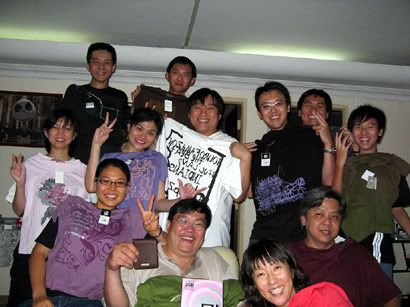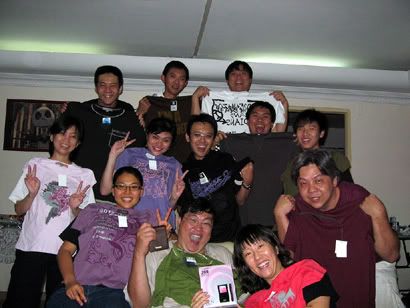 From La Tendo to everyone, more Samuel & Kelvin T shirts...though I wish it was Cospa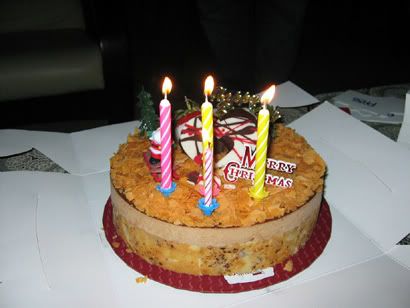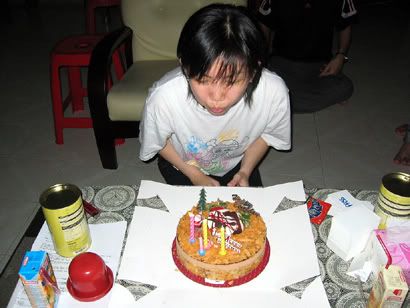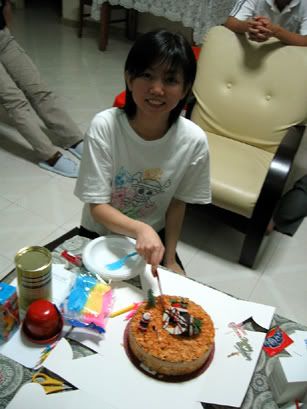 Yanhui's birthday happens to fall days before the eve and we took the opportunity to celebrate for her as well and it was a nice hazelnut cake courtesy of Karen

We then played the number game and finally the racing game for the losing team to recuperate some points while decimating our points but people were getting weary and the points were too much to catch up and eventually Team Red got all the honours and we shared the Kino vouchers which was the prize kitty for the night...

We had planned to stay over at EK's place but the humidity was not something we could tolerate especially after the rain...

With transportation, we all could go back and the hosts could have a good rest with Yanhui having to work on X'mas morning and the rest of us to glue to our own bed till X'mas afternoon..
All in all, a wonderful time spent with the clique and everyone went home well satisfied!

Labels: party