Urgh...Meat Platter
5th November 2006, Sunday

My 28th birthday started with mind all set to complete as much work as I could with tight schedules and Shitty Green Pants (a new nickname I had bestowed to my American boss for his 80s fashion sense) breathing down my neck...
My French supervisor should be heading for maternity leave very soon considering she is so deep into her final trimester...and all we could do is enable her to have her mind off work while she recuperates after her labours...

I managed to sneak off after 5.30pm and dropped by at La Tendo where a young chap named Kevin began his "arubaito" while they are in search of a permenant staff to help Eng Kiong out during weekdays...

We headed to Jon Keng Studio where we had an appointment with our dashing photographer, Jonathon to collect our photographs...
Within their lush artsy European style studio, we were been dazzled for the photography ability of Jonathon while he even throws in a 100 more pictures which exceeds the contracted number of 300.
During payment I was supposed to bargain with him as we did not have the outside shooting session as planned so liable for some discounts.
However I somehow couldn't bring myself to say it before my missus did the dirty job for me as we gleefully went away with a $100 discount....
As we walked down to take a shuttle bus to Suntec City, I mentioned it sure is a final conclusion for the whole wedding preparation when merely a year back we were walking the same road while visualizing how the photography would be like....

We reached Paulaner Brauhaus at Millenia Walk slightly off the time of reservation and the place was reeking of sweet smell of self-brewed beer as seen from the microbrewery tanks seen in the middle of the bar on the 1st level...

I wasn't too pleased as I felt a slight level of biased for us against some "ang mohs" which came later than us yet been well-served while we had to wait a century before our menus arrived...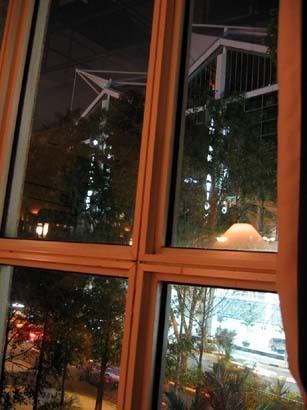 Seated just across the convention center in Suntec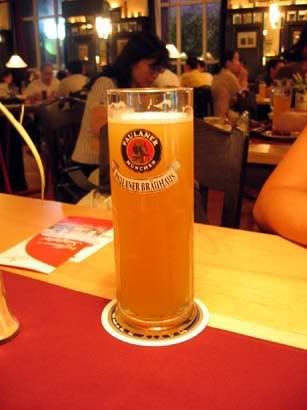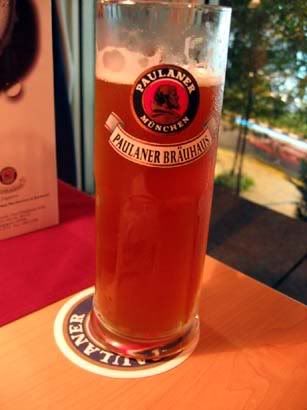 Freshly brewed lagers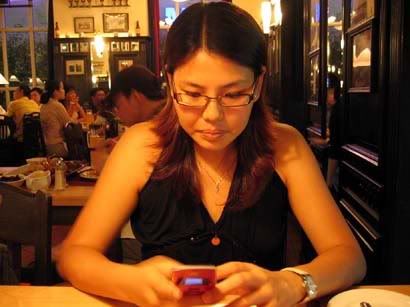 My missus doing kills time while waiting for the menu that took ages to come by SMSing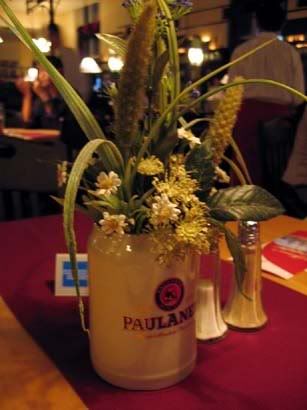 The mug looks well to house more beer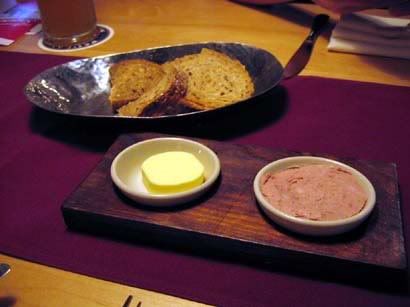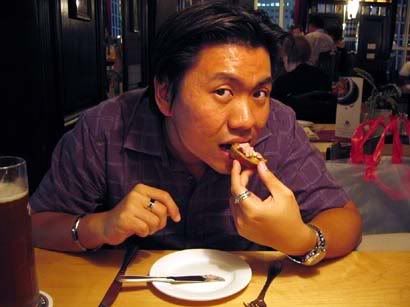 Some german style bread served with spam (or is it tuna) and butter to whet our taste buds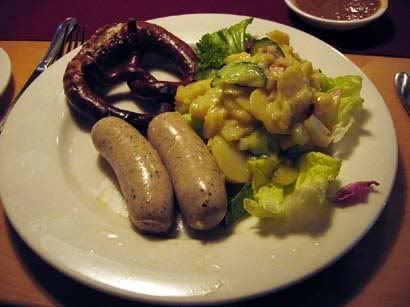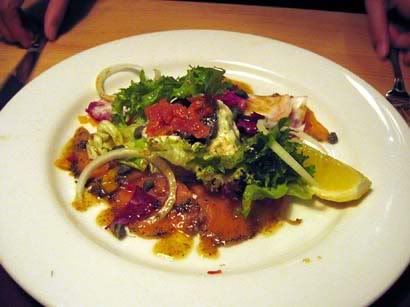 Her appertizer: Salmon salad with grapes and avocado


His appertizer: A pair of Weisswurst sausages with salty pretzel & potato salad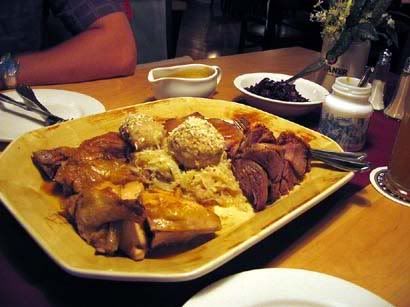 The meat platter (Sudhaus Selection) with really dry grilled meat selection... not recommended for non-meat lovers...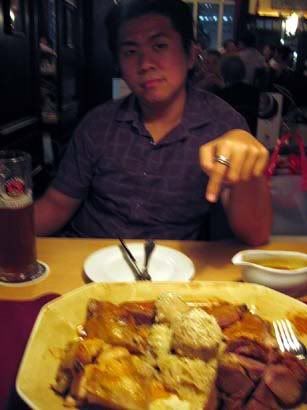 No stamp of approval as we both decided to stay off meat for next few days after this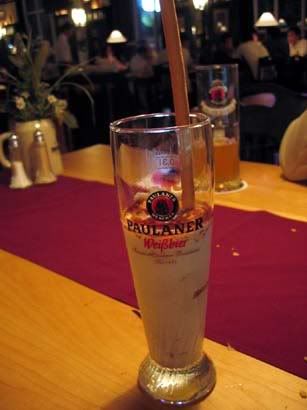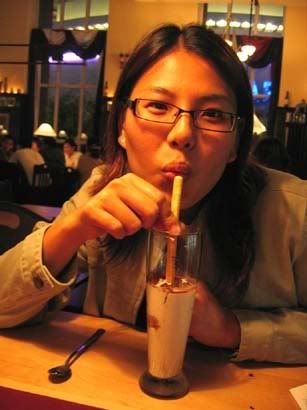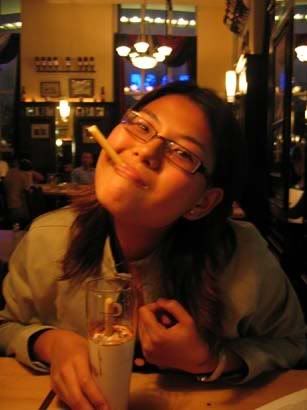 Weissbier Tiramisu with their house own beer...highly recommended!

During the dinner, Foo dropped me a SMS stating that he had spotted my buddy at some yakiniku restaurant at Roberston Quay while celebrating Michelle's birthday...
A juicy news to brighten the night further...
Suddenly I had an impulsive urge to head to Diamond Dust to work out my vocal chords especially been too captivated by Remioroman's "Konayuki"...
I managed to get Foo and Mich interested to join me and even laid the bait to TW who is out there somewhere after his dinner date who later I realized with a former colleague in his Osaka Capcom stint...

We began the session only at 11.30pm while spending the time before been the 1st to preview the photo album...
It sure was great to return to a J-pop karaoke lounge again after such long period (the last time was a round a year back with Cheryl and Foo)
TW's presence definitely makes it even more fun been such a bubbly character and we just went on doing numbers from anime and live action heroes which Foo and TW simply love though Jam Project's "Garo" theme is not an easy song to tackle...
My lass was too having a great time doing K's "Only Human" after "1 Liter of Tears" and some Johnny's artists' tracks while Michelle like her usual self looks only minimally interested, not that it affect our mood much...

After downing a glass of very diluted yet overpriced Calpis and enduring the house-wrecking done by the patrons on the adjacent box, we ended a splendid session by 2 with the 1973 hit, "Watashi no Kare wa Hidari Kiki" which got us so hooked since that faithfu; ANA flight to Japan in May 2000...

We reached by by 2 plus and I actually sleot by 4 yet crawling up for our weekly badminton session at 9... which isn't a surprise why I became a zombie for the rest of the Saturday...
Not too bad to spend my birthday which I never bother to celebrate...

Japanese word of the day:肉 ~ni-ku~ (Meat) I'm glad I'm not living on a German dietary practise...