宝贝父女兵
30th August 2007, Thursday

Love it or Loathe it, the local Mandarin drama dished out daily by the non-cable television station which monopolized the local market, Mediacorp had been part of our lives for a good 25 years now as they are in the midst of celebrating the quarter century achievement...

Over the years I had outgrown from that infant who would wept when the 9pm drama ended by the stroke of 10 which effectively signaled the end of the day back in the early 1980s for me..into the adult which often scorned the quality of our local drama and constantly scrutinized the production quality and acting skills of our local breed of actors...

Regardless of how nonchalant we are with respect to our local dramas, the context and story usually has a close association with the local flavor... so I do give some series a try and hope to be entertained...
The previous series which occupied the 9 o'clock primetime slot was "Honour & Passion (
宝家卫国
)" which sort of featured a stellar cast and in commemoration of 40 years of National Service, many quickly slapped it with the tag of a show with the political propaganda to sell our mandatory service to the army... However the most gut-churning aspect of the show has to be the bewildering amount of affection shown to the Caldecott Hill gay-boy, Bryan Wong by various co-actors in the show, shun a male one of course... Fortunately Felicia Chin in that body-hugging No. 3 uniform which was perhaps never will be seen in the history of SAF did made the show a bit watchable...

The series which succeeded the military-selling show was perhaps a dark horse as the most enjoyable local drama for the year or perhaps the last few years...
"Like Father Like Daughter (
宝贝父女兵
)" a heartland (always the winning formula in Singapore context) mad-cap comedy with some heart-warming moments narrates a tale of how an ex-convict after a good 15 years in the prison for a crime he did not commit reconciles with his hooligan-like daughter...Both are lowly-educated but with a strong sense of compassion and justice in their blood which is a shout out to our society that focus too much on a person's academic achievements rather than his/her good nature...

The series is almost half way to go (assuming it is a 20 episodes one which is a norm for these kind of heartland treats) and had enthralled me with their quirky storyline and script...
The overall cast is young and the exuberance is strongly felt though not trying to hard to be a "idol-making" affair which our local drama sucks as ...




Reason to be home by 9 every weekday nights



Joanna Peh took center stage as the lead character, Chun Chun a vivacious ruffian girl of the neighborhood... Touted as one of the "7 princesses" of Mediacorp, this NTU Mass Communication degree holder surely together with Jesseca Liu and Felicia Chin will be hogging the limelight while the likes of Rui En, Fiona Xie & Jeanette Aw just had to fade to black with their unability to improve in terms of acting...
Showing her versatility by shaking off that usual white collar OL type and did a splendid job in her reprise of a tomboy character and exudes a sense of wackiness suitable for the storyline which we usually wouldn't associate with her...

Zheng Ge Ping portrays her gangster father and I think it was well-cast as he surely has the built for it and the acting skills we are grown accustomed to... We all love him as the Mr Nice Guy/ Uncle and once again he did not failed to reproduce that.. I think the chemistry with Joanna will be for all to see soon

The remainder of the cast had an impressive showcase thus far and almost everyone was likeable, maybe even that Ah Lian character (which I think the actress would be typecast as one for long time to come 'cos she fits it to the "T")
Michelle Chong whom I had high regards for and felt that her crossing over to the Chinese channel was a wise choice, did a credible job as the poor daughter of a wealthy family who was forced to bankruptcy by a tyrant and on a vendetta quest to avenge his father's passing and her mother's eventual insanity, yet she is in such precarious position after living such sheltered and well-off life all the while...
Even the much detest Vincent Ng was suitably cast as the Ah Beng of the show and his minions which include the rotund MC King reminds me of those weird looking motley crew you'll perhaps see in Dick Tracy (minus the 1930s mobster style of course)

However my favorite character has to be the totally incompetent brother of the Michelle Chong's character, Akirah, portrayed by an relative unknown, Nelson Chia...
First he was seen as a wuss with a bit of sissy aspect with fear of cockroaches and supernatural entities (which turn out to be a beggar residing under his bed for days, how nobody found out is another classic element of absurdity of local drama)...
He was nicknamed "Croaky Voice" by Chun Chun for he has a passion for song composition which just quite awful to listen but provide the biggest comedy element thus far...
Then he was mesmerized by the Ah Lian character in the made-up capture of ghost by Chun & her gang...to a state that he would spend his family remaining fortune (a measly $38) on a lavish breakfast for the gluttony love interest...
Akirah sure is the number one reason for me to anticipate the series every weekday evening....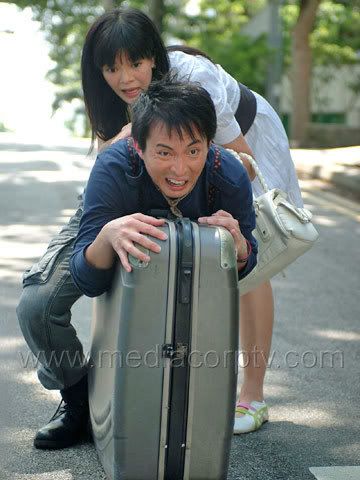 ~Why My Father Has to be Bankrupt??~~



Lastly my sister who has also being following the series felt that almost all (except the undergrad guy) are cooped up in poverty, at a point the shared wealth of perhaps 6-7 characters in the show might be a mere 1K plus and a stack of bank notes...
The backdrop of the series was very familiar the 1st moment I took notice..It was the Ghim Moh Hawker Center where we had lunches often on Fridays...
In fact we caught Joanna and that Ah Lian taking a stroll past a biscuit store for like umpteen times for a mere shot...Too bad the over-zealous hawker from Johnson Duck Rice did not get a chance to featured in the lens...

The quirky set-up, Joanne, that Akirah and Ghim Moh...what more can I ask for? Go watch it!


Japanese word of the day:貧乏~bin-bou~(Poverty) Well life in Singapore will become more financially arid, perhaps everyone should just raid supermarkets for canned food...