今敏 最高!
1st August 2007, Wednesday

Can't believe it's August already, better start planning the Japan trip although a tiff with the missus last evening, nearly jeopardies the trip, but my sister and his beau will loath me over that decision...
Zero's recent trip to the Pacific also resuscitates the undeniable yearn to go back to the country I would like to call my 2nd home...(even though I might have indirectly caused PM Shinzo Abe and his party to lose profusely in the recent poll with my persistent entrance to the country)

Well as you might know over the weekend, we had caught a true anime theatrical classic in the form of the Sony Pictures-MadHouse Animation's "Paprika" by the anime director guru, Kon Satoshi.

Among the 4 of us watching the movie, only TW has caught one of Satoshi's previous works in "Millenium Actress" & "Perfect Blue" while I had glimpses of "Tokyo Godfather", but at the end of the show, I believe at least 3 of us (CS still remain a myth on whether he actually enjoyed the film) had the intention to catch the rest of his masterful repertoire...

You can read the full synopsis of this futuristic comedy-thriller in Wikipedia, so I shall cover my afterthoughts....

The movie incorporates a lot of popular media/literature genre like fairy tales, anime and movies but the elements seamless bind the story instead of seemingly forced into the script...
Since it is a story about a dream-snatcher, the sequence of events can be really absurd but not distasteful though I got a phobia now over authentic Japanese dolls...
The movie was rated M18 but basically there were only 2 nude scenes in our local screening..1stly when the sinister Osanai removing the cast of Paprika off Dr. Chiba with suggestion of a invasion of her body against her will (aka rape) and it is ingenious of director Kon to relate that scene in a gallery full of dead butterfly album, thus the casting off resembles a butterfly emerging from its pupae cocoon.
The 2nd nude scene occurs in the finale against the malevolent chairman of the research institute who looks very much like Professor X in X-men with a face of Mandarin from Ironman, a reincarnation of Paprika slowly grew up from a toddler to a full grown by sucking the soul of the chairman who is all darkened due to the dreamy effects now...

You can spot that there's no dashing male hero/protagonist in this movie (seemingly a trend in all his movies) but an ageing police inspector (who looks like Jameson from Spiderman cross Light's father from "Death Note), a stocky, balding professor, a chronically-obese genius and a couple of virtual old fud bartenders (who one of them was voiced by Kon himself)...
However all attention was drawn towards Dr Chiba Atsuko, a grim, no-nonsense researcher of the DC Mini and her dreamy alter ego, Paprika who was saving the day most of the time...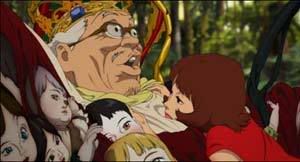 Paprika didn't have to try hard to seduce the baldy chief



Voiced by Hayashibara Megumi (famous for Rei Ayanami from "Neon Genesis Evangelion"), Chiba and Paprika brought a lot of dimensions into the show, while winning affections to almost every male characters in it...I would if I was around her presence as well...

The movie made use of a lot of visual tricks and treats especially the opening sequences though at times the constant jumping of scenes can be rather confusing at times especially when everyone's dream starting to merge with each other...
The soundtrack provided by Suzumu Hirasawa was a nice electropop mixed with some traditional Japanese musical touches which totally suits the mood of the movie...

Upon reaching the full 90 minutes or so of it, you will not resist to wax lyricals of this great anime feature as well...



Japanese word of the day: ふくよか ~fu-ku-yo-ka~(Plump) Well they should have pair Chiba with someone with a more reasonable BMI...