Anime Festival Asia 2008
25th November 2008, Tuesday

2 words to describe the recently concluded Anime Festival Asia...

Resounding Success

.

Although it was scoffed by a Kotobukiya representative housed at the booth of their official distributor here as "inadequate at best" but seriously it would be utterly folly to think of an anime & related hobby event to be held in our

pucchi

island of Singapore can remotely stand shoulder to shoulder to the most shabbily-organized one in Japan.
We are no Wonder Festival and we knew it...but if the Japanese companies could see the potential of this market (perhaps they had already realized) and we had the appetite for more in this region, AFA could be a benchmark event for otakus for the near future.

The event started for me and the clique perhaps one or 2 days prior when on Thursday I heeded the call of EK to the store for some packing in the evening. But with the sheer amount of goods accumulated over the past 4 years from the 2 store incarnations, the 2 hours I was there didn't really helped much.
The following day, the likes of Tay-chan and Vincent meticulously shipped the army of carton boxes down to Suntec convention hall and with the likes of Bryan and Karen going to to set things up which was an ordeal task within that 12m by 12m exhibition booth.

The event will be initiated by 10 am but there was a snake-like queue stretching the entire width of the halls on the level 4 as anxious fans tried to get their hand on some exclusives (which didn't work out to be an exclusive...just pre-launch products that's all).
As we did some last minute setting up including some of us had to cosplay as Shinsengumi members which I had a kick out of till it was a bit less breezy in the convention hall as well as Vincent briefing us on our roles.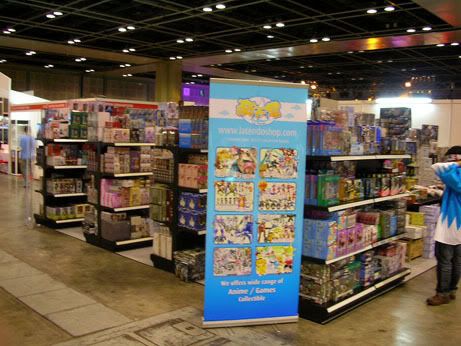 La Tendo Booth



For the first day I was positioned as a marshaller of the perimeter as the crowd gushed in like flood or ants to sugar as the crew was badly swamped for almost the entire day, i.e. really good business.
But then with such obscene prices offer, this kind of turn out was expected no less.
It's hard to discipline myself to fixate my focus on the interchanging flow of customers and standing around for like 3-4 hours straight is no mean task.

I tried to wander around the exhibition hall but simply you could had comb the area within 10 minutes or so...
Many other blogs would give you the low down of who's on show from the despised (ODEX) to the scalpers (Vincent's Toys) to market spoilers (Passion) to my gaming haunt (Gamescore) to Foo's current employers to the studio that gave us our worst 20 minutes of our lives "Limit Cycle" to anime merchandise extraordinaire KKnM to TW's former employers...seriously it's who's who in the local otaku scene...think some tokusatsu fans might miss Mr Ng...

Didn't expect to spend in this event and turned out I really didn't fork out a single cent here though I was nearly succumbing to buying that Pullip doll the missus had her eyes on and was selling as good price from local distributor Magma Heritage. But space was a luxury which eluded us and I had always find Pullip dolls kind of creepy, so it's a hundred bucks or so saved.

Our immediate neighbour was Encore Films who were responsible to bring in some cool Japanese movie flicks which Japanophiles like myself would applaud to.
They had promised to bring in Studio Ghibli's "Ponyo on the Cliff by the Sea" on New Year's Day but it was the Detroit Metal City live action movie that recieved a lot of buzz for those who are into that dark comedy.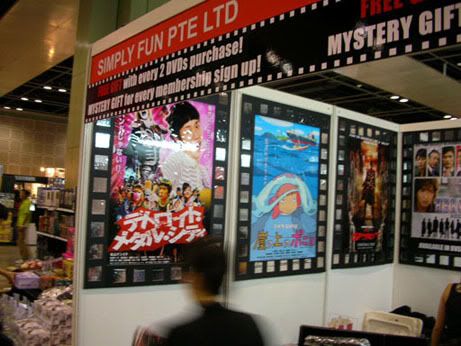 DMC next year?



Adjacent to us is a DLE Inc. who seems to be responsible for the infectious flash animation gatheirng storm in Japan, "
秘密結社 鷹の爪
(The Eagle's Talon)".
Basically the booth just have 2 LCD Tvs buzzing their productions with some related merchandises which were not for sale...
We felt it might just take them 5 minutes to clear the booth when the event ends.

As La Tendo found some long lost customers of the past (who unanimously felt Kallang was now humanly accessible) and attracted new ones, the few of us found familiar faces in the crowd.
Cheryl was here with her Gundam Plamo enthusiast hubby, Raymond was first spotted.
Then Foo came with Michelle and the former was quite delighted to reacquinted with DD who had came with some members of the Kagoshima club to help Vincent out.
Finally TW who coerced his wife-to-be to the event, acting all fanboyish when he was able to get the signature of Morimoto Koji, Animation Director of Studio 4 C who gave us Genius Party.
He was also the same sucker who was swindled $84 on a petty T shirt just to earn his right for an autograph.

The main attraction for me on Saturday was the performance of vintage anison, Mizuki Ichirou or we affectionately known as "Aniki (Big Brother)".
Aniki was very dedicated to the event appearing on both days, even kick starting with the opening theme of Mazinger Z to initiate the event; on Sunday assuming the role of the judge of the Cosplay competition.
However it was her repertoire of classic anime and tokusatsu themes that got me buzzing...
I haven't watch all those old anime series he had sang but I sure had heard them well enough through the games I played.
Theme sof Mazinger Z and Combattler V just cause an emotional explosion inside of me.
I would say those who spent $78 for the VIP seating made a good choice and the crowd was a good spirits to honour Aniki's top-brass performance.
With the encore interlude, think he sang a total of 13 songs and made effort to complete the signature session for those who spent for the concert, with a touch of customisation.
Some were requesting him to bring along JAM Project which he was the initiator and he meekly agreed...let's keep our fingers crossed.
For me, AFA was so enthralling because Aniki at his grand old age made his appearance!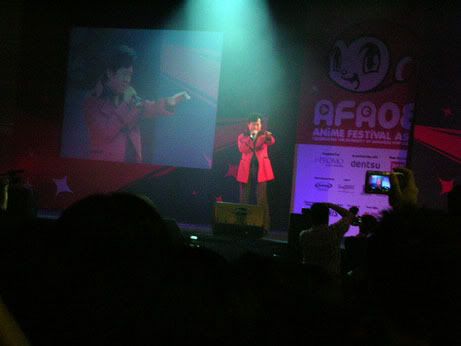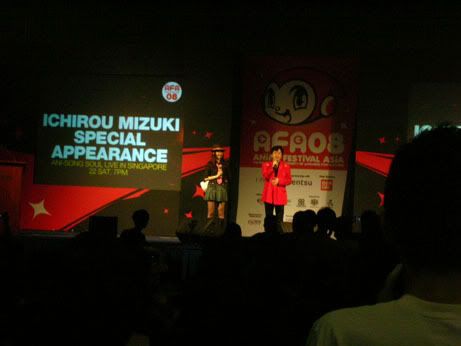 ANIKI!!



On Sunday morning there was much less crowd as expected but business still seemed pretty brisk.
I decided to man behind the attraction table which was hogged by Chan and Karen the day before; and sure beat becoming a perimeter marshaller.
However the endless standing to entertain the enquiries and making sales was still tiring and lactate building to our limbs can be excruciating.
La Tendo ensured we were constantly fed and meal IC, Bryan was up to his task to deliver the food from Suntec City itself.
A string of unexpected patrons to this event which one required to pay for entrance include some elderly, a patient on drip and even monks and nuns who bought Buddha statute trading figures from us. The passion for this hobby surely span people of all walks of life.

Another demographic group who made their presence felt were the cosplayers.
From the usual Shounen Jump clans (Naruto, Bleach, D.Gray-man, Prince of Tennis) to some recent favorites (such as Code Geass and Katei Kyoshi Hitman Reborn) to some of the most quirky (a stocky fellow in perhaps Pucchi Eva Rei plugsuit getup as well as a really amatuer Kamen Rider) to some well dedicated one like the Gundam Exia from "00" and the 一撃殺虫!! Hoi Hoi San; there were also an increasing number of Gothic Lolitas (virtually very young girls) in this event...and seriously such clothing ain't cheap wonder where they gather their funds from.

Caught the cosplay competition with my buddy TW in the afternoon and was hoping to spectacle on the crème de la crème of the cosplayers on show.
In the end most were simply below par and were performing skits which don't really make sense or plain gibberish. The final entrant of a Tifa from FFVII Advent Children also single-handedly drove much of the crowd away.
We were more into the Ultraman Zoffy group who made effort to make small buildings as if you are actually watching the

tokusatsu

show.
The

kaiju

dersevingly won the individual award while that poor Knightmare Frame mecha from Code Geass were falling apart since the beginning drew the sympathy of Aniki who award him his special award.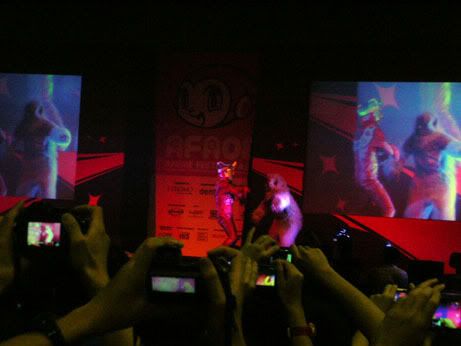 Zoffy versus the White Ape kaiju



The main attraction for many was surely May'n's concert in the evening.
After a rather decent performance by a local J rock cover band who did numbers from Nightmare, Asian Kungfu Generation, L'Arc and Luna Sea, the rabid fanboys' prayers were answered when the petit singer made her appearance.
By this junction the entire floor before the stage were filled to the brim, at least twice as much who came to catch Aniki the night before.
We caught a glimpse from our booth and noticed many didn't heed the warning of the organizers for don't take photographs or videos of the performance.
While the likes of Chan, Ferris and Bryan who had been big Macross Frontier fans were largely captivated to see the singer behind Sheryl Nome in action live, I was unfazed by this Horipro singer who became an overnight sensation with decent Oricon chart showing.
She did tried her best with decent dance moves & crowd interaction (including some simple English she might have memorized for days) but her singing left alot to be desired especially the high pitch vocals which amplified to an intolerable state.
She left the stage briskly after just 6 songs with no encore whatsoever, and promptly proceeded to the signing ceremony which many complained about been replica on white cardboards...
It surely world's apart from Aniki...well things don't always equate as it does.

With seconds ticking till the end of the event, we made a final surge to reduce the amount of goods needed to bring back to Kallang.
Despite some shelves are emptying and hot commodities are sold off easily with replendishment over the course of the 2 days, we were still hoping to move some of those items which were stuck since ages back.
Vincent started to draw attention of the departing crowd by slashing the price of some figurines to level unheard of...
While La Tendo had gathered a reputation of being overprice or profit-hungry (which is not is subjective from time to time), many just couldn't resist the amazing price on offer.
It paid dividends as the ending minutes saw another surge in sales but still some items are destined to be left in the cold.

As the patrons were ushered out of the convention hall, we started packing (while DLE were long gone with their 2 seconds of squaring up).
Transport of items were limited to Vincent's measly van and I joined a few who left behind to bring everything back to the shop.
All in all, it was a great experience for all of us and something perhaps to look forward to in 2009...


The tired crew
Japanese word of the day: 痛むこと (Aching) That's what my thighs are telling me at the end of the 2 days event