Eriko & Sou s' Wedding Part 2
14th October 2009, Wednesday

The stay at Hotel Ruiz came with complimentary breakfast buffet at their penthouse restaurant, La Fontaine.
Why spent unnecessary when it comes in free?

The view was decent, not spectacular but on a clear day we can see the mountain ranges encircling the capital city of Iwate as well as how it was void of those skyscraper of a modern metropolitan city.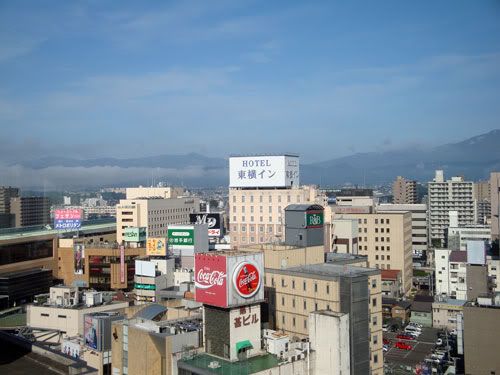 We gave ourselves a good an hour and a half for dressing up with the missus especially required the luxury of time to doll up
Then at the stipulated time of 10.15, donned in our best outfit, we rendezvous with the stars of the day who came in cab.

The venue of the reception was a good 10 minutes drive away as it crossed this highway to some sort of a heartland where we had been to a large shopping mall of the name of AEON 3 years back.

Back in February, they mentioned that they had intended to host the reception in the traditional style in a

jinja

(shrine) which had got us anticipated but they made an U-Turn to go for the modern style which was an experience by itself.


Marry de Mana (you just gotta have some pretentious French feel to the name) was a well manned operation to ensure their wedding ceremony ran right off the script and had a supporting cast inclusive of personal assistants to each of them as well as later as we have seen a dashing valet (whom the missus was itching to take a picture with), a band of well groomed and trained waiters, an announcer (emcee) with a voice that sooth the most arduous situation, an organ playing musician who had a repertoire of classics and English oldies and some of the best flower arrangement team.
This was in addition to the quirky make-up artist cum hair stylist as well as the photographer who for the most of the day trying to balance with that 2 bazooka of a camera of his while trying to keep his clients and their guests going, not neglecting his eye for details; both of whom may or may not be part of the package.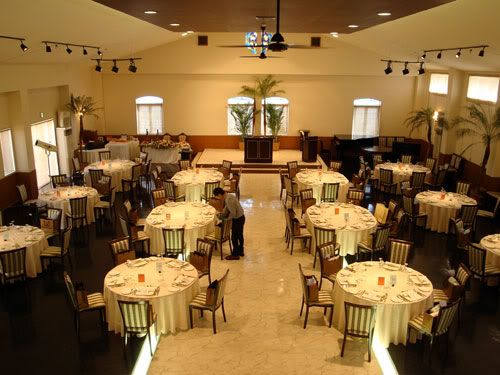 The theme of the wedding was "Hawaii" which saw them decorating the hall with palm trees and the slew of Hawaiian style tunes during the wedding itself.just added on the mood.

For the first hour or so, Eriko was ushered to the dressing room while Sou made some last minute preparation before they went through with the rehearsal.
The two of us just wandered around like a kid in a toy shop to check on the various details of the reception hall, mainly to kill time.

The two items that caught our attention first and foremost were on each seat laid a big bag of goodies which looked like an exaggerated wedding favor (or souvenir) from the newly-weds.
It was apparent that they had put in a lot of effort to come out with the gift items which had some personal touches from individual to individual.
It seems like they had shipped back a carton load of items they had purchased from Hawaii such as the local wine, T shirt and in our case pineapple salad dressing to share with their loved ones.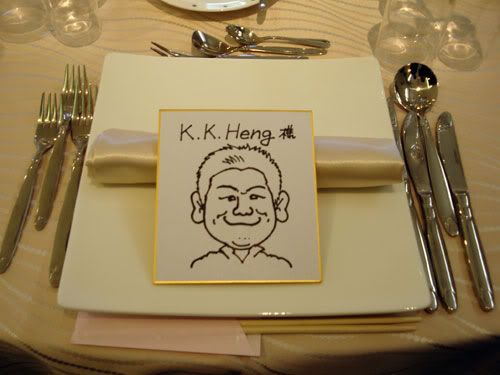 Sad to admit it, the rolly polly caricature character sure looks like yours truly


One every single serving plate was a well drawn caricature of the person who was invited and assigned to that specific seat.
They said it was done by a professional and sure look like a great souvenir on itself.

With a good 2 hours to burn, the missus decided to drag me to a mega shoe outlet just around the corner where her undying search for that elusive pair of boots continued.
There was little surprise it failed to transpired but it did not stop her from buying another piece of garment from the jean warehouse just across the road.
It was Saturday morning, quite close to noon but the place was definitely a zombie town...

A bit more of hanging around once we got back but soon Eriko was preen and ready for a photo shoot together with Sou in a sparkling off white tuxedo matched with equally glaring white shoes.
Somehow the photographer made the most of the limited backdrop just outside Marry de Mana, even ourselves and the quirky make-up artist were being plucked to add the numbers.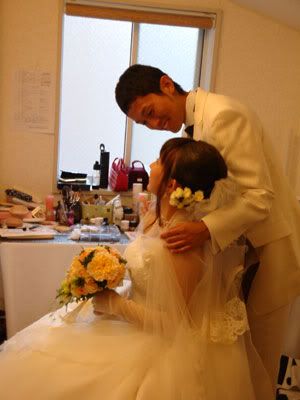 Sou putting on the veil on his beautiful bride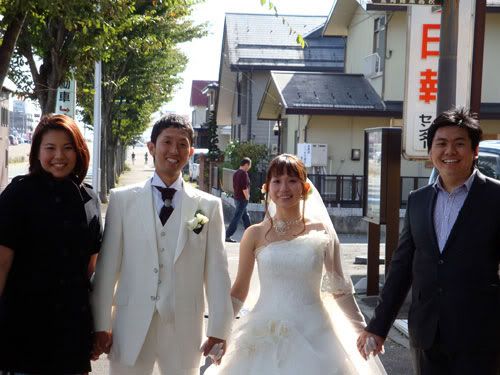 We became glorified backdrop during the shoot


Eriko was known to be a very emotional person since that teary goodbye at the wanko soba restaurant many moons back.
When her aged grandmother came struggling down from the bus her side of the family rented to bring them down from their home town a good hour away, she started messing up her make-up when her tear glands were activated again.

Sou's father tried to make a conversation with us and I tried to decipher with that limited comprehension of Japanese though I did get the last part about just enjoy drinking or something.
His sister Mayu was donned in a nice kimono which was a few we spotted in that afternoon.
There was no presence of Sou's mother whom we realized later that she was suffering from an illness which made her bedridden at home.
Let's hope she'll recover real soon.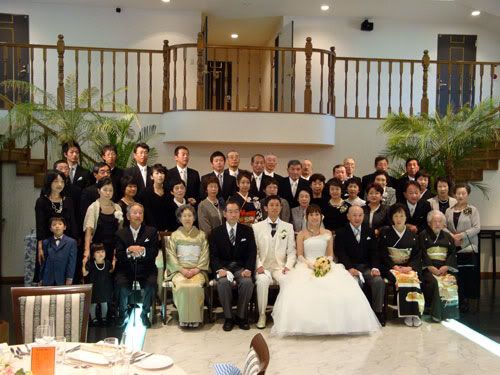 Punctuality is a good virtue one has to inculcate and perhaps in Japan, there was little tolerance of being late, so unlike our local wedding banquet, the reception began right on time as we settled at our table filled with Eriko's paternal aunts who tried their best to make conversation.
While one of her uncle was losing sight (literally), the other was a sort of a voyeur when he kept taking pictures of us.

Before the procession began, the announcer highlighted the fact that we had brought with us the Singaporean delicacy (remember the bak gua) and distributed among the tables.
We only bought 2 small boxes so you could imagine the 80 guests having to take a measly piece each.
Somehow they love it and we were cast into the spotlight for the gift as we were prompted to stand and bow.
Uncomfortable moment and it was just the beginning.

So the event began with the entry of the bride in the arms of his doting father who was donning similar tuxedo as his in-laws.
Instead of the usual wedding march or Ave Maria, the music played was something of a Beatles' classic, what a queer choice.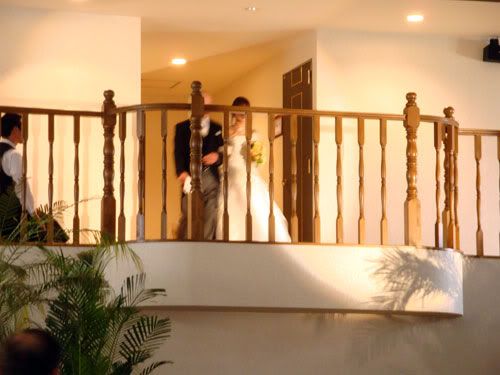 Mr Matsuzaki must have mixed feeling seeing his only child being finally another man's wife.


When the bashful bride was handed to the composed groom, they would exchanged vows and made their signature under the watchful eyes of their mentors at work.
Then the adorable Kororo, the baby of the party (literally) came with the rings before a slightly older hyperactive boy Tsubasa-kun said grace to kick start the dining.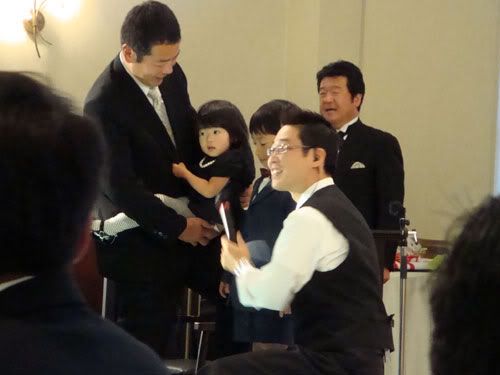 It was definitely weird to serve French cuisine for a Hawaiian-themed reception but it was tasy no less as we worked the utensils inwards.
Though eating

Foie gras

was unethical in the way they reared the ducks or geese for their liver, it was definitely a gastronomical adventure.
The steak was really Michelin restaurant blue-list level and I helped myself with 2 servings as the missus had abstained from it of course.
But the star attraction for me was the pastry which the newly-weds had to serve in the ending featurette of their reception, just outside in the garden area cum smoking point.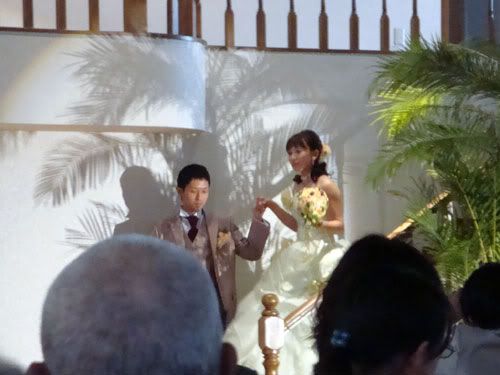 The lime green gown is definitely in sync with Sou's khaki colored tuxedo. Eat that Fann Wong and Christopher Lee!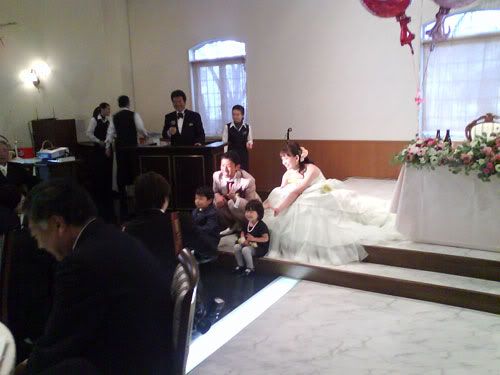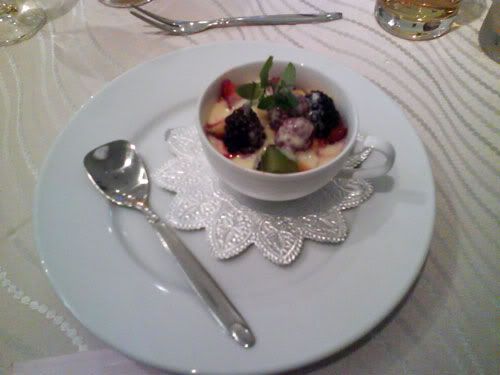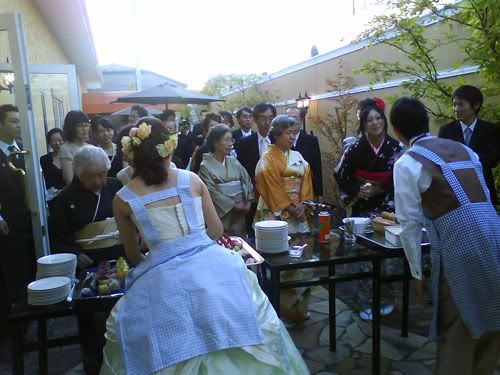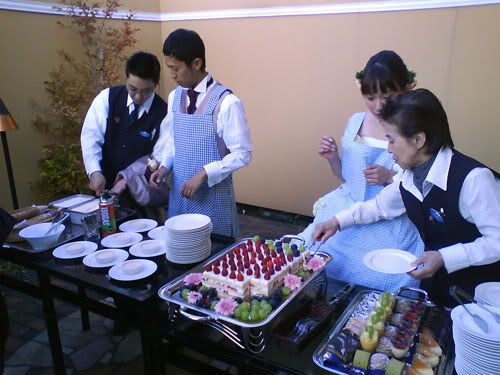 In fact food took a backseat for the amount of alcohol on show.
The crew constantly load the table with Kirin lager while one can choose from the range of wines, cocktails and Japanese shochu.
The parents of both sides had been carrying out their social etiquette to go around and serve beer to every single guests while after a string of unsuccessful foray into unleashing the while screwed cork from the champagne bottle using a sword, Sou did the next best thing that was to just dislodged using the brute force by his bare hands.
The champagne which I noticed was from the famous Martini brand was simply delicious and we helped ourselves with a few servings and everyone started looking tipsy enough.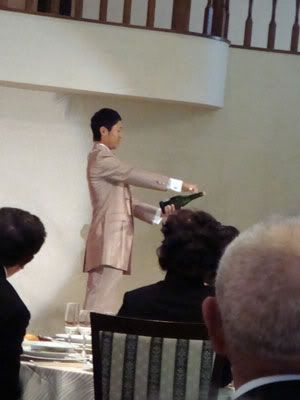 Sometime things do not go according to plan.


The truth is that the newly-wed had very little time to get some food into their system.
After returning to the stage with a change of outfit, it was their fathers' turn to deliver some words of congratulations (the bosses done it earlier and was close to a National Day Rally as possible).
Then followed by a video montage of their growing up years before a look of their trip to Hawaii.
In between the groom was joined by his band of close friends in a duel of wanko soba while the bride who was musically inclined was joined by a chum from their school band days to deliver a clarinet-saxophone duet with a medley of "Amazing Grace" (The Japanese simply love that song) and "A Whole New World".
We were also being asked by the announcer to deliver some fitful words after flying such great distance to attend the wedding.
In truth, we looked set to make a mockery out of ourselves with our gibberish but it was enough to make Eriko teared again.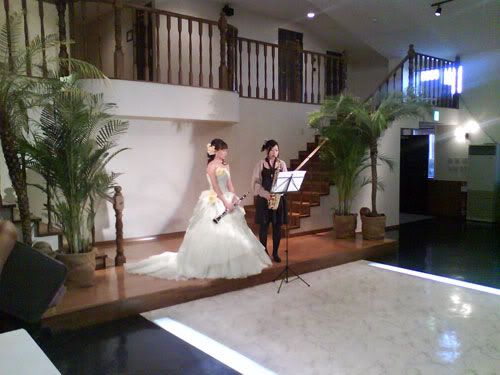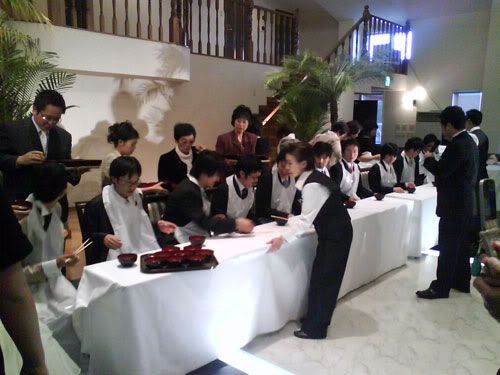 The entire luncheon lasted for a good 2 and a half hours with everyone pretty much doused in alcohol, wondered where all the food went and high on the occasion.
The couple made a final waltz around the tables as Styrofoam hearts were floating illustriously off the ceiling.
It had to be the most aesthetically eye-catching moment of the whole reception and they even had gifts in store for those who snatched hearts with a certain indication on them.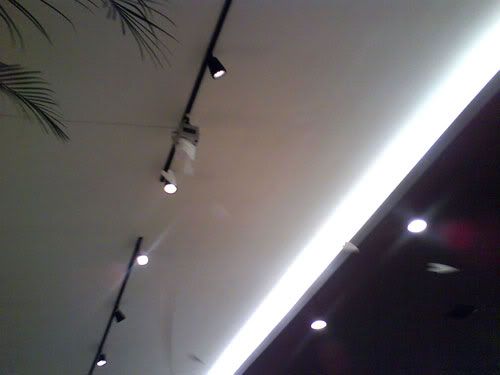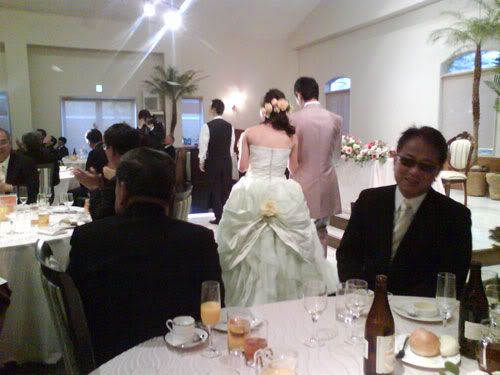 Like our own post-banquet practice with the parents joining the newly-weds to bid farewell to guests who graced the occasion, except in this case they were distributing Hawaiian Host chocolates out like it was Easter.

We left for our hotel on a cab as we had the evening for ourselves.
However fatigue started to eat in, as we wandered about the shopping street within the train station before coming back to the warmth of the hotel room laden with truckload of finger food.

We spent Saturday night fixated in front of the small LCD TV as Fuji TV was reminiscing 50 years of comedy of the likes of Beat Kitano, Shimura Ken, Akashiya Sanma, Tunnels, SMAP on variety shows while on rival network, NTV (Nippon Terebi) was having a 3 hours competition show of all the upcoming programmes for the fall which also include Anpan man and Detetctive Konan in the line-up.
As it was these couple of weeks were the transition period between seasons and the networks would dish out special programs before the new fall line-up were unleashed.

Sunday would start early as the couple would bring us to Miyako.

つつく