The Bind Part 3: The Snapshots
24th March 2006, Friday
As promised some pictures to compliment that 2 long journal of event for the hectic ROM weekend:
One Day Tour with Sou & Eriko on the 19th: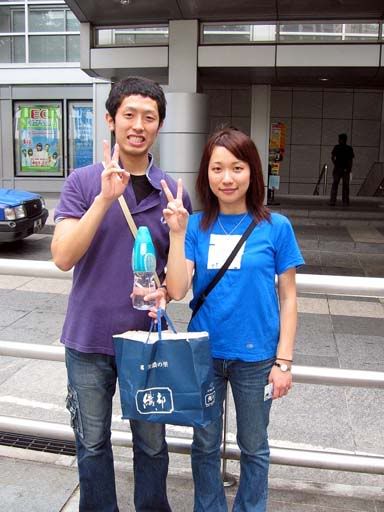 Introducing the vibrant couple hailed from southern Iwate, Sou being the one on the left of course if you haven't yet noticed for yourself.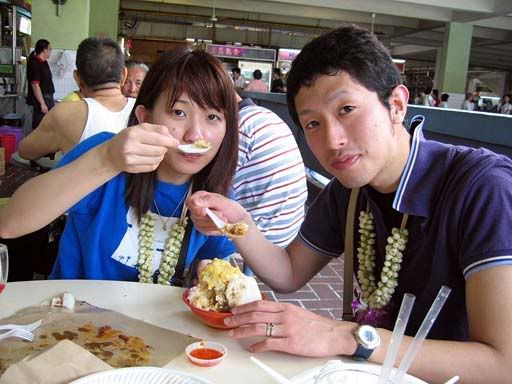 Ice Kachang with caramel syrup, sure the best to cool oneself down under such torrid weather and a great luxury for those with a sweet tooth like Eriko.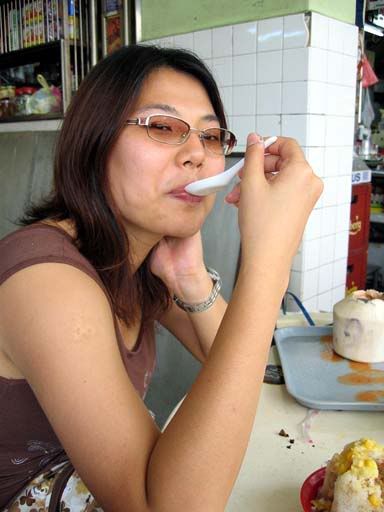 Even a Singaporean like my lass couldn't resist the great tasting ice-cold dessert.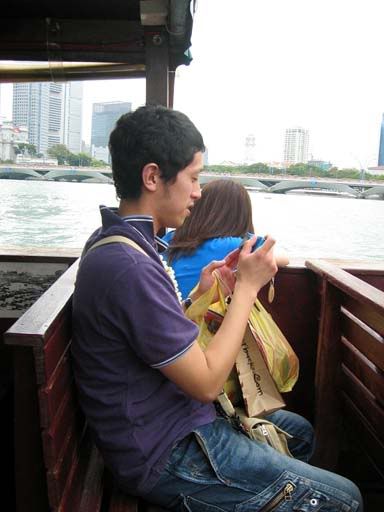 Eriko (translated from Japanese): ugh....I'm feeling nauseous from the boatride
Sou (Also translated from Japanese): You sure it's not because of seeing Kei's face for too long?!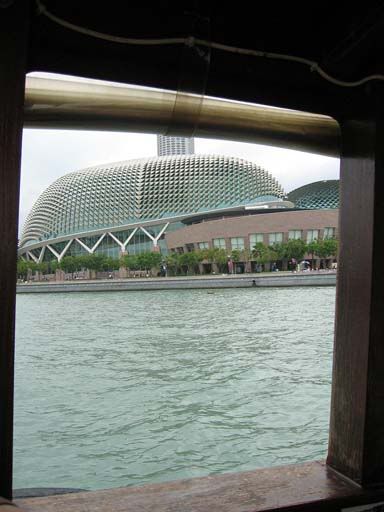 The famous twin Durian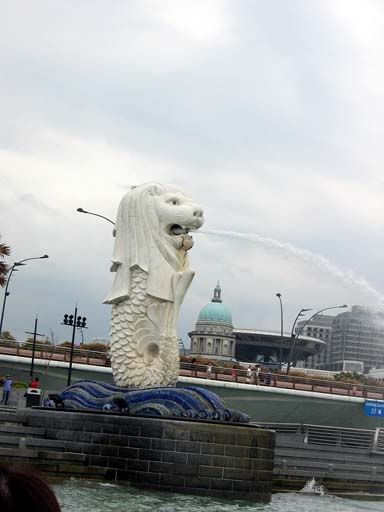 This is what happened when you had seen my face for far too long...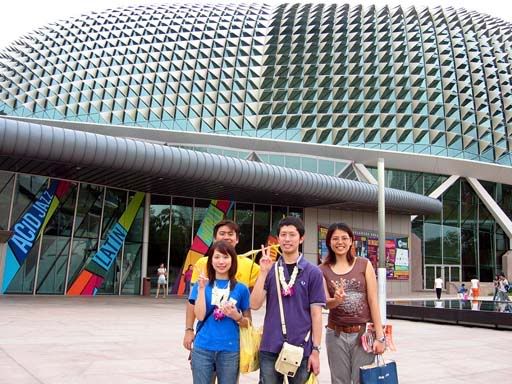 We had enlisted the help of a Indonesian-looking chap to help us take this picture. After like 2645357373476476475975956 attempts, he still had problems taking the shot before his female companion who I supposed is more gadget-friendly managed to take it at one go...Just look at how rigid Sou's smile is, I think his jaw muscles might had suffered a rigor mortis back then.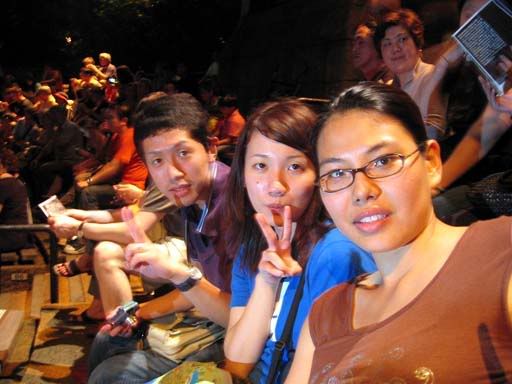 No one looks too please, not when you had to pay an

extra $8

for a tram service which I am adamant should be included in the entrance fee.
Solemnization Ceremony on the 20th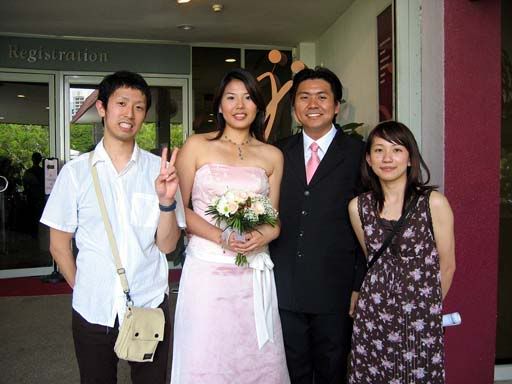 Sou's jaws is still suffering from rigor mortis here once again...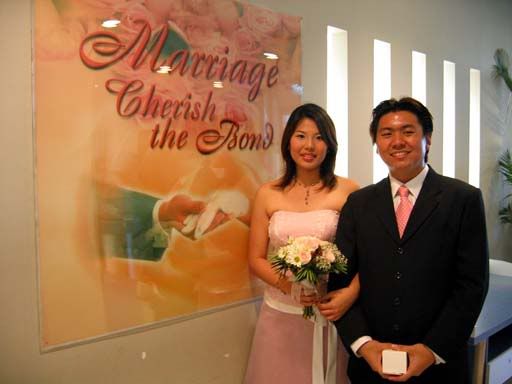 "Marriage..Cherish the Bond"...Definitely the golden words to remember..By the way, don't you think that my face is a wee bit too oily?
My wife loves this pictures of hers, she said made her look slim... So do take note, if you want to take pictures that make you look slimmer than you actually are, take before some vertical columns or something.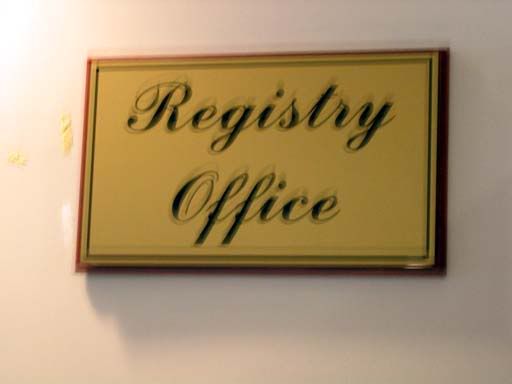 Your hands would be shaking too when you are about enter such solemn places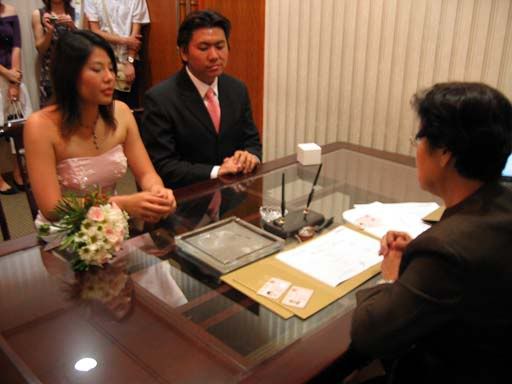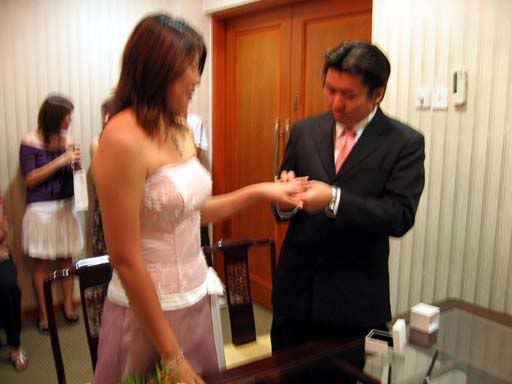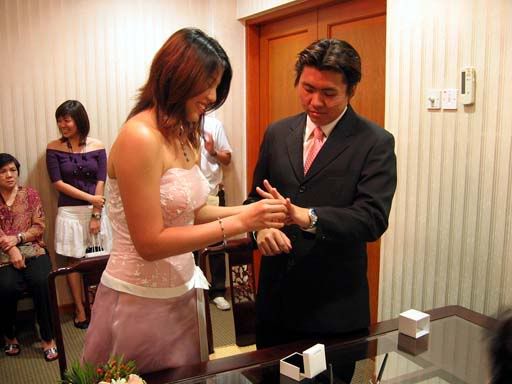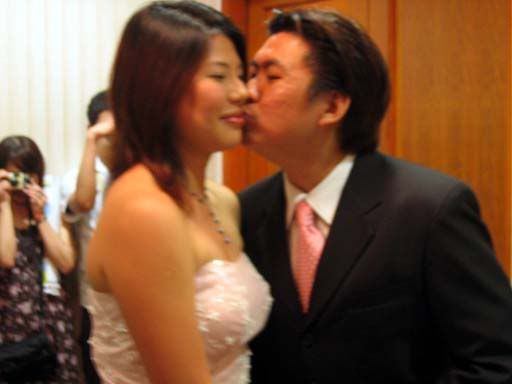 It sure is a rapid solemnization ceremony..so fast the photographer had to request the kiss in slow motion to be recorded on film.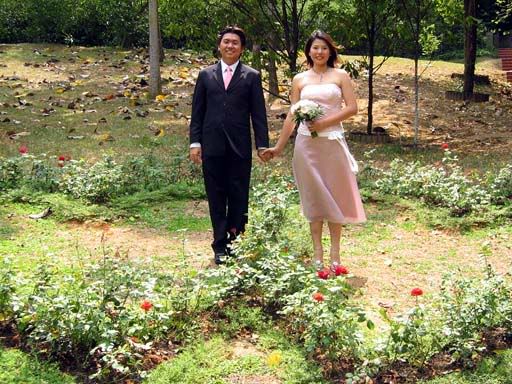 Heart to Heart We'll Do Our Part...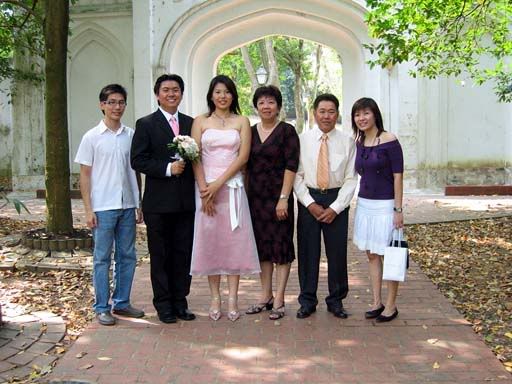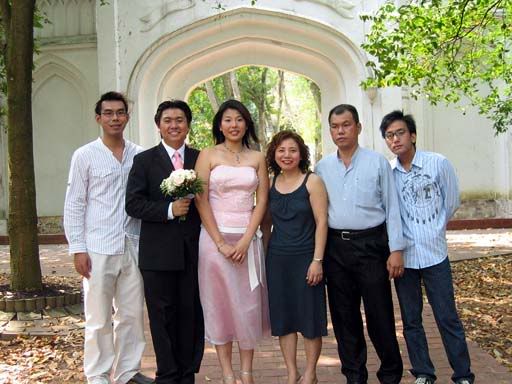 Have to share your happiness with your immediate family even though they tends to look else where while taking pictures.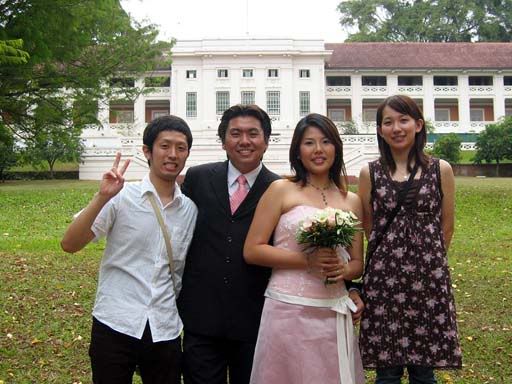 Sou's jaws ain't that stiff this time round but his V sign sure is.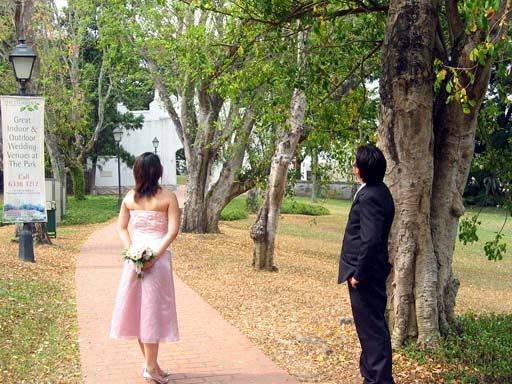 The Bride: You think by staring at that durian, it would actually ripe and descend?
The Groom: We can't let our Japanese go back without tasting the king of fruits, can we?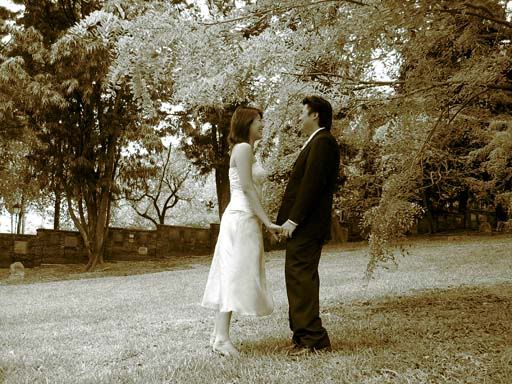 The sepia effect is sumblime here except the couple ain't too serious with the shot.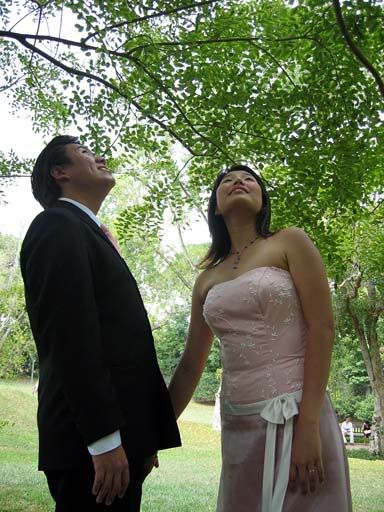 With this much tree watching, we should be employed by the Ministry of Environment.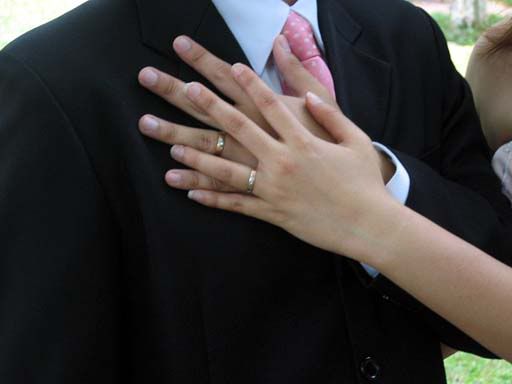 Still remember all the efforts we had put in as well as dilemmas we had encountered to choose this pair of wedding bands?.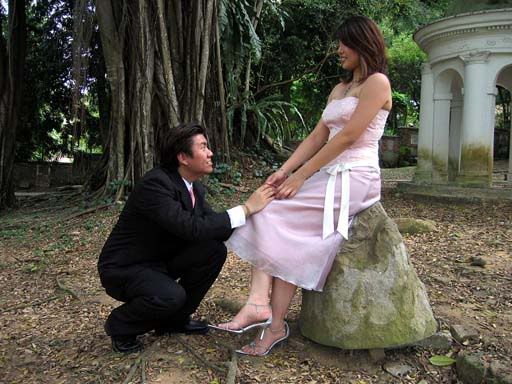 The Bride: Finally you had knelt in front of me in a romantic way.
The Groom: Ugh...can help me up, think my legs are numb....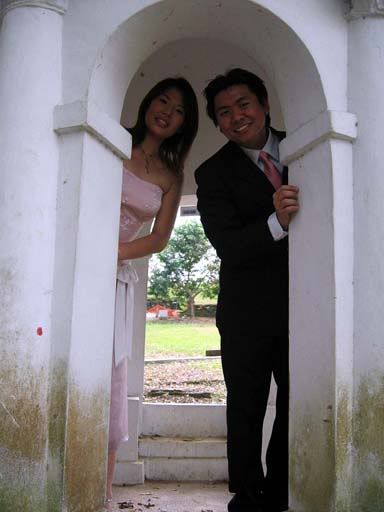 Let's hope these dome-like pavilions have nothing to do with the eerie graveyard atmosphere surrounding Fort Canning.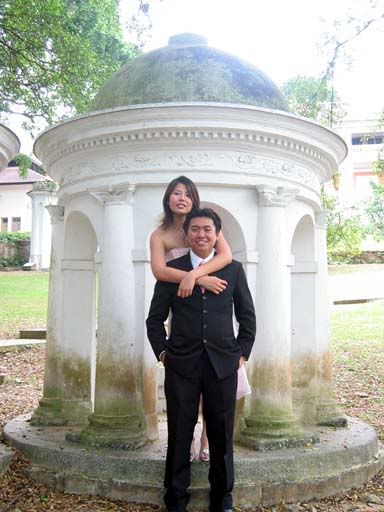 If it is, let our mighty love defeats the evil aura it exudes!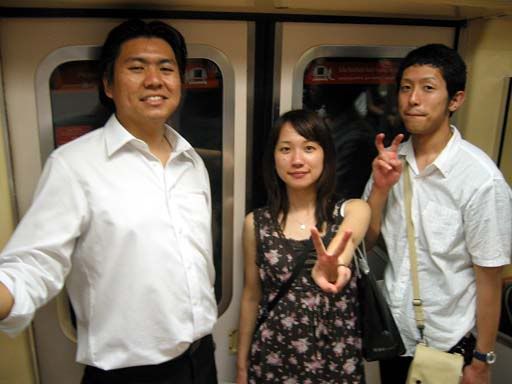 The exhausted gang riding on the MRT back to Novena; me especially with my tortured toes..just look at my wry smile.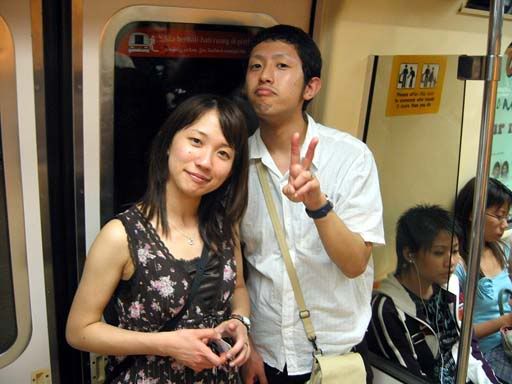 Sometime it is hard to imagine Sou with that matured face of his is still only 21 years old.
Sending off at Changi Airport Terminal One on the 21st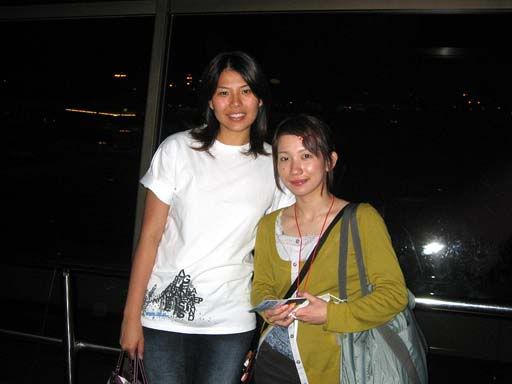 A reluctant farewell but we share see each other again in a year's time.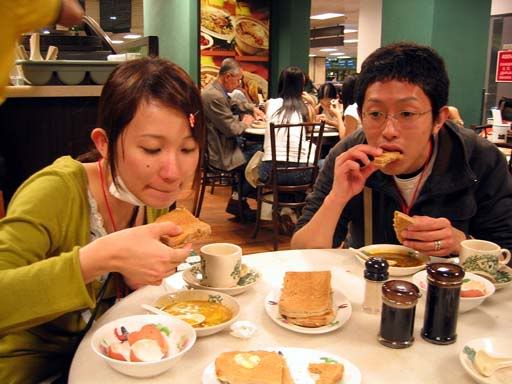 Till then please savour the taste of our local Kopitiam breakfast set...
Well with that conclude the whole run-down of events from the past weekends and back to my usual, routine life..
However the fact that my household had been hitting the rut recently prevails and in amplified mode...
Last evening as I was joyfully strolling back from my final RT session for the year, I badly sprained my leg...
It was really a freak accident as I was to cross the junction to where the Hindu temple is. My position was a bit off from the main pedestrian pavement, and like usual I wanted to scurry across but slowed down my pace to allow a scooter to turn left.
Just as I thought I landed on the black tar road to accelerate across, my left feet hit the kerb and badly twisted, resulting me falling backwards on the side of the road.
Embarrassment aside, I had to be quick to get up before any incoming traffic with some well-dazzled driver might had not seen my body, tweeching in pain by the roadside and run me over...
Meanwhile at Bishan Junction 8, my wife was doing some money transfer at the ATM station and was engrossed in a klutzy moment when she absent-minded left her university certificate (which is rather huge by the way) at the ATM... That would be one of the most important document of our life, and unliked IC or passport which we could reapply upon missing, I'm not sure whether the university would be gracious enough to help any alumni who had lost their certificate..perhaps had not happen at all...
However in both cases, the ending wasn't as wretched as it seems...
My left ankle is sprained yet I could still walk properly while a kind soul returned her the certificate after she reported to the information counter there and then...
Nevertheless with things not going our way, I was feeling pretty perturbed and was cranky this morning when my left feet starting to swell...
Mom offered me to rub some ointment to hasten the healing process but my long-winded old man started passing some message to her about the renovator who is coming this afternoon to get some last minute measurements. I'm sure he would call again later on to repeat the same old issue yet he had to choose that limited span of time when everyone is rushing for work to convey his message, more like meer command to Mom....
Been quite irritated with the ongoings and pretty late off my schedule, I threw a tantrum and vented on poor Mom...
Well got a saying off an interlude from Channel News Asia, "If you learn to be calm, you will be forever happy"....wise words...

Japanese word of the day: 平静 (Calm) This is a trait definitely not associated with my family...