時をかける少女
25th July 2007, Tuesday

By no mere coincidence, 2 movies I caught over the weeks involved the concept of time...

In "Cashback", an Academy award winning short film turned full movie feature by this Canadian chap, Sean Ellis, it involves the protagonist Ben, an art student who was dumped by his girlfriend, Suzy and suffered insomnia for weeks...
He mentioned with this extra 8 hours daily, he needed to dispense off for some rewards while trying to rid thoughts about his old flame...thus the idea of doing the graveyard shift at a local 24 hours supermarket...
Like many of his fellow colleagues, enduring the slow minutes of the wee hours was a painful experience.. While the rest cultivated methods of their own not to regard time (such as avoid looking at watches or clocks) or simply wasting them, Ben managed to spawn the ass-blowing power of freezing time though in reality himself is experiencing the toll of time, a bit off from actual physics theory but then again just take the script with a pinch of salt...
Ben made use of this power of his with some mischief like stripping his female customers and drew their portraits (yes it's what a typical testosterone-filled lad would do) or putting some annoying personnel (like his manager) in some awkward situations...

Later on, he grew affection for a female colleague, Sharon and she responded in a favorable way; however during their boss' birthday party, his ex appeared and wanting to reconcile by planting a big fat kiss on him, drawing ire from Sharon...and that's where the story led him to break his insomnia curse and a prank by his colleagues actually managed to make an art gallery paid attention to his artistic talent and he finally made up with Sharon in his first art exhibition and they made out in the midst of a snowy night which he had halted with his power...

So all in all, supposed to be a arty show with substantial storyline and

avant garde

cinematography turned out to be a rather no-brainer but enough to keep one interested till the end, especially plenty of flesh to be seen...

Meanwhile in "時をかける少女" or "The Girl that Leapt Through Time", a Kadokawa Shoten-Madhouse production which had drew ravings from my buddies, was indeed a nice animated feature for a Sunday night...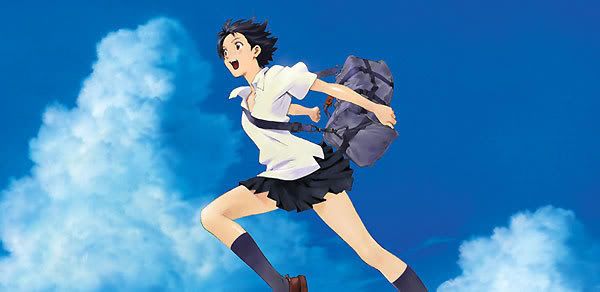 She should leap into the past with the BGM of Johnny Hates jazz's "Turn Back the Clock"

The show has some sci-fi element in it with the protagonist, Makoto's pal from school and eventual love interest, Chiaki actually is a time traveler from the future who came to this timeline just to view a painting..that part was a bit smudgy for me to understand...

Basically by accident, Makoto acquired the power to leap through time from the power vessel in the form of a walnut, and she was bestowed the ability of leaping back into past for like a hundred times...
The first of which saved her ass when the braking system of her bike malfunctioned and resulted in a near-death when it hit a barricade and hurled her towards an advancing train...
Later on, she used this power, not to save mankind from some historical mistakes in the martyr way but to her own advantages and correcting some misconceptions of how fellow schoolmates had of her or even avoided confession by her closest baseball buddies, Chiaki and Kousuke...

The time-leaping parts had a pretty ingenious and entertaining rollercoaster ride but I felt if it was a live-action movie, Makoto would need a stunt double with a hefty insurance coverage with all these knocking and thumping over objects from the leaps

Like "Cashback" there was a time-freezing scene when Chiaki explained to her that he was actually from the future before he disappeared to allowing someone from the past to make use of their ability to time-leap...
Near the end alot of whining and sobbing of not able to find Chiaki and blah blah blah...so I wasn't paying too much attention...

Nevertheless it was a nice, light-hearted animated movie with absolutely no

fan sabisu

even with Makoto was seen in her school uniform which is a mini folded dress all the time and she was doing stunts that would put Jackie Chan to shame, go figure...

Actually it would be great to have the ability to freeze time or leap into the past, like some of our IT guys at work would love to possess as the computer network at work went cranky since yesterday when random workstations would experience a void of internet access or even local server where we store our precious data, making life at work pretty difficult...
Luckily my workstation was one of the rare few who was spared this ordeal...


Japanese word of the day: 氷結(Freeze) If I could freeze time, I shall do all the 101 things I had wanted to do but never had the time for