Of Chow Yun Fatt & Solid Snake
10th September 2007, Monday

When you struggled to wake yourself up on the 1st day of a work week and drizzles turned to torrential showers en route to work, it only spells that I would be relatively late to report to work...
Not that it really matters 'cos this week is sort of like the foot away from the pedal with the project almost done and in transition phase as we anticipate the arrival of the new batch of samples...

The weekend has been fantastic and for the 1st time in a while seems long enough for me to savor though the sleep factor is still well inadequate...

On Friday evening, after much tussling between which actual day we should go, we all felt Friday evening to the St. James Powerstation is best as the follow-up to that inaugural trial of the multi-facet discotheque...
BY's persistent fickle-mindedness can be frustrating and after convincing her to attend especially the occasion was on surface to celebrate her birthday as well as Chee Seng's which fell a day before; she informed us at the very last minute that she had abandoned the idea of going and her casual dressing on that day was a dead give-away...
The attendance was well dwindled since the last time round but the remaining of us were still high on the idea of enjoying ourselves, immersing in alcohol and the innocuous beat of the dance music...
My missus was slightly late but still in time to enjoy the complimentary entrance before 9pm and I was able to down a glass of the intoxicating "Graveyard" to get the night started...
The performance at Dragonfly was a blast with 1st runner-up of the 1st Singapore Idol Sly Sim was present to did a few powerful rock number but took it slow with Wham's "Careless Whisper" as well; but the energy exuding from the live band at Boiler Room perhaps match that of the Mandarin-themed one with their mix of rock & hip hop sounds...
At the end of it all, I suffered partial deafness on my left ear, we didn't introduce enough alcohol into our systems but danced the night through, the missus was so shacked up, she dozed on the bar stool while XY who surprisingly decided to hit the joint with the predominant male gang stayed with the rest till the end, and I didn't even uttered a word to the always wordless KM who came in the latest at 11 plus...

Recuperating from the late Friday night out, my missus decided to have a rare day domesticated while I dropped by a rather quiet La Tendo despite their storewide 20% sales...

My Wreckers-buddy, CS tried in vain to contact me on Friday evening when the loud dance music was eating away the meek ringtone of my cell-phone...
Apparently, he is in the middle of an in-camp training which spells more leisure time for him than his actual working hours...
He had intended to woo the rest of the gang for another PS3 game session since our 1st in May; and I was the last to respond and grant consent to another wild time at his place...
Instantaneously I agreed and it was exactly what kept us occupied on Sunday afternoon, rather unusual for a gaming session which a mere 3 hours ain't gonna appease us...

CS came to pick me up since he was around the vicinity for lunch with his mom while TW & Foo had arrived at his place at that moment...
CS bought the mini donuts at Central Clarke Quay he got so addicted to since that faithful day we had dinner there while TW also bought some donuts from Munchy Donut (the latest fad here after the BreadTalk which baffled me), so I foresee having those highly-sweetened, high-carbs & high-calories rings for dinner while we are there...

Once again CS had outdone himself with all the gadgetry updates... He had been into quality sounds for a while and in search of a set of suitable sound system to compliment the high-definition Samsung LCD TV to give him the most ideal gaming experience and he finally got a 3.1 set witha woofer which I mistook as a stool but elegant enough for his liking...
Later on upon query, he leaked that the woofer alone cost him a cool $750 ..woo..whatever makes him happy man...
But on the pro side, the money was well spent as the surround sound really enhance the gaming experience especially when we were in the midst of "Virtua Tennis", we could hear like the cheering of fans from almost all corner of the room...
TW's persistent usage of Juan Carlos Ferrero is dubious who no offense might be a great tennis player in real life but the virtual representation was a joke...
That was the last action before he departed to send someone to the airport much to CS' reluctance...

We did tried out a game he downloaded recently, "Calling All Cars" which enabled multi-player action as it splits the screen in 4 windows for each contestant...
Basically we are to control Micro Machine like vehicles to chase down criminals on the loose and send them back to the jailhouse to earn points within the time allocated...
It was madcap scramble with every car for himself each round and it took us a while to figure out the sophisticated controls of each vehicle...
While I am the residential cluck in our little gaming community, it can be quite vexing to keep getting the final place as you see your buddies kept whipping your butt in the game where some terrains seem mission impossible for me...
At of it all, it was for great fun which we surely indulged in, neglecting we might aggravate arthritis of the hands and fingers with long exposure to this game...

One fine feature of PS3 is that you can download demos of games to be released and sample the game before deciding whether it is viable to get the real deal...
Our good friend did sampled aplenty with the 90GB hard disk enough to hold plenty of those....
There were some notable ones...

"Heavenly Sword", an action adventure flick by Ninja Theory which should some connection with WETA since they mentioned they had production from New Zealand and Andy Serkis from Lord of the Rings fame was involved in the production...
The making of the game didn't really impressed us but going through the demo, the whole cinematography was alluring and the fighting was well choreographed which truly utilized the PS3 game engine...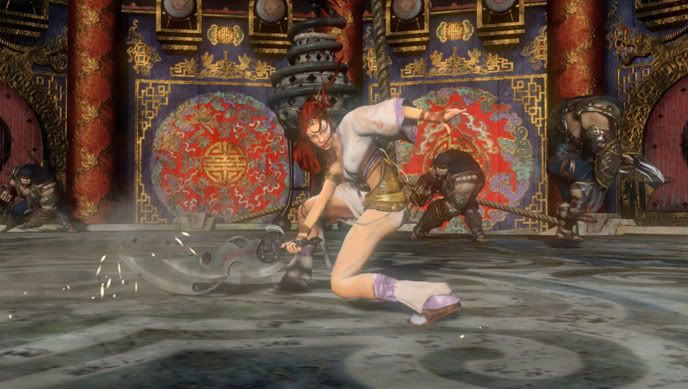 Fancy be Chow Yun Fatt in one of John Woo's famous action films?
Midway Games' 3rd Person Shooting game, "Stranglehold" has a virtual Chow reprising the role of a Hong Kong cop by the cheesiest name around "Tequila"...
Basically the game has the feel of a Joh Woo movie though the re-enactment of Hong Kong seems a bit dubious with way too much fruits like watermelon, electrical appliances and tuition centers around and the hunchmen are just clones but they are fugly enough you wanna shoot them all!
The entire point of the game was to stylishly shoot everyone in the game though can be real absurd but do recall, in John's movies no one shoot properly with barrel recoil or physics taken into serious consideration....
This is perhaps a great game to play with some friends with acid tongues who just wanna commentate about everything along the way....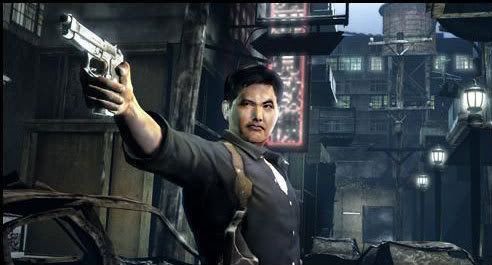 Konami's "Metal Gear Solid 4: Guns of Patriot" is perhaps the most anticipated PS3 game to be released in 2008 and may single-handedly hike the sales of PS3 consoles when it is out...
With new features like Octocamo and the ability to play in First Player Shooter might be the tip of this tasy iceberg and from the demonstration video CS showed us, it is no wonder MGS fans are all going ga-ga just by viewing a few snippets and I might be a new fan as well...


Japanese word of the day: 射撃 (Shooting) When you got all the frustration cooped up from work, a daily dosage of shooting virtual enemies is the best medicine