My Ideal Christmas
18th December 2007, Tuesday

Before I begin, some famous (or infamous) local anime blogger (there are a truckload here by the way) labeled X'mas as "the spawn of Jesus"...Literally it's true but it sounds kind of offensive, especially to devoted Christians I am sure...

Well I am a free-thinker born into a traditional Chinese family with my mom very much believe any deities which can bring her good luck and of course happiness and prosperity to the family.
Our concept of X'mas had always been shaped from the propaganda-ish TV shows and movies.
We had never really celebrate X'mas and in Singapore with the lack of the seasonal change, the X'mas spirit is almost non-existent for my family for sure...

When we were young, we had yearned for some sort of celebration to make X'mas as memorable as possible...
We had attempted making makeshift X'mas tree with bolster and blanket and hung socks for school in hope that by the stroke of Midnight, Father X'mas would somehow descend in his reindeer-pulling sleigh to deliver some presents, but the only means would be through the rubbish chute as a replacement of a traditional chimney...
I then bought a 1 m tall artificial tree with the measly pay of my first holiday job which did help create some mood for X'mas of my teens...

My parents had never believe in celebrating for X'mas but did obliged to our request at times to cook something nice (usually just pork chop with fries) to appease our desire of some form of celebration...
As we grew older and with a wider spectrum of friends or acquaintances, going for X'mas parties seem a norm but still it was usually some lackluster gathering which in the end you get crappy gifts for gift exchange and ultimately not enough sleep and a bad taste in your mouth...

X'mas is also a season when I yearn for companionship when I was finishing my A Levels and preparing to be enlisted for National Service...
"Jingle All the Way", perhaps one of the lamest festive movie, certainly was the worst choice to go on a date with your dream girl and the catalyst for her to totally reject me when I made my profession via a snail mail since I was too petrified to face the rejection in my face...
That ruined my X'mas of 1996 but I had it coming...
The subsequent years in the service weren't exactly better... It would actually be okay if we went sailing for that day with the opportunity wide open for fellow ship crew to buy you toothpaste or eye lotion as gifts or have leftover curry (believe me with the chefs we have onboard, there should be plenty left) poured all over your body...
I believe it was 1998...My worst X'mas when I spent it hogging my PC playing this lame, post-apocalyptic piece of crap-game known as "Fallout 2" while staring at my Ericsson (no Sony Ericsson as yet) mobile phone with a glimmer ot hope that someone out there actually cared about my existence to ask me out or something... it was all sad...

As we enter the year 1999, I entered my varsity life and X'mas was sure a bit more colorful...
I remember one X'mas when we all bunked into an old chum of ours from the Japanese clique 's brother's condo apartment as the digital musician brother went on vacation
The place located near Pasir Panjang was secluded and great to create havoc... The problem is we did not...
We watched DVD, played Playstation, admiring the impressive collection of action figurines her brother possessed and all slept on the same bed as she and her ex-beau (name hidden to protect identity) started cuddling and more as dusk turns to dawn...

I met my missus in 2000, and we became an item exactly a month before X'mas...
That day we spent traveling around the island including the airport and town as she was marveled with the series of presents I had got for her...till this day, she said it was the most romantic moment I conjured which i believe it is as it all went downhill since then...
For the next few X'mas we wasted hanging around with those egocentric people from our varsity club...
As I entered the fray of my career, I now possessed money like never before to have a wild time for X'mas and I tried to cook up something for the next few X'mas...
There was one memorable karaoke session at Diamond Dust which we truly enjoyed ourselves after a hearty meal over my place...followed by a wretched hotel stay at Marriott which try not to go into if possible...

I sort of decided to just give up on celebrating for X'mas as it always backfired from what I had planned it to be and wanna keep it to be more of a family affair till the La Tendo gang made it something worth looking forward to since last year...

However what is my ideal X'mas?
After some intricate thinking I felt this is what I had come out with..

Picture this... a loghouse in a snowy coniferous forest in perhaps Northern Europe or even Hokkaido like this: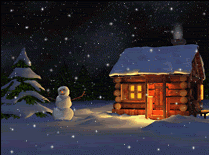 Peferably away from the hustle bustle of the city (well places like that usually will be).
For the day we would go having fun in the snowy plain, perhaps building snowman, snowboarding or skiing...
Then have a dip in a hot bath (a hotspring would be the best) before preparing for a lavish X'mas dinner complete with authentic European style cuisine and lots of nice wine and perhaps egg nog which I had been dying to sample.
Then we will do our gift exchange and placed it under a huge, extravagantly adorned X'mas tree before cozying up in front of the fireplace, watching a library of DVDs of our favorite movies or anime before falling asleep as we got profusely intoxicated with the gallons of red wine around...
But we would wake up in time for the beautiful sunrise across the horizon of the valley and start unwrapping our presents...

Sound simple isn't it?
Something to work upon for the future for sure...


Japanese word of the day: 理想的 (Ideal) It's achievable but whether I would really enjoy it when I am in that situation, that's another story
Labels: Life