Eriko & Sous' Wedding Part 4
17th October 2009, Saturday

Gotten pretty sick of the same line-up for the buffet breakfast at La Fontaine, I decided to splurge a little for the breakfast for the final day.
In truth we did not changed much to spend for this short trip and seriously with our hosts footing almost every bill possible including lodging which was confirmed during check out, we still had quite a bit to spare as we stared at flying back home in a few hours time.

So off we went to Mister Donuts, my favorite doughnuts joint of all time.
There was a running joke between me and my wife that I had always exclaimed "Mister Donuts" with such affection when we bypass an outlet or saw the CM on TV but never really went in and make a purchase except for a time at Kabukicho back in 2007.

This time round there was a branch located just 2 minutes walk from Hotel Ruiz and we had already munch on some 2 nights before.


Tamaki Hiroshi, one of the hottest CM property in Japan for the past 2 years since his emergence in "Nodame Cantabile" was introducing the new campaign for the Cafe Au Lait and I gladly changed it for our breakfast set with Dan Dan Yasai men.
There was not many customers in the doughnut joint at 8 in the morning but if there were, they would be amazed at the large quantity of doughnuts we had purchased to be consumed there including the new Bitter Choco which was a personal favorite of my dark chocolate-fetish wife.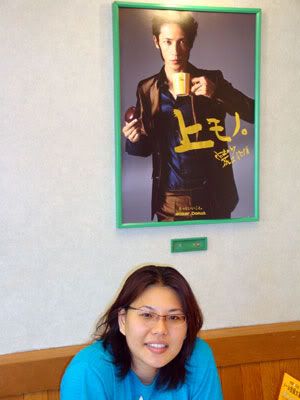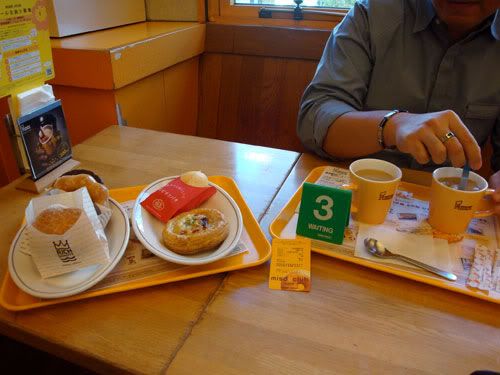 We had our eyes on the limited edition coffee mugs but it had to be redeemed with points for continual patronizing of Mister Donut..damn!

After ensuring we did not left anything behind in the room, we lugged our luggage with a combined weight of 32 kg to the entrance as our hosts come pick us up on a Monday which was a public holiday, for a reason unknown.(later found out to be Health and Sports Day).
Instead of taking the 5 minutes walk to the station, we drove to the carpark which was starting to crowd on this public holiday.

We went to Shinseido, the only store specialized in selling CDs and DVDs in this part of Morioka as the missus made her purchase of the NEWS concert DVD.
It was there I spotted the new single by The Cro-Magnons (the new The Blue Hearts) which I intended to get it as a present for Sou.
After hanging about for around half hour at the CD shop where we actually had visited 2 days back, we felt there was really nothing to see here and I suggested to go to a denki (electrical appliance) shop in the mold of Big Camera or Yodobashi Camera.

It resulted in a 10 minutes drive to this mega store, Yamada Denki at the same heartland area where the wedding venue was.
We did not have the luxury of time and it was a big place to cover.

I had intended to buy the gift for my secret pal for the X'mas but could not come with the conclusive decision to make a purchase, so in the end it looked to be a wasted trip but not for my missus who managed to find a nice bottle of fragrances for Eriko.

It was during the rush lunch in the restaurant who took ages to prepare their Jajanmen as the seconds were ticking away for the shinkansen, that we presented our hosts their little gifts in appreciation for everything they had done for us in the past 3 days.

They did return the favor with a big bag of goodies including a DVD, bath salt etc before we embark on our trip back to Tokyo.
We wondered when we would meet again but the distance was merely 6000km away and whenever possible flying over would not be a hassle.

So Hayate 11 took us away from Morioka, then bypassing Sendai, Omiya, Ueno and finally came to Tokyo by 3.
With an hour to burn we wandered about the new shopping area within the Tokyo Train station which include "Buzz Search", the high end pastry store we last found when we stayed in Shinagawa in February.
Of course we could not give up on the chance to have a bite on their tasty tarts while my missus could still find a shop which sell authentic goods from Kyoto with a nifty handbag.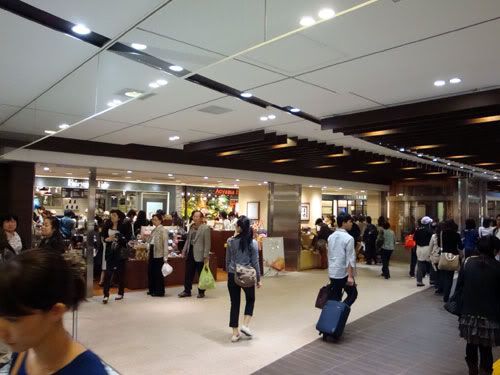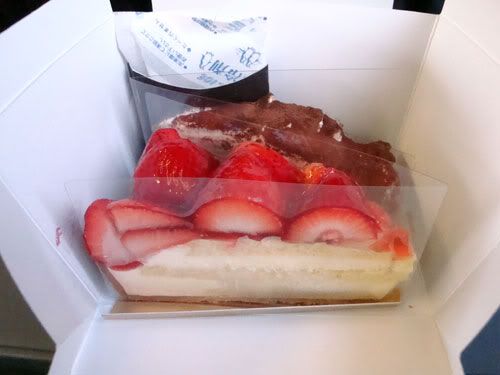 Not wanting to rush for train like in the first day while trying to balance ourselves with the huge suitcase down the stairs, we had a better time to locate the platform for the Narita Express.

One hour trip to Narita Terminal One and we shall bring this trip to a closing note but she was still determined to expend the final amount she had left while I brought back with me a notable amount for expenditure the next trip.

Compared to the comfortable A380 flight, the return flight was really a torture for at least 7 hours on the air.
The flight was a connecting flight for passengers from the States to New Delhi, India, thus we noticed an abundance of Indian passengers.
Somehow or another they chose to carry their stone hard luggage up to the plane itself, eating up all the spaces in the overhead compartment.
The flight was pretty full and we did not get to occupy 3 seats and had to share with a middle aged Japanese guy.
He took the aisle seat and was sleeping throughout, meaning it would be hard to visit the lavatory at will.
The situation was worsen by the 2 Indians who conveniently inclined their seats all the way back but luckily the seat in front of mine was not occupied.

I was starting to feel all uncomfortable with the lack of cool air while I was itching in my nether region but just had to bear with it till the plane finally touched down at Changi Airport Terminal 3.

In conclusion, it had been a great retreat for me and my wife and the time we spent with our Japanese hosts were very enjoyable as expected.
The wedding reception turned out much better than anticipated and further bolstered my love for the land of a thousand smiles...wait that's Thailand...


Japanese word of the day:暖かさ(Warmth) The only warmth we can offer in Singapore is really the actual meteorological phenomenon of global warming.