AFA 2009
23rd November 2009, Monday

Two straight days of waking up early standing all day long in a convention hall filled with rabid teenage anime loving critters ain't the best way to spend the weekend...Welcome to Anime Festival Asia 2009!

The event arrived in a crescendo of disgruntles for hiking their entrance so waywardly ($15 for a single day entry and $25 for the 2 days which was so many times higher than the $5 and $8 last year).

The exhibitors had to foot a high cost for 2 days rental which was why the usual suspects like Toys n Toys did not even bother showing.
As for our dear ol' La Tendo, the booth was exactly the same size as last year but was a stand-alone complex this time round as seen below: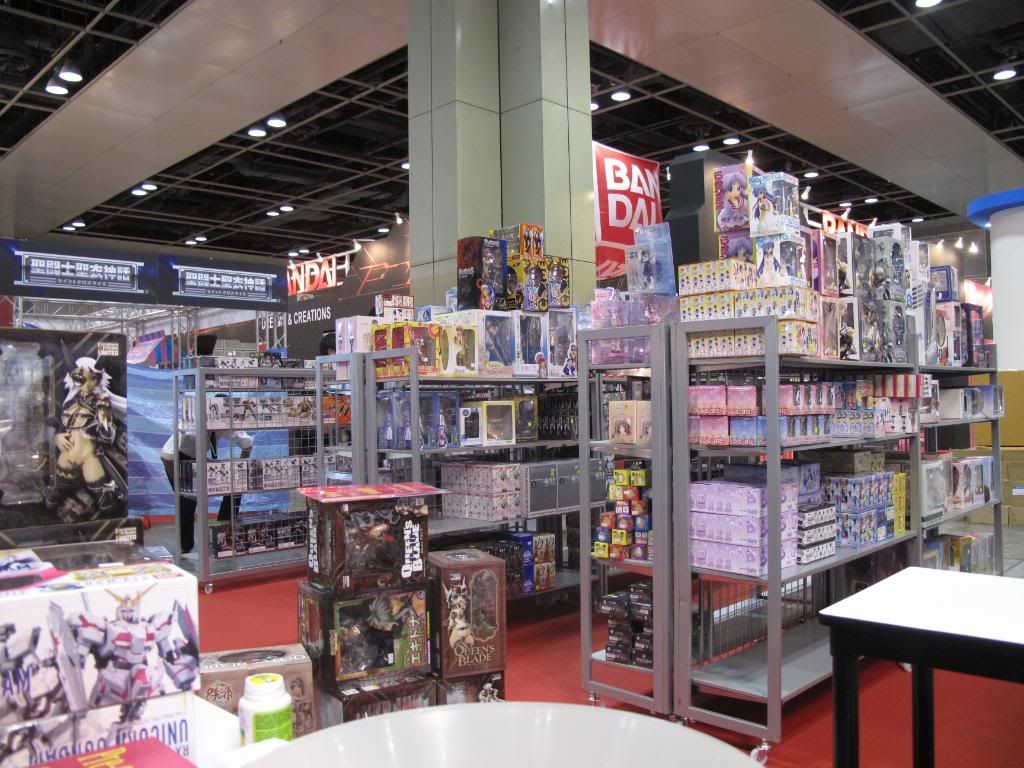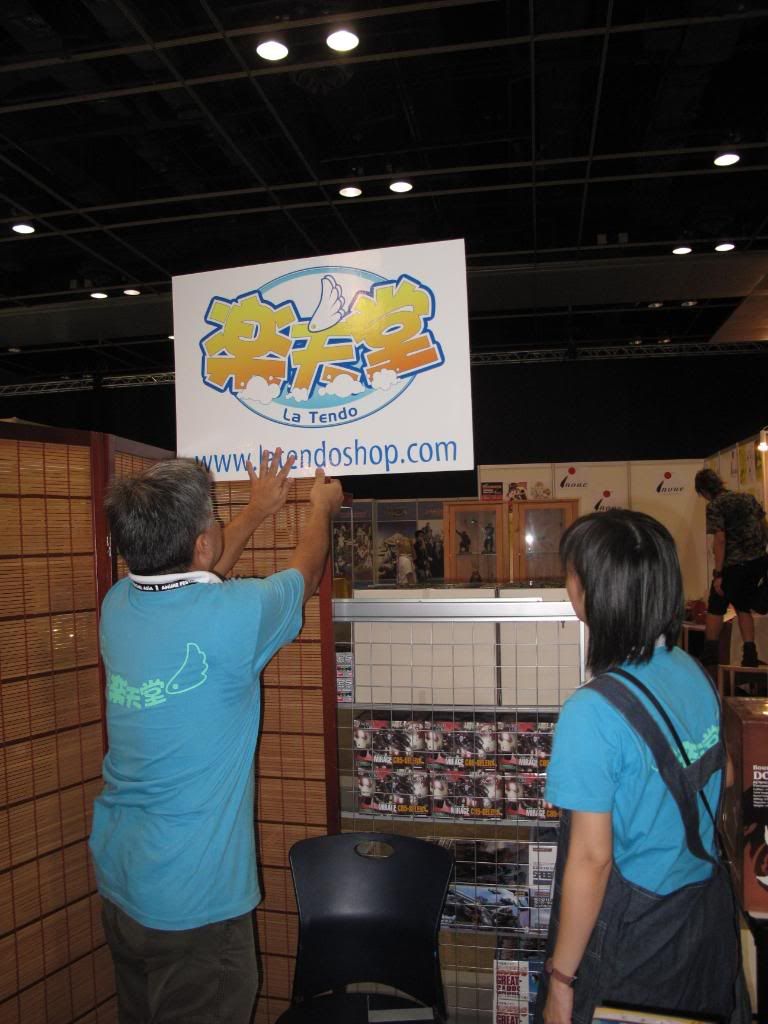 Ready for action

Despite being embedded in the heart of the part they called the AKB (akiba) Town, there were few and far between competitors for the trade they were dabbling in.
Bandai hogged much of the space, ruled by the despotic Sheng Tai Toys who barred other retailers from selling Bandai products.
Bandai really went all out to display their up and coming as well as recently released gashapons, plastic models, children toys and what not; and together with Danny Choo's Tokyo Toy Show which featured GSC and Max Factory s' figurines, it was an attraction for local collectors especially those who had never been to an event like Wonder Festival.
Speaking of the famed otaku blogger, his presence was felt since day one as he saunteered the hall during the set-up.
Shedding his usual Storm Trooper suit, Danny was almost unrecognizable except for his horde of mindless fans.
KKnM like LT took 4 stall space and segregated into sections for their own products, COSPA collaboration and introducing a battle card game. As usual a beeline was formed on regular basis over at their side.
Passion Toys were in cahoots with their usual accomplice, Takashimya and had an ominous feel to it this year as people reported seeing a certain Stephan Sing from ODEX lobbying for their new venture in

Dakimakura

(Pillow case) with anime characters printed on it, they realized they can never bank on selling lackluster anime series to people no more.
There was one other figurine retailer by a sheer unknown name of "Robo Robo". Beside engaging in a price war for GSC's Saber Lily with La Tendo, their list of items looked to be of a private collection status.
Some booths just pique my curiosity in their involvement.
Our direct neighbour was Simply Fun who sell official DVDs of films brought in by Encore Films which usually dabbles in Japanese and Korean affairs. They had a bundle offer for the entire repertoire of Studio Ghibli productions but only Ponyo on the Cliff was in my wishlist for now.
There was also a OIO Frozen Yogurt booth just adjacent from us which would be the favorite snack bar during the two days except the yogurt making machine was constantly down for repair while the sales coordinator were donned in the worst outfit possible: a black & white (like Yin Yang) one piece dress which revealed too much of their elephant thighs.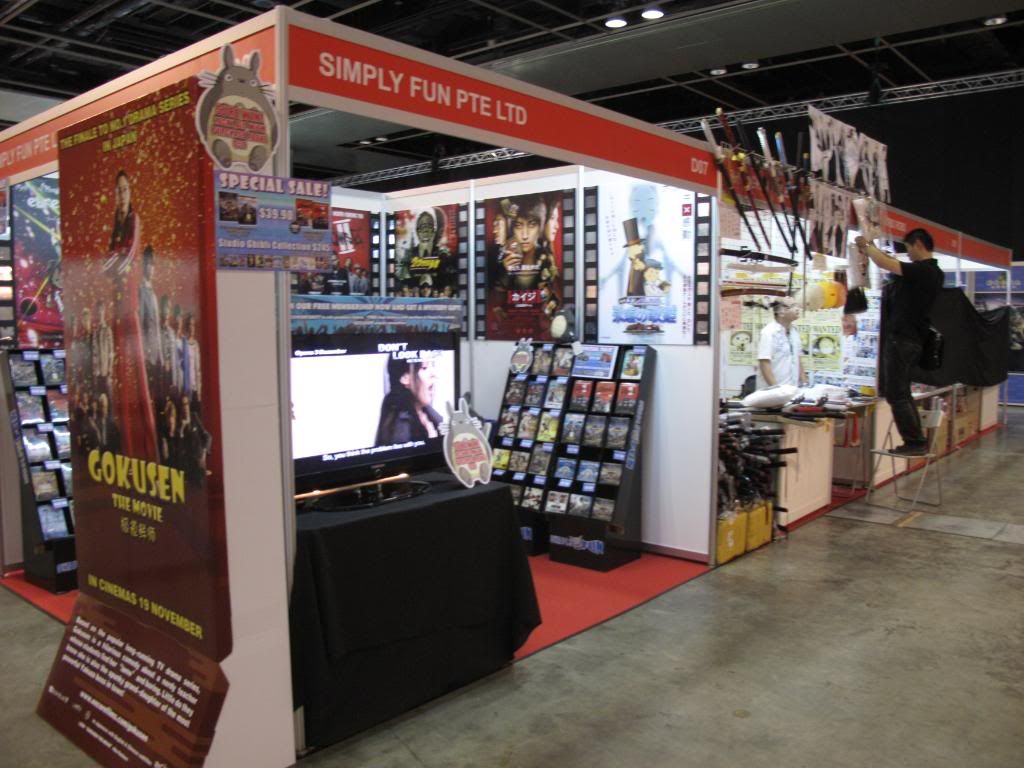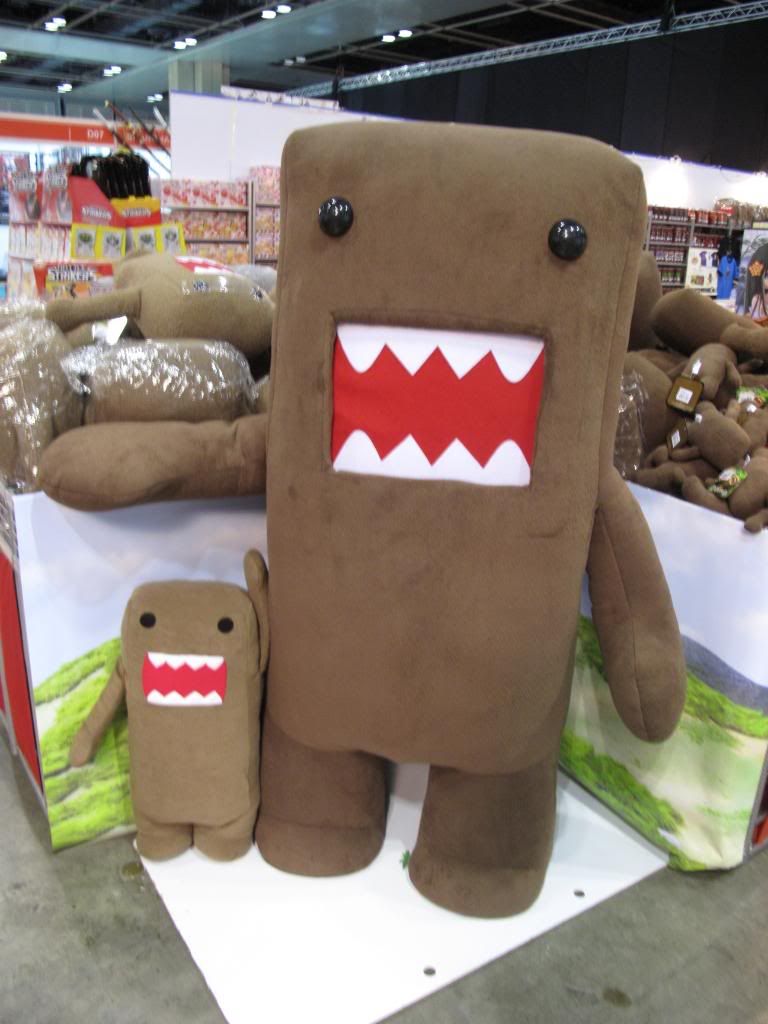 Stephan Sing thought Domo-kun can help atone for his sins


Last year LT sold some printable chocolate and this year Tay-chan's friends came in full force and left many bewildered of their participation.
But at least they drew slightly more interest than Brother International who was there to sell printers while Singpost made their presence felt promoting some Oyako-TOFUman.
UCC Cafe had good response for their Evangelion cans while CTC Travels should garner enough interest for their affordable otaku pilgrimage trip to Japan.
But the biggest seller of them all was this stall which we nicknamed as the weaponry lair selling mock weapons in replica of those famous swords found in series like "Bleach" and "Fate/stay night" at as cheap as $30, no wonder the swords were going off the shelves like hot cakes.

Sales over at La Tendo had not be as brisk as last year but we were in awe of the turnout as we had expected to be much dwindled due to the exorbitant admission ticket but boy were we wrong.
I always knew that the event was set to attract anime lovers from the region but Vietnam and New Zealand were definitely the furthest my imagination could bear.
The wealthy Indonesians came with their wad of thousand dollar notes but no one in the retail scene was complaining.

There was a burgeoning corner for anime studios as Tatsunoko Pro and Project I.G as well as local producation company Storm Lion this time round.
Animax, the premier cable anime network in Asia had an impromptu dubbing studio to fulfill some amateur

seiyuu

dream of the fans.
The karaoke booth definitely got the crowd going but had hurt many eardrums over the course of two days.
However the biggest draw was not surprising to be "Moe Moe Kyun", the faux pas maid cafe the organizers cooked up and had suckers queuing all day long for a taste of their forbidden burgers...
The maids did not even bother to entertain random photo snaps from casual patrons.


One of the special guest for the event was professional cosplayer, Kaname.
He was invited here as a judge for the cosplay contest as well as an emotional experience-sharing session in his famous Cloud Strif outfit from Final Fantasy VII Advent Children.
Kaname with his entourage dropby the stall on Saturday afternoon as his attention was snared by the sight of a Gurren Lagann Revoltech on the official poster, perhaps a scheme as he was donning in the Kamina setup.
At first no one recognised who he was until the commotion among the stall patrons who went trigger happy with their digital cameras.
It got Karen gaga too but she was forbidded from taking a picture with him but Lady Luck was shining on her as Kaname was to purchase the stipulate Revoltech which yours truly rummaged for him and in return of a small token of discount, Kaname obliged a personal picture with Karen.
She well Kaname-gaga from then on and stalked his whereabouts for the remainder of Sunday.
She was sore not to have a chance to replicate that fortuitous occurence with Kaname in his mesmerizing Cloud attire.
Well in the end it was a fruitful trip for her.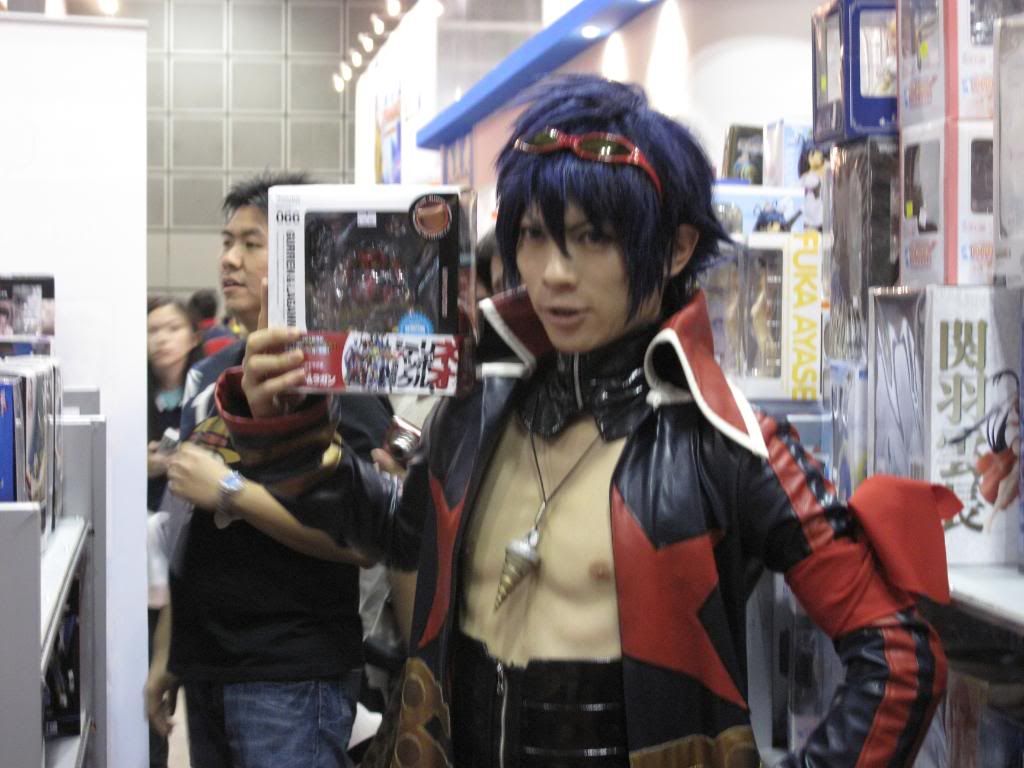 Kaname at La Tendo with yours truly at the background


The main draw of the event was the "Anisong Festival" which spanned both evening featuring Mizuki Ichiro (Aniki) and May'N from last year but were joined by the likes of Nagakawa Shoko (Shoko-tan) and Fukuyama Yoshiki from JAM Project.
I missed the entire second day concert as I had to attend Cheryl's wedding banquet but the fact that they barricaded the stage with thick black drapes, in order to block easy viewing like last year, it was not very accessible unless you pay a hundred odds bucks to be on the front rows or willing to join the long queue.
I did sneak in to catch a bit of Hatsune Miku from Vocaloid in action, anticipating a hologram like figure which Bryan claimed.
In the end, it was a wastage of our precious time when it was poor quality video footage but aptly a 15 minutes intermission between Shoko-tan when her horde of fandom took a piss and Aniki.
The Anisong warranted the high cost for the event and I am sure next year the organizers would make it even grander. If they actually bring in JAM project (including the entire band), I might think AFA 2010 will worth every penny.
Nice pictures of Anisong can be seen @ Danny Choo.

The aftermath of the event was the bunch of us carrying our worn out bodies for the remainder of the week.
Without the presence of Vincent and Miyano, it was not the same but it ain't too bad especially our usual poking fun of some absurd cosplayers including a really obese Squall Lionheart and a poor paper-mache Kamen Rider Decade Monster.
Bryan had good fun getting his "exclusives" but the biggest winner might be Karen.
The missus joined us for the second day and was enticed to stay and not heading for her seminar and definitely her point of catching up old time with the gang certainly was valid.
Seeing the cashier being overworked certainly warmed the hearts even for us the helpers and overall the success of AFA 2009 might had saw the organizers laughing to their banks despite Bryan's incessant loathing it certainly served as a platform for a much bigger money-bleeding machine in the last year of the decade.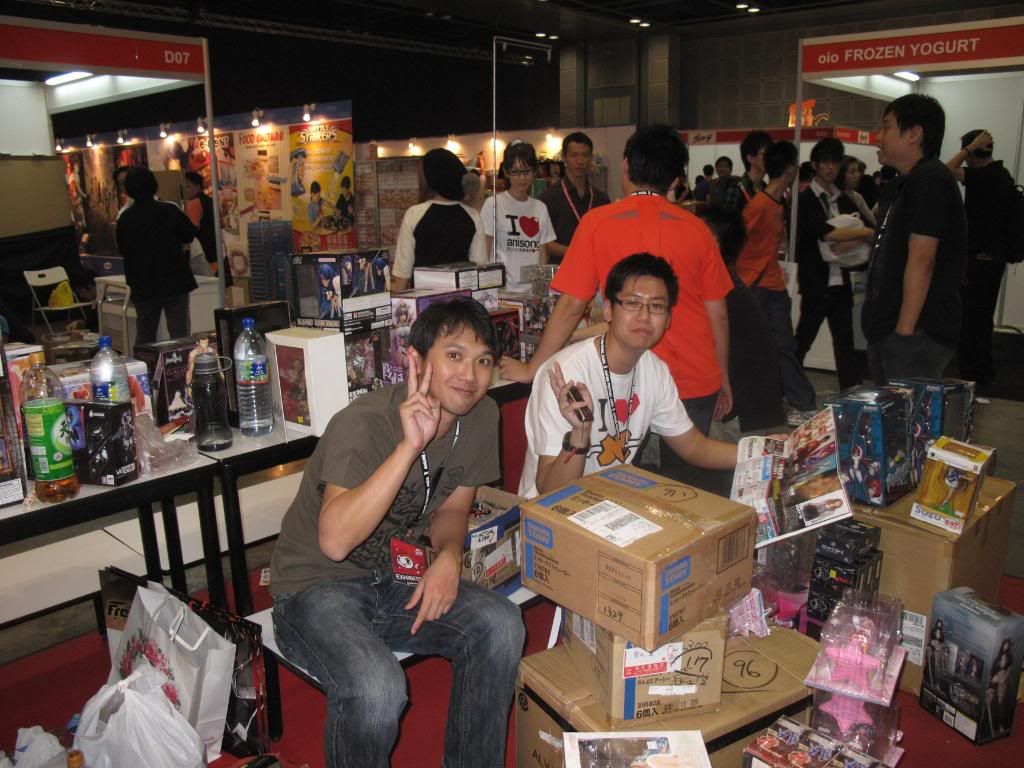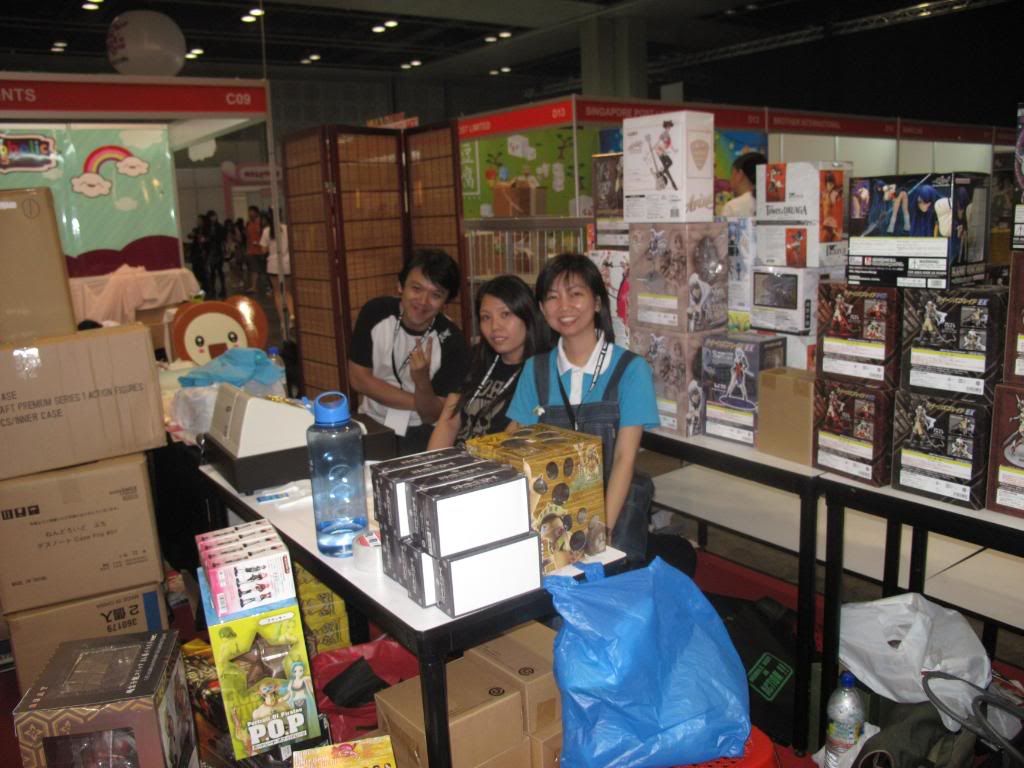 A job well done


Photographs by Kaname-crazy Karen

Japanese word of the day:詐欺師(Swindler) I wonder if Bernie Madoff is the chairman of the organizing committee with his Ponzi scheme