Meeting Neil
2nd November 2009, Monday

So October went with a whiz and November arrived with what promises to be a month to meet celebrities sandwiched by the event that never failed to retract the strain of perkiness in me...In-camp Training.

As mentioned the weekend was one I had to get used to having the entire apartment to myself.
It was Halloween and gusty wind and incessant raining plagued the latter part of the day.
There was a relentless wrong number from a young lady so adamant that someone with a name I had not heard in my entire life was living here.
The ringing was persistent to a state I had to lift the handle of the phone in my parents' room to get crazy girl off my back.
From this experience, I knew I hated to be alone in the house, especially in the evening.

I had major plans for Sunday.
First to La Tendo, then perhaps China Square Central where Chan was publicizing for his new trade before making my way to Victoria Hall where the Neil Gaiman symposium was held.
The evening was set to have the Wrecking squad gathered for a chat session including having a look at the pictures me and TW took from our respective Japanese trip.
However most of the plan went down the gutter before daybreak.

CS got a bout of fever which saw him bedridden so he was out of the equation.
TW then told me he could pick me up at Bishan, which meant that I can put La Tendo on the backseat for another week.

In the end I was fetched at Ang Mo Kio as he had time left after dropping his new bride to her father's place.
The usual jam on CTE was hindering our smooth ride but we were way ahead of schedule.
By the time we had reached Funan Center where he parked his father's MPV, we had an hour or so to burn.

So we just strolled around the IT Mall and mainly had a glance at what's in store in the game shops.
Then we had a chat with some beverage at Jolly Bean when he gave an insight of his much enjoyable Japan honeymoon which saw him and his missus traveling from Kansai to northern tip of Japan and then to Kanto.


Before we knew it it was 1.30pm and we made headway to Victoria Hall which was stone throw away from our location.
It was blatant a queue had been found which followed the perimeter of the authentic concert hall.
The event as we queued for the tickets weeks earlier was meant for 300 persons or so but now it inflated in volume due to overwhelming popularity of the author whose works transcend many media including comic and movies as well these days.
The final tally of people attending the question and answer session was close to 900 as it filled the hall to the brim.

Neil, in his signature curls and black outfit met with vociferous cheering from the country he labeled "highly organized".
He gave us an insight of what he had been working on, including a "Journey to the West" self journey project, his short film and breeding of honey bees back home in the States.
But in his usual morbid fashion, he started rattling off about having no regret if he was to lose his life from an tragic airplane accident as he was one of the few people in this world who had accomplished almost everything he had set out for.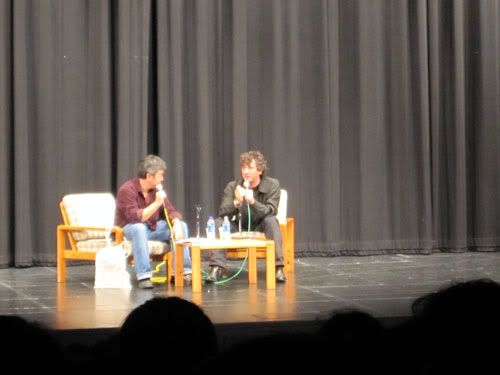 In an exceptional eloquent fashion, Neil Gaiman was not as reserved or moody as one expect from his style of writing and his stories.
He could keep rattling on some of his past experiences and some of his view which never failed to perk up the driest topic available.
His encounter with the legendary Hayao Miyazaki when he had a day off from his "Stardust" premiere schedule in Japan was really a dream comes true for many and we felt it could be the fact that great artists then to adhere nicely together, the likes of Gaiman, Alan Moore, Miyazaki, Yoshitaka Amano etc.

The Q&A session was pretty short (thank goodness the few questions from our local cohort was pretty deep and came from extensive research, thus not pulling the face down of fellow countrymen) as the bulk of the time would be taken for the autograph session held outside Art House and Neil was ready to indulge to the request to all the hundreds of ticket holders even though only one item allowed for signature, that would look to take a long time.

A long time indeed as TW & I were near the tail end of the beeline which stretched to where the famous Sir Stamford Raffles statue which marked where he alighted was.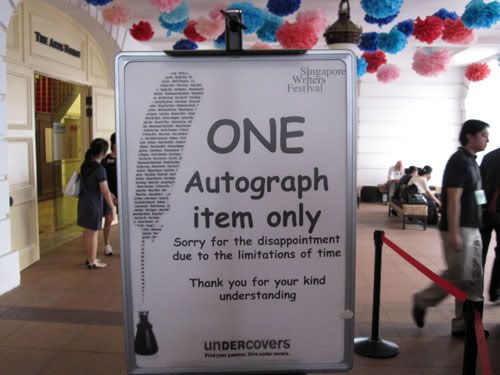 It was exceptionally humid with sporadic glare from the unsympathetic sun, but fortunately it remained reasonably dry.
The long queue did not look very much like shrinking for the first hour and the crew was kind enough to offer everyone packet drinks to recover some bodily liquid lost through profuse sweating and saliva waste from chatting; much like that crew behind us.

The group led by this guy in insulating turtle neck sweat top spoke with a pretentious American accent but later we found out to be from Hong Kong.
When a friend came identifying them as "Death", "Desire" et al, we knew this group of cuckoo-head surely had took the obsession too far.
Throughout the queue, they went on talking shit literally about comic and something else which we did not bother to decipher but every enunciation just got on our nerves.
It did not make things better when they kept shoving TW on his back.

After 2 hours we barely got near the facade of the Art House building and we deduced that Neil was signing very patiently.
We also made up many possible situations from which the crew would cut the queue just before us and then continue straight after us.

Before we knew it was 5 plus and Foo who agreed to meet us for dinner had already arrived at Funan Center where we supposed to rendezvous at 5pm.
Upon hearing we were queuing for Neil Gaiman, he got enough premonition that we most probably could not make it in time and left soon after.
It was a wise choice as by 6.30pm we finally got int the front pouch area where we named as the "White Arch of Happiness".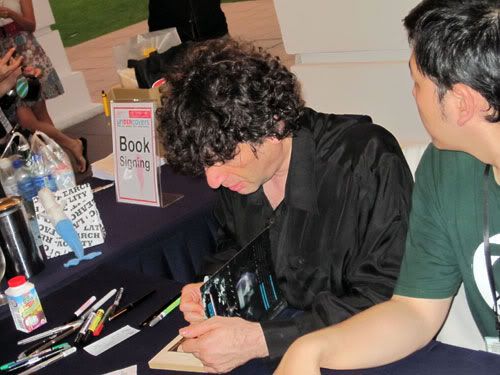 As tired, hungry and mentally disturbed from the incessant conversations going on at our rear, teh sight of Mr Gaiman at the autograph booth just bring our spirits up.
Apparently he was a very obliging author who would fulfill your request of an autograph, handshake and even photo-taking.
The last part we felt we could do without but the way he made every signature so special had made the wait well worth it and one could now understand why he is known as the "superstar" in the literacy scene.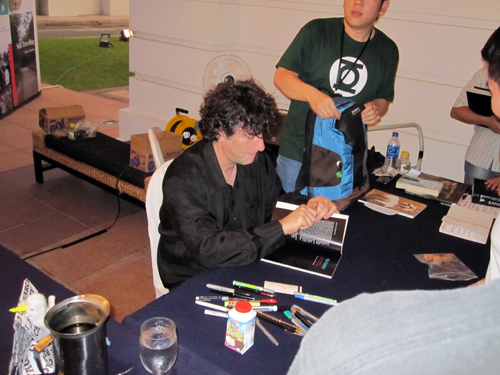 By sheer surprise, the main guy helping him keeping the flow of items to be signed as an old Navy training mate of mine and as we were too engrossed speaking about how wretched Navy ICT can be I had forgotten to shake Neil's hand but it did not matter.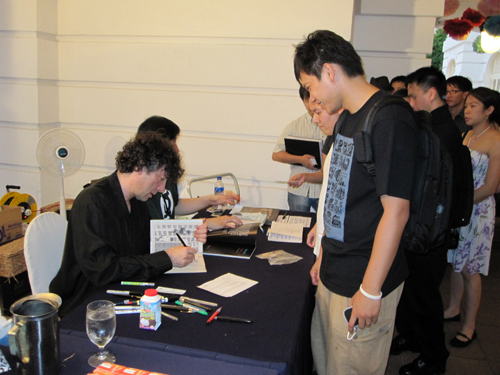 By 7, we left for Funan Center well satisfied and in need of food.

After lingering around to search for a Swensen outlet which was not there, we settled for Mac Donald which was the fastest as he was running out of time to fetch his wife.
He guided me through his daily adventure in Japan and despite me making such great number of trips to the country myself, I was still captivated by the places they went and the food they had.

Sadly he could only stop at day 7 before we left for home on a Sunday which was hogged by 3 hours in a long, unmovable queue in front of a group of over-the-top chatty Neil Gaiman fans.

Japanese word of the day: (雑談 Chat) Some people just could not shut up