Of Dumplings, cursed laptop & good deals...
12th June 2005, Sunday

Yesterday was one important Chinese festival, Dragonboat (or Dumpling) festival (端午節), as Chinese in other countries like China, Taiwan or Hong Kong would treat this as an important national holiday on their calendar, engrossing in paying respects to their deceased ancestors, engaging in Dragonboat competition or even indulging in their wide variety of rice dumplings; we S'poreans especially the younger generations just don't give much damn for it...

For me, it's just a good opportunity to savour one of my all time fave Chinese delicacy ( I sure have a whole library of faves), the rice dumplings... even though iin this time and age, we can just rice dumplings off the retailers at any time of the year not just this specific period though
I love glutinous rice especially when you sculpt them in a triangular pyramid shape using fragant banana leaves and include fillings like scallops, pork, chestnut, mushrooms etc...
I used to be able to have it for every breakfast (when I was still in my tender age) and 2 at one go..but these days I try to restrict at one as it ain't not the most healthy food around..and too much glutinous rice will result in very severe indigestion...

Went to La Tendo as usual yesterday and "pleasantly" exceed my budget (nothing new here) as once more my feeble self succumb to the temptations of the nice figurines... (thank goodness it's that and not other kind of vices that would seduce me)
I also tried to cajole Chan to go Japan in August as recently his fickle-minded tendency starting to make him think otherwise....

Bad luck bestowed on my girlfriend's cursed laptop once more, just after the endor helped correct her LCD screen problem, it's apparent that they had forgotten to install the sound card and thus no sound could be audible from the notebook, which really threw her into a fit which is understandable especially when you spent a fortune on an item you expected to use without a glitch for a long time to come...

On a chirpier note, the Casio watches I had ordered the day before managed to arrive in uncanny fast fashion yesterday afternoon in a registered parcel...
The watches are up to expectation from the catalogue, and at that price, I feel maximum satisfaction, hope the watches would at least cheer my lass up a bit...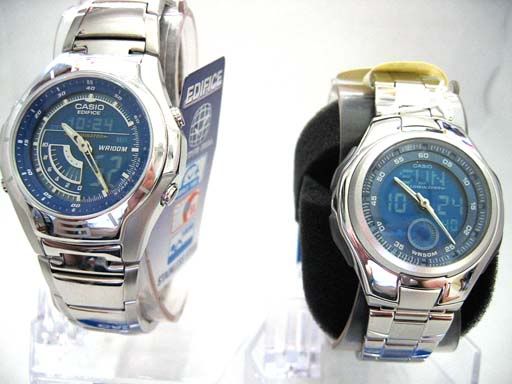 Our matching watch....

Actually intended to attend a "Tikam outing" for the annual "Gacha Gacha Gala" held by Toys Room at Suntec City as I had mentioned before that some collectors of Kuala Lumpur may dropped over, but feeling pretty lethargic after a late turn in this morning, so just wanna laze my Sunday through...

Japanese word of the day: 迷惑をかける ~mei-wa-ku-o-ka-ke-ru~ (trouble) My gf is badly troubled by her cursed laptop....