Gosh I'm a SNAG....
5th July 2005, Tuesday
When is the last time you are actually moved to tears by a screen presentation (theatrical movies, TV dramas, anime series etc)?
The last movie that got me at the verge of emotions was "Armageddon"...unbelievable but true...
Perhaps I was petrified by Bruce Willis' acting or wondering what makes Ben Affleck tick as an actor, but it was the last few scenes when the heros' return to earth, one of the scrawny guy was embraced by his kids whom he just reconciled before his task...that really pully my heartstrings...
The most recent case of me got affected was watching the Japanese dorama, "世界の中心、愛をさけぶ". Not really because of the passing of the heroine to leukemia but how her loved ones carried on with life with memories of her that really made feel for her loss and the pain the male lead had been going through...
There is of course, "Onegai Teacher", the 13 part series which sent hordes and hordes of fan-boys going ga-ga over the perfect alien teacher, Mizuho...
It was on my 2nd viewing session with my girlfriend, and this time I could comprehend the meaning of some plots better....
My emotions were building up for the last couple of episodes when Mizuho tried frantically to revive Kei from his "cast-away" mode...
Then in the ending scene when Mizuho hopefully tried to reconcile with Kei whom she assumed had totally forgotten about her..Little did she knew while assisting in her move to the apartment beside Kei's place, the lucky chap went to embrace his love of the lifetime, giving the alien beauty a pleasant shock...he did remember her afterall...
That scene alone I could feel my tear glands been triggered but I had to refrain my girlfriend from seeing me weep like a wuss (sooner or later she would see it anyway)...

So last evening, we went to watch a Japanese movie we have anticipated for a while "いま、会いにゆきます"....
Starring Takeuchi Yuko/ 竹内裕子 (last seen her as the wilful girlfriend of KimuTaku in "Pride) as the deceased wife of a guy who suffered claustrophobia and other mental ailments, portrayed by Nakamura Shido/中村獅童 (whom was a loser character in "Shinsengumi", and sure have that wretched face to portray those characters you will not see those from Johnny Entertainment be playing)....
After giving birth to their adorable son, Yuji, Yuko's character, Mio passed away due to poor health but promised to return during the subsequent rainy season...
& she did....to the amazement of the hapless father and son but eventually their life woke up from the usual gloom with their loving mother/wife in control of everything...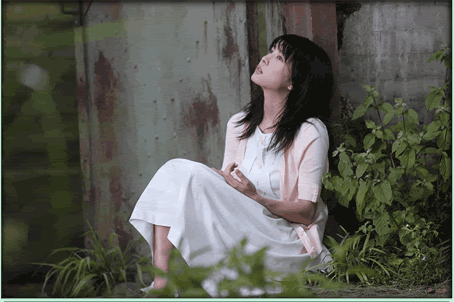 But as the story she wrote before she passed on, she would have to leave for her "Archive Star" once the rainy season is over...

In between there was a very heart-warming courtship of Takumi(Shido's character) and Mio...
A lot of classic Ah Jun ge/ Wanjun jie storyline which I'm a sucker for....

As the rain clouds started to depart the town, Yuji & Takumi s' fears were realised as Mio eventually had to leave by that "No. 5" door in the dilapitaed house within the forest, much to their reluctance and sorrow....
I'm sure majority of the theatre are wiping their tears by now and I was a bit affected despite the fact that the acting wasn't pitiful enough but the ambience, plot and background music sure reinforce the wild emotions filling throughout the place
It was the ending part in which the story was tied up nicely with the other side of the story which really is the finishing touch for me as I was well defeated by the touching plot of this nice movie which makes all the Hollywood blockbuster style computer graphics and explosives seem so pale in comparison...
Of course "Hana" by Orange Range as the ending theme gives it a complete conclusion...
Really got to watch this show if you have the chance...

Well as for the upheaval of emotions, at least I'm not the one who was getting a grip of myself after watching Luc Besson's "Romeo & Juliet"... but after seeing Leo and Claire Danes kept doing "it", everyone would feel that they are losing it...strangely my usually emotional partner was unaffected at all...

After the show, we decided to hit HMV at Heeren and was a bad decision as I was very very tempted to acquire Laruku's latest album, "Awake" and Orange Range's "MusiQ"...fortunately I managed to curb my temptations, if not my budget would be seriously hurt....

On the work front today, JxMMy is taking the couple of days off on annual leave and I had to run the show the entire day on myself.. which can be pretty chaotic at times especially with the increase of workload from the service side... well as long as the equipments are in the normal green status, it's still managable...

Anyway another tear-jerking Japanese box office champion would be premiering in Singapore this coming Thursday...
"世界の中心、愛をさけぶ" the movie starring Shibasaki Kou/柴崎 コウ & Osawa Takao/ 大沢 たかお. This precedes the TBS dorama, so it should have the special appeal that drew the Japanese audience to flock the theatre to watch the novel-translated movie which might again send me to ana emotional roller-coaster...


Japanese word of the day:涙 ~na-mi-da~ (Tears) It's good for the eyes...