War of the Words
3rd July 2005, Sunday

My girl came to stay over last night and we hard to struggle to wake up at around 7.30 am despite our turning in at wee hours as she had to attend her brought-forward Japanese class and I myself need to show my face to commemorate the 1st anniversary of my godfather's passing...so I'm feeling really somnolent in this lazy Sunday...

Well the movie extravaganza of the year.. Spielberg's production.. Tom Cruise' vehicle.. the ultimate alien invasion movie...blah blah blah.. "The War of the Worlds" really disappoints many viewers with the anti-climatic ending
Personally I didn't really dread the show that much as compared to the rest; of course it did not live up to the expectations been build up for it, and the author, H.G. Wells did meant for the conclusion to be in such a way that the almost unbreakable aliens would be defeated in that simple manner in which the latest earth defence technology are not capable in doing so... it is much like the ending of M. Night Shyamalam's "Signs" in which the unearthly hostile visitors were in the end been destroyed by one of earth's most abundant natural resources, water (talking about lame)

I do like the fact that the aliens took it upon themselves to control the uncontrollable and rapid sporulation of earth's population ... I feel it's a pretty cool way to die with everyone else to be zap into vapour by the alien's beam... no pain no fuss..just into ashes... regardless of race, wealth, class, whatever not...
My girlfriend was freaked out my the massacre by the aliens that she even wept during some the scene (namely when Cruise's daughter, Rachel was finally captured by one of the alien's tripod ship)...

Non of the cast was remotely likable...
Tom Cruise was Ray, an irresponsible father who swore to deliver his kids who stayed with him over a weekend to their mother at Boston.. I don't like the way that he could dodge death almsot every single time.. I would love him to be hit by the alien beam 15 minutes into the show..now that would be a

GOOD

movie...
Dakota Fanning, as Rachel whom was last seen in the horror flick "Hide & Seek" kept screaming and had so many problems of her own.. I just dread her...think would most probably shun any other show she is in ever...
There's Cruise's son, Robbie who had some problem of his own..kept insisting he should join the battle to exterminate the aliens despite his father's disapproval... One person I want to see dead so badly other than Cruise would be him... damn and in the end, he survived (there's no god...)
Tim Robbins, as a psychotic guy who hid in the cellar of his house which sheltered Cruise and his daughter mid way through the show... He is really psychotic...and his presence has completely no meaning to the show...
Finally Miranda Otto whom last seen as Eowyn in my beloved "Lord of the Rings" trilogy as a very pregnant ex-wife of Cruise... She is really good as a disciplinary mother and perhaps the best character of the lot.. But since I hated her since LOTR, I'm just glad she only appears a total of 5 minutes in the movie...

Well some nice computer generated effects but not enough to supercede the shortcomings of the overall show...

However the highlight of our movie wasn't the show itself:

We had some Indian guys (whom I am assuming to be Bangledeshi workers) and I'm sure they aren't local...
They had been pretty vocal throughout the movie but still tolerable...
However midway through it during the pretty quiet scenes in Tim Robbin's cellar, one of our Indian friend had a call on his handphone which in the first placed should be put on silent mode...
With any basic courtesy, he answered and started chatting like it was all okay for him to do so...
The surrounding audience started to hiss at him with disapproval but our thick-headed fiend..I mean friend just persisted with his blabbering..almost like commentating the entire movie to his friend in Tamil...
One of the female audience sitting adjacent to him shouted "SHUT UP!" out of pique but still he chatted on..I guess it must be a very important and costly overseas call...
It was until the loud explosion from the next alien attack that he decided to hang up... much to the furore of the audience who had their movie spoiled by him....

After the movie, Karen and her friends felt their night were unjustified with the lame movie and of course the rude interruption, so they decided to follow up with "いま、会いにゆきます" which I would be watching tomorrow....

On my home front, we got a new round, authentic dining table for a good deal from across the Causeway: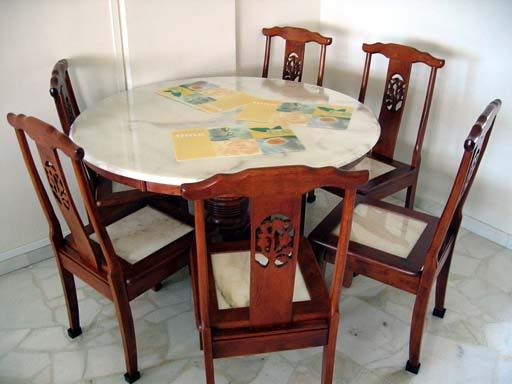 My parents decided to change for some apparent Feng Shui reason..well wasn't a bad idea...as long as I'm not the one paying..heehee


Japanese word of the day:携帯 ~kei-tai~ (Handphone) Some people just wouldn't know the basic courtesy to silent theirs during the movies...