For All the Japanese Ladies I Love....第二巻
19th January 2006, Thursday
As continued from yesterday's post...
I had also been keeping track of the works of the actresses/singers as listed below:
Actress
The Evergreen:
Kuroki Hitomi (黒木瞳)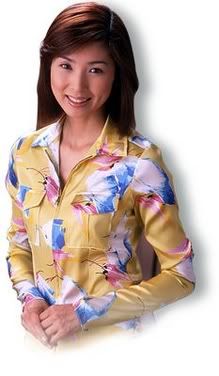 A versatile actress whose career spans a good 20 over years.
I had the honour to seen her works in so many great movies/doramas such as the intellectual dance hostess in "Shiroi Kyoto (白い巨塔)" to the desperate mother at the brink of insanity in "Dark Waters (鬼水凶靈)" to a sleazy mother from "Majo no Jouken (魔女の条件)" to a no-nonsense police inspector in "Rookie!".
The thing about Hitomi is that she looks her age (a mother of a child in her 40s) yet she exudes that kind of ravishing allure especially her eyes (as her name also implies) and her dimples which really captivated audiences all around, especially the male ones.
Ishida Yuriko (石田ゆり子)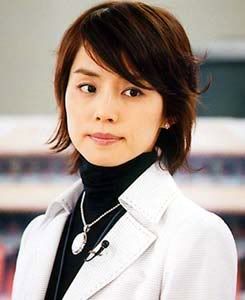 First noticed her in "Jinsei wa Jojo da (人生は上々だ)" or at that time back in the mid 1990s when it was beaming on Premiere 12 (yes brother of Prime 12) on local TV is known as "Friends in Need), starring Kimura from SMAP and Hamada from Down Town.
She was acting as a mother, a perfect Japanese housewife ..very gentle, very understanding...but abit too gentle and condescending....nonetheless she took the hearts of 2 teenage losers in me and my buddy back then.
Since then I had seen her as an easy woman in "Overtime" and a bitter wife of a deceased ice hockey coach in "Pride (プライド)". Not to forget one of her earliest works is none other than "101 Proposals (101回目のプロポーズ)" as the colleague of that loser...heehee
Ijima Naoko (飯島直子)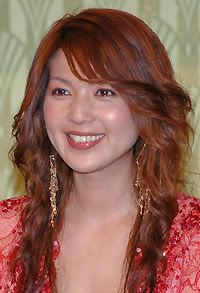 Another alumni of "Jinsei wa Jojo da (人生は上々だ)" as a eatery shop owner having a crush on Hamada. I really love that character and eventually was very much infatuated with Naoko-chan.
For a while I had trouble differentiating between her and Matsu Takako in CMs as they both look so similar except Naoko looks slightly older and fleshier.
Her latter series like "Bus-stop" and "Wedding Planner" with 2 of my favorite comedian actor Uchiyama Teruyoshi & Yusuke Santamaria further cement her position in my favored list.
Hasn't seen much of her works these days though.
Updated on 20th Jan: Just found out that Naoko actually starts of her career as a nude idol (don't really know what the actual name for such a profession)..yikes..my image of her tarnished a bit but then a lot of famous female celebrities came off that channel as well everywhere...
The Veteran:
Matsu Takako (松隆子)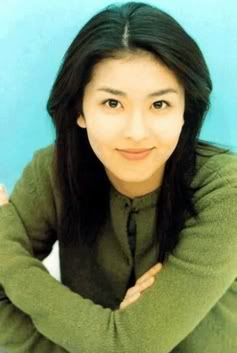 It's amazing she is still in her 20s as it seems like she had been in the industry for like a long while as she debuts at the tender age of 16.
Her series of cult dorama hits especially with Kimura such as "Long Vacation", "Love Generation" and "Hero" definitely propelled her status to A-list actress in doramas for a few good years.
The last notable one has to be "Itsumo Futari de (いつもふたりで)" opposite Sakuguchi Kenji which was shown on local TV as well is a pretty forgettable one I must say.
What I like about Takako (love that name) is that so many years she was almost never put under the scandalous spotlight unlike other popular actress.
And I really dig her songs as well.
Matsushima Nanako (松島奈々子)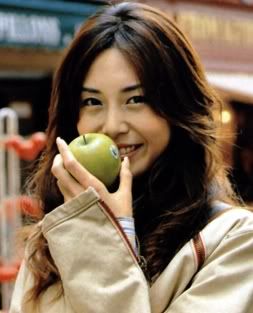 A passing of baton from one squeaky clean A list actress to yet another both with the kanji word for "Pine" in their surname.
Mrs Sorimachi has been the hottest commodity back in 1999 to 2002 in both CMs and doramas.
I remembered going to Japan in the year 2000 and could not get away from a corner without seeing her face.
For a while it seems like she is always acting as a teacher or air stewardess in "GTO", "Koori no Sekai (冰の世界)", "Majo no Jouken (魔女の条件)" and "Yamato Nadeshiko (やまとなでしこ)".
She has starred opposite the entire line of A list actor such as Sorimachi, Takenouchi, Oda, Fukuyama, and Eguchi (in "Kyumei Byoto 24 Ji (救命病棟24時)" which I feel is one of her best works).
Her popularity very much deranged after she went on maternity haitus and her comeback works include a negligible guest characters in "Hana Yori Dango(花より男子)" as Domyouji Tsubaki.
Yada Akiko (矢田亜希子)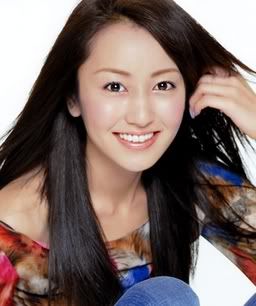 One of Nanako's air stewardess juniors in "Yamato Nadeshiko" which is where I started noticing this petit actress.
Then suddenly she was in every dorama I was watching in a while as the health teacher who has a crush on Sorimachi in "Hotman" to the supportive girlfriend to the boot-licking Inagaki in "Yoshio no Otoko (ヨイショの男)" to the supportive wife of Kusanagi in "Boku no Ikiru Michi (僕の生きる道)" and finally as the supportive soul-mate to Eguchi in "Shiroi Kyoto(白い巨塔)".
So you may say her characters are basically "small" woman supportive of her men but that is why I really like her...not to be chauvanistic of course.
Many would find that she has a rather big nose but I think her face is pretty unique as compared to most artificially sculpted actresses.
Takeuchi Yuko (竹内結子)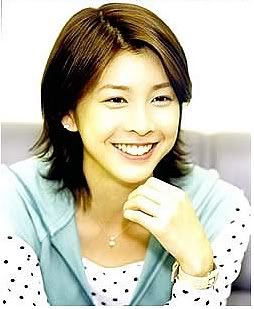 A really sweet-looking actress (so sweet the ants started accumulating my keyboards as I am typing this) was first noticed in "Mukodono! (ムコ殿)" as the unfortunate common-people wife to a huge pop-star acted by Tokio's Nagase. Then she was seen in another sweet character as a elementary school teacher who had a crush on her weird colleague acted by Kinki Kids' Tsuyoshi in "Gakkou no Sensei(ガッコの先生)".
Her popularity increased and she got to star in one of Kimura's usual dashing vehicle about ice hockey known as "Pride" and now she is hot in demands.
She then went to star in 2 box office hits in Japan, "Yomigaeri(黄泉帰り)" and "Ima,Ai ni Yukimasu(今)、会いにゆきます" where she found her love of her life in co-star, the dweeby Nakamura Shido..damn lucky chap!



Uchiyama Rina (
内山理名
)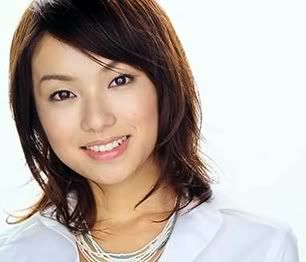 Rina will always in my mind as those bumbling girl who always tend to wrecked a situation and in the end someone would come and fix it.
It was all true in the characters she portrayed in the likes of "Bus stop", "Rookie!" and "Good Luck". But I really like her character in "Moto Kare (元カレ)" as the poor elevator girl Kinki's Tsuyoshi is two-timing with. Even she knew he is still in love with his ex, portrayed by Hirosue Ryoko, she never stopped trying to fight for her man.
However Rina got this face which really can cheer one up and a smile capable to melt a man's heart, this is coming from a guy not too qualified to be a "man" actually...



Shinohara Ryoko (
篠原涼子
)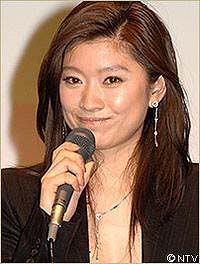 The lead actress of a top dorama now showing in Japa, "Unfair", you might find her rather familiar but just can't remember where you had seen her.
Of the 20 or more dorama series she is in, I had seen her as one of the sister of Yuko in "Mukodono!(
ムコ殿)
".
It was in this show called "At Home Dad" opposite Abe Hiroshi where she portrayed a capable woman who had to go out to work when her executive husband was retrenched. A nice heart-warming show and with Abe anything goes for me. But it was Ryoko who steal the show for me as a really wonderful wife to have.
But do you know before the likes of Keiko,Suzuki,Amuro or Kahala, she was the first chart topping singer produced by Tetsuya Komuro (T.K.) during his reign in the J pop industry in mid 1990s.

The Young Upstarts:



Ueto Aya (
上戸彩
)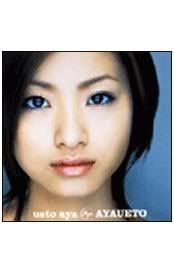 I know Aya should be on the veteran list with 5 years in the industry now but she is still incredibly young at just 20 years old.
I really should watch what I say as I would not want to embroil the furore of the millions of mindless Aya fans in Asia but seriously with shows like "Attack No. 1" & "Ace wo Narae (
エースをねらえ!
)", I would not be surprised to see her acting in an all female version of "Captain Tsubasa" soon.
In addition, she can't really sing that well (can see my fist hate mail coming in...)
But my impression of her change drastically when she took on the role of "Azumi" as the lady assassin capable of slaughtering an army. She was really great in that show as the lead character and makes me amazed that hair dyeing was already very popular back in the ancient warring days in Japan.
Then her as Utsubo in "Yoshitsune(
義経
)" as the childhood friend of Yoshitsune (Takizawa) who had a big crush on him, further galvanize the fact that she should permenantly be in period dorama.



Ayase Haruka
(
綾瀬はるか)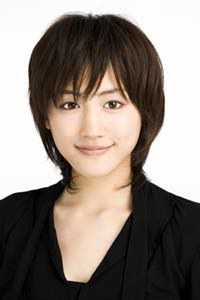 The lead of the hit TBS dorama series "Sekai no chuusin, ai wo sakebu(
世界の中心で、愛をさけぶ
)" which is based on the hit box-office movie of the same name which is in turn based on the best selling novel of the same name.
As Aki, the leukemia-stricken heroine sending her boyfriend into endless pain for years for her death, that wretched tears-jerker definitely carries on the legacy where "Heaven's Coins" left behind.
Not knowing that she was also as a student in the choir Tsuyoshi forms in "
Boku no Ikiru Michi (僕の生きる道)
".
She is then the face for Pocari Sweat recently humming to the jingle by Mr Children in the CMs; and next would be reuniting with her "Sekai.." co-star Yamada in "Byakuyakou(
白夜行
)".
She has a long face what I would normally mention as "Banana face" but can be really pretty at different angles, plus her portray of Aki surely makes a lot of men crazy over her.



Inoue Mao (
井上真央
)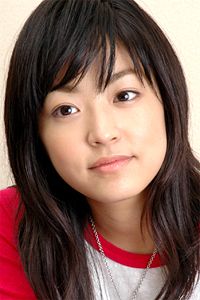 As Makino Tsukushi in "Hana Yori Dango(
花より男子
)", Mao-chan surely became a lady of strength, not cowering to pressure from F4.
This doe-eye lass who is just 18 years old surely has a platform to work on, starring in one of the biggest teen dorama of 2005 but I can always visualise her as those spiteful character rather than the gentle types.
She was also seen in "Home Drama()" with Dohmoto Tsuyoshi and Yusuke Santamaria as one of the newly-formed family unit who in the end had a crush on Tsuyoshi. That was quite a nice show as well.

To be Concluded...つつく
Running out of time..tomorrow we'll touch on the female singers that I fancy among the vast sea of singers out there..stay tuned!