For All the Japanese Ladies I Love....第三巻
20th January 2006, Friday
The concluding part to the list of Japanese female celebrities I fancy...
Preface:
It takes much more for a singer to move me as much as an actor despite I had great passion for music..but with the visual aspect through a movie or a dorama series the charm of an actress will forever be embedded into my mind than listening to a same track over and over again...
Then again I kinda think the ladies in the J-pop scene basically fall into 4 categories:
The "Avex" Girls: Basically the divas of Avex Entertainment group which of course boasts the likes of Hamazaki Ayumi(浜崎あゆみ), Amuro Namie(安室奈美恵), BoA, Koda Kumi(倖田來未) & Shimatani Hitomi(島谷ひとみ). The problem with these singers is that they had high production rate and you get to see them often on Japanese TV, way too often to a state that I rather not see them at all. Except for BoA perhaps.
The "Moe(萌え)" Group: Basically it's madness how young Japanese like their female artiste to debut. In the past you usually have teen pop idols at youngest teh most 16 years old but in this era, a 16 years old easily can turn veteran as in the past, girls groups like SPEED, Zone & Morning Musume have members as young as 12 & 13...talking about breeding for the future!
The Talented & Normal: Usually these days due to the infauation with R&B & Hip Hop, J pop singers had slowly transcend from bubblegum pop to that music genre. Misia, AI, Utada Hikaru(宇多田ひかる), Koyanagi Yuki(小柳ゆき), Sowelu, Kuraki Mai(倉木麻衣) & Crystal Kay all fall onto this region. Great voice, nice songs but not really the type I like.
The Talented & Weird: Maybe "weird" is too harsh a word..but you have a girl called "Cocco" (not Coco Lee or Koko Crunch) who once after sang a song on "Music Station", ran off and announced her retirement. Eventually made her return recently. These are the truly talented singers-song writers such as Shiina Ringo (
椎名林檎
),Yaida Hitomi(矢井田瞳), Onizuka Chihiro(鬼塚ちひろ), Hajime Chitose(元千歳), Yuki (former Judy & Mary), Hitoto Yo(一青窈), aiko etc. Some of them had to be barefooted to make a great performance but that doesn't really turns me on actually.
Well do note that many of the actress I mentioned before are also singers but some had very lukewarm sales, it's vice versa for the singers to go into acting which is a tough transition as well.
Let's begin:
Otsuka Ai (大塚愛)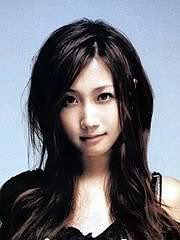 I first noticed her 2 years back with a really bubblegum pop song called "Sakurabon (さくらんぼ)" and assumed this young lady it is yet another cute, bubblegum pop novelty act which would popped by itself after 2 or 3 mildly successful follow-ups as Hysteric Blue, Black Biscuits and wildberry had experienced before.
Then came a series of pretty successful hits in 2005 which bestowed her with much more popularity than she had already had.
She definitely can have some quirky song titles like "Kuroge Wagyuu Joshio Tanyaki 680 Yen(黒毛和牛上塩タン焼680円)" which is a love song rather than a song promoting cheap grilled beef; as well as "Neko ni Fuusen(
ネコに風船)
" about a skyboat for the cats.
However it was her biggest hit of 2005, "Planetarium(
プラネタリウム
)" which is also the insert song for "Hana Yori Dango(花より男子)" that made me sit up and notices how talented a song writer she could be. Plus she always have that innocent look and nice hair no matter what style she had conjured..think I might go on next to say..I love Ai (which is really strange since Ai stands for "Love" as well).

Nakazawa Yuko(
中澤裕子,

) & Ishiguro Aya(

石黒彩
)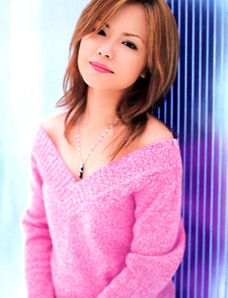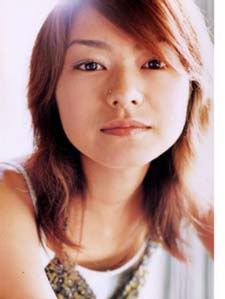 Of the years since Morning Musume has formed, many fan-boys would argue whether Abe, Goto, Yaguchi or Ishikawa are the cutest...Let those adolescents argue about it I had my eyes fixed on the long hair, slender and tall Aya in the first generation of MM (not Malice Mizier).
Unfortunately she left the group at around 2000 after their hit "Love Machine" to get married by everyone's favorite chubby-boy drummer, Shinya(真矢) of "Luna Sea"...kinda devastated that time to hear that news but it did gave me a twinkle of hope that fat boys do get laid.
Now Aya is a happily married mother who is pursuing her dreams of fashion design.
After Aya left, my attention was then caught on to Yuko who at that time is around 27 years old and the elder of the group.
Concurrently as the leader of the group, she had a mildly successful solo career as an "enka(演歌)" singer.
She has always been treated as a sex symbol perhaps in the "enka" scene and was the object of desire for Tsuyoshi & his pet mynah in the dorama "Food Fight".
She also was a health teacher all the lecherous boys in the school craves for in "Gokusen 1(ごくせん)" which is why naturally a sex symbol for many testerone-filled male audience like myself...
I dunno but you can hate Morning Musume for their outrageous uniforms and regular members reshuffle but you have to takes your hat off for the musical talent of Tsunku who can write hit singles for the girls with such ecletic musical scores like bohemian, Indian, Broadway etc.
Sonim (ソニン)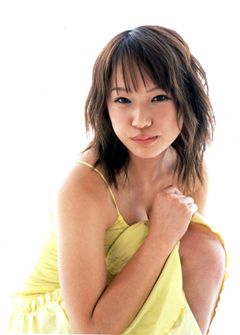 Another alumni of Tsunku's Hello (Pedophilic) Project. Started of as Ee Jump with the younger brother of Maki Goto, Yuuki (, who I believe is actually Maki strapping her chest and talk in a muscular tone because they look identical from a same mold!)
Basically Sonim did all the singing, dancing and even cheer-leading in the group which was why she made the logical choice to go solo.
She then made a provocative move at the age of 19 in 2002 for her single ,"Curry Rice no Onna (
カレーライスの女
)", she is virtually wearing nothing except a kitchen apron in move the PV and the CD cover, with a seductively nibbling of the spoon which sent millions of male viewers into uncontrollable fit and high heat which may also led to splurting of blood via the nasal openings...
Since then she has sort of made the transition into a sex symbol, rivalling Koda Kumi.
However she is pretty talented with languages and has a good command of Koreanif I am not wrong as seen in her Korean dance hostess character in the "Densha Otoko Special" whom the Hanshin Tiger Otaku is madly in love with.
She was also seen been the love interest of another bespectacled fat loser in "Moto Kare(元、かれ)" but she herself then also put on a lot of weight and in a rather geeky style for that show.
Perhaps it's just me but I think the reason I like her could be that my wife-to-be resemble her a little but then I would need to visit the optometrist soon...



Van Tomiko (
伴 都美子
)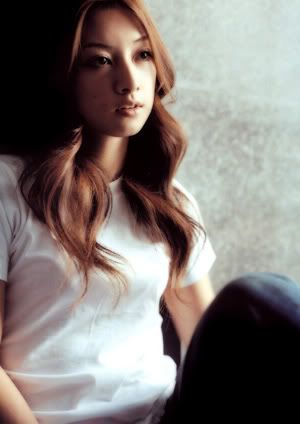 The face of the now-disbanded Do As Infinity (D.A.I).
I had been a great fan of their music except of "Yesterday, and Today" but what makes DAI click is that beside their musical talent, Tomiko went to show the world that a pretty face can have a powerful voice as well which is versatile enough to do ballards as well as heavy numbers.
Anime fans would also like them dearly for contributing themes for anime series like "Inuyasha(犬夜叉)" and "Vampire Hunter D".
With the band calling it a day in 2005, many fans like myself were shattered,mainly because the fear of not able to see Tomiko once more.
Fortunately she has embarked on a solo career and more opportunities for her to go on to music variety programs to stay cold during interviews and throw cold glares at the hosts and audience alike, ooh yeah we all love Van!!



Ito Yuna (
伊藤由奈
)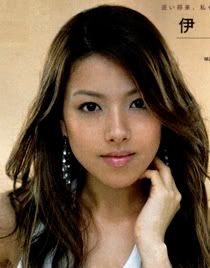 "Nana" the Japanese summer box office hit has yet to reach our shores but this manga-adapted series about rival bands and 2 girls known as "Nana" (how about Shazna, Mana, Mina,Reina, Lina (Max members) and Banana?) had already a huge following here, partly due to the 2 hit singles spawned from that movie.
Of course we have Nakashimia Mika's "Glamorous Sky" and then the song by Ito Yuna as Reira, "Endless Story", a cover of an old Sheena Easton song.
That ballard got a good score and lyrics (easy enough for me at least) and the appeal of Yuna is overwhelming as we rather see her than a punk rocker with a bout of anorexia (no, I'm not talking about 90% of the J rockers out there).
Hailed from Honolulu, Hawaii, Yuna definitely has the exotic cross-breed tone and looks which Japanese are always so crazy about, the "Gaijin(外人)" factor; therefore 2006 should be a much bigger year for Yuna and I wouldn't mind seeing her more often as well...
Then again I wonder would the Japanese people be crazy over a 27 year-old loser from Singapore, with pock-marked face and Michelin-man physique and of course a atrociously-weak command of Japanese??

That's it folks...I'm sure there are many out there, like myself at one time, dreaming about hooking up with a Japanese chick after seeing all these heavenly angels from the TV..except the harsh truth is that..THEY ONLY APPEAR ON TV!
Hope that brightens up your weekend (and mine as well) and gives you the opportunity to drown yourselves in your tears, feeling wretched for yourselves!


Japanese word of the day: 女性~jyo-sei~(Ladies)Actually my top female idols are none other than Gorie and enka legend, Mikawa Kenichi (美川憲一)