Not A Happy Man
15th June 2006, Thursday
I am not a happy man today...
There are 4 main reasons that can make a man like me not feeling jolly at all...
1) A Hungry Man: Well at times, but rarely do I get angry over prolonged starvation..
2) A Sleepy Man: Recent World Cup ongoings surprisingly did not have a toll on my sleep time and last evening's matches from 12 to 5 didn't interest a wee bit to stay up for
3) A Horny Man: With the missus out of town..maybe but seriously this is the last thing on my mind right now...
4) A Penniless Man: BINGO!
It's pay day and while fellow colleagues collected the money they had right to acquire for a month's hard work..mine is still being held up hostage at the company finance department..
The signs were there when I checked through internet banking and did not see the remittance of the pay for this month...I started getting cranky and paranoid that they might had had "embazzled" my pay as they did with BY when she made the jump months back...
I got to work this morning and still found the status of my current pay on reflected on our online database system which prompted me to check with the recently-departed LF whether she had got hers...
It was from her that I realized that through some obscure company policy, the pay would be retained until the whole liability form is been cleared and I had yet began to hunt down people from the admin to do the respective clearances...
With a raging desire to get my pay after the payment of bills and recent money output for wedding dinners, movies, toys, renovation (inclusive of that unexpected $120 for electrician fee), my bank account seemed to be hitting a chronic state of emptiness...
So I went to do my clearance which constitute of 15 people. three quarter of which I had no affairs with yet it had to be done...
In the end, I managed to get 2 to sign and this hostile and uncaring lady even said I should have do clearance closer to my final day...
Even so, when would they actually remit my pay??
I am in dire state of desperation, fearing I would never see that money I had rightfully earned and starting to be disenchanted by this freakin' company and the people running the show behind it...
I couldn't wish to leave this god-forsaken place as soon as I can at this juncture..
Of course without pay in the bank, I was basically going through motion for the entire day with the least zeal in me..and JxMMy with his Kitaro New Age music crap in the morning surely didn't help the cause...
So I most probably had to endure another week or so without the pay and had to check meticulously the actual amount they have to pay me...
Anyway there had been stuff for me to bank on to keep afloat...the final phase of renovation of my room went smoothly and now the bedroom is really cozy and turned out to be what I had expected...
The Bed: As mentioned the mattress would only be available closer to the wedding date due to taboo, so at the meantime I had to sleep on my old super-single with another single mattress to occupy the remaining space...looks pretty awful as my sister mentioned to be very "kampong" style..
The bedframe is quite sturdy and the whole platform railings is very nicely done.
The drawers are made for ease of usage as well...
The Bookshelf: $800 seems to be really worthed it as it matches the whole theme of the room and bears capacity enough to hold whatever books, magazines etc my lass possessed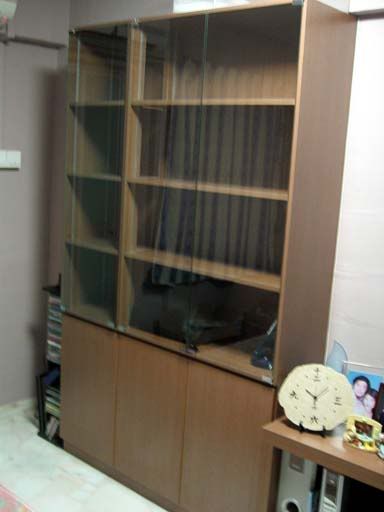 The Japanese Ceiling Lamp: One main feature of the whole Zen/Japanese style theme my lass wanted comes from this ceiling lamp which is meant for her laptop station directly below it. When turned on in a dark room, it sure gives a romantic ambience...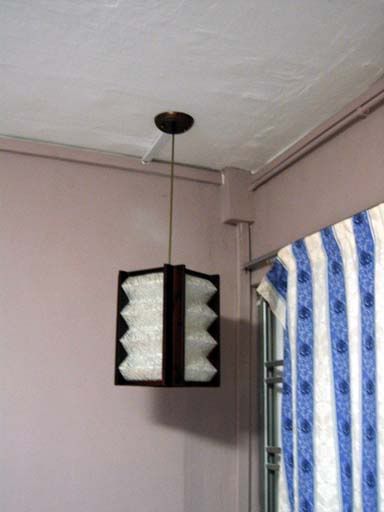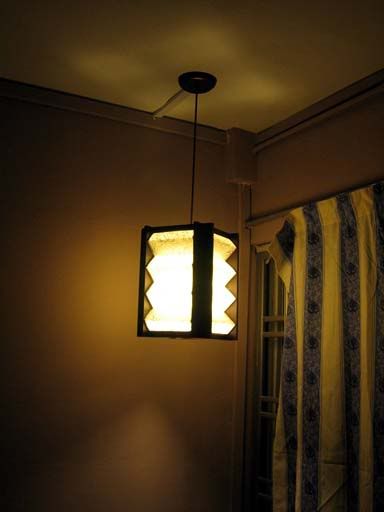 The Japanese Paper Clock: Well this is actually a gift from Eriko and Sou when they came over in March, surely suits the whole Japanese theme, so I feel it's nice to show it... However had to bend the second ticker hand outwards if not it's movment would be hindered by the minute hand.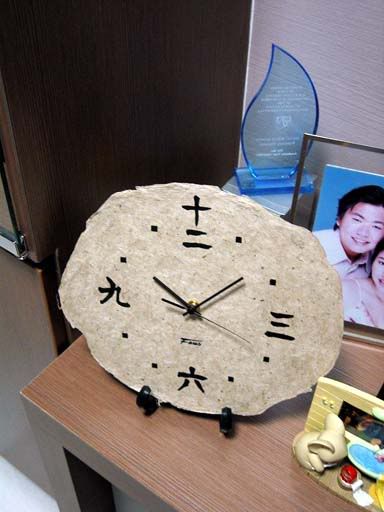 Oh yeah I have to ensure that the clock is free from contact with water, even a few droplets if not it would be ruined for sure...
Finally the World Cup matches recap...
The Ukrianians had a terrible showing and felt as if they gave their Spainish opponents too much respect...
But for once the talented Spainards seemed to show the potential they possess and click as an effective unit in both attack and defense.
Scheva found it hard to open goalscoring account in the World Cup with so little supply from his team-mates while David Villa of Valencia got a braced though none from open play..
But Torres did and what a build-up to that stunning goal from a central defender by the name of Carles Puyol...
The all Arabic affair ended with an exciting 2:2 draw especially when Saudi Arabia though they managed to win so late into the game from that Sami Al Jaber's goal but their defence truly shot themselves in their foot for letting Bolton defender to score the unlikely equalizer at the dying seconds...
But I must say I really like the 2 goals the Saudis had scored and they are showing this team resembles more of the 1994 batch rather than the 2002 batch....
Germany needed a late, late goal created and scored by 2 substitutes...but think they deserved the victory after one obvious goal which Klose and Ballack successively hit the woodwork..but the Poles surely had put up a good fight but losing a player from sending off surely is too much an ordeal from their free-scoring neighbours...
Tonight's games don't look too enticing but it's the World Cup so you never know:
Costa Rica vs Ecuador (Group A)
Should be a pretty evenly matched affair.
Ecuador should be pretty confident after their 2:0 victory over the hapless Poles but in Paolo Wanchope, the Costa Ricans seemed to have a good source for goals...
Prediction: Ecuador 1 : Costa Rica 2 (well seriously not an easy game to call, can be the other way round or just a draw)
England vs Trinidad and Tobago (Group B)
After that successful draw against the Swedes, the Soca Warriors are ready to pull another major upset against an England who crushed their neighbouring Jamaica in a recent friendly...
Well just ensure they don't have someone to score an own goal and they may get a 2nd 0:0 draw...
Prediction: England 1 : T&T 0 (Got a feeling John Terry would take over the scoring duty tonight as their strikers continue to be useless)
Sweden vs Paraguay (Group B)
A must win for the Swedes but they would need the Paraguayans to continue their X'mas mood with another own goal as the Swedes found it hard to score as well.
Recent internal squabblings which the Dutch is famous for might act against them...
Prediction: Sweden 1 : Paraguay 1 (think they would be aggrieved with yet another poor performance before venting all their fustrations on their final game against England)

Japanese word of the day: 不運 (Unhappy) Now I know the feeling of people working in private sector when they were never paid on time...