Stand Up for Your Fellow Man!
13th July 2007, Friday

Last evening an compulsive urge by my missus resulted in an impulsive movie date at the Cathay cineplex at AMK Hub (which has the criteria to be our favorite movie watching venue) to catch the latest instalment of Harry Potter movies from Warner Brothers, "The Order of the Phoenix".

The fifth film based on the best-selling literature by the multi-millionaire J.K. Rowlings had David Yates, a TV director at helms this time and it went quite wryly awful when they thought they could squeeze the thickest book in the series into a 140 minutes movie, it left us bewildered at times with some storyline...
It was yet another dark feature with Harry struggling to stop Valdemort from haunting him ever since his return in the previous film while he tried to convince the dark lord did indeed returned while the Ministry of Magic by all their wits tried to suppress him, in fear of repurcussions of fear being spread within the community...
Young Potter constantly was been cooped in a neverending nightmares of Valdemort and his misdeeds and started to go all "the hero in agony" thing which I had always hated...

The only salvation was the eye candy in the form of...no not that prune-faced Cho Chang but the number one heroine of the show, Hermione..or more specifically the young Emma Watson...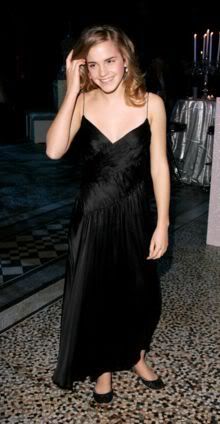 Since litting up the screen in the X'mas party in "The Globet of Fire", showing the audience who had watched her grown from a cute little 11-years old by blossoming into a fine lady...
In this film despite playing very much the background, she always charms the crowd with her usual wittiness and the way she tied her hair backwards...
Seriously if I am not a married uncle nearing 30s but in my teens with raging hormones, I would certainly go gaga over this fine British girl...
Now I just anticipate to see her works in the future...

It's Friday the 13th but the omnimous day befalls on BY a day earlier...
She was clearing the freezer in search of some samples as our supervisor had instructed but the top drawer was stack to the brim with some racks placed there by the Goddess for sure...
My brute force was enlisted to forcibly pulled the drawer out and with a bad twist of fate a couple of racks were hurled to the groud, spilling all teh samples tubes...
BY felt the need to inform Shitty Green who surprisingly returned yesterday when we had assumed it would the coming Monday instead...
Little did we expected, he would come storming into the lab and starting to scorn BY about her poor working attitude and had been judgemental about the fact that our outspoken colleague for not being serious at work...
I overheard in shock of the ongoings and seriously anyone at work could vouch that BY has been one of the most hardworking personnel who treated her work with responsibility and pride, thus Shitty Green's claim was uncalled for...
As expected, my poor colleague was disenchanted after that reprimand and felt the quick urge to resign and move to something new...

I felt the compulsion to clarify with Shitty Green how awfully wrong with his blinded perceptions at the same time notifying our understanding supervisor of this incident...
I had attempted to write in the most diplomatic manner possible and tactful enough not to irk my direct boss...
By the end of the day my supervisor came to console BY who was wrecked with emotions while no reply from our tactless & insensitive American boss, not till today...

Ultimately it might bring about bad repercussions to myself for standing up for my fellow co-worker but I felt I couldn't let this piece of injustice laid to rest like that with BY been maligned while others with even worse-off working attitude went scot-free and lauded...

When I brought this issue out in the weekly group meeting this afternoon without the presence of BY, I was observing the reactions of the others in the group...
His Beautiness was using hand gestures to signal the advice of letting his blunt comments to go in from one ear and comes out the other while Jason too shared that sentiment...meanwhile the only Indian in the group could barely care more...Surely make me disillusioned with this group...
There was no strong bond between us to stand up for one another in times of need and with everyone covering their own ass...
It's not wrong but just make working here suffocating when Shitty Green decided to continue maligning people with hurtful accusations...

In the end when BY uttered her grattitude for the e-mail, I felt it is worth it to support the same person who pulled me over from my previous douldrums , though in the near future neither of us might remain working here...


Japanese word of the day: 結束 (Bond) If we could form a bond as strong as the Dumbledore's Army at work....