Oricon Top 100 for 2007 ~Too many Johnnies~
10th January 2008, Thursday

A couple of weeks back I did a review on the J Pop scene of 2007 and how each single released over the span of 12 months in the Japan music scene ultimately boils down to how they sell...
And the Oricon chart is the national gauge of sales of music single, album, DVD, console games etc and the ultimate benchmark on the music trend in Japan over the year...

After the X'mas-New Year break, the good people of oricon finally tabulated the top 100 best-selling singles of 2007 which I will dissect and give my view upon ...

The Top Ten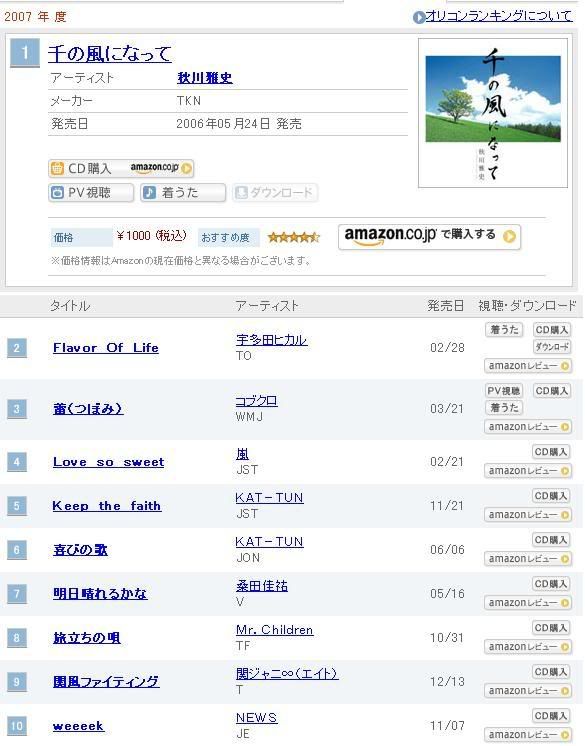 "Sen no Kaze ni natte" as expected take the top notch for successfully remaining in the weekly top 30 for a good 3/4 of 2007 since it surprise surge into popularity after his performance in Kohaku 2007.
The next few weren't much a surprise with their connection with popular doramas.
Although "Tsubomi" was a surprise to be high up at No. 3 to me.
From this point it is quite blatant that the Johnny's Associates has invaded the chart as they did for the past 2 years (No. 1 in 2005 was "Seishun Amigo" from Shuji & Akira while No. 1 in 2006 was "Real Face" from KAT-TUN).
With Akanishi's return, KAT-TUN's popularity was better than ever though I felt their 2 hits shouldn't have beaten the likes of Kuwata Keisuke and Mr Children
Meanwhile Kanjani 8's "Kan-fuu Fighting" was a dark horse and support the claim that the Kansai-based group is now one of the bigger seller in Johnnies.
NEWS, with their return after a year hiatus did reasonably well though I was quite surprised "weeek" made it to #10 considering it was released in November.(of course "Keep the Faith" which was released 2 weeks later did a much better sales record).

11 - 26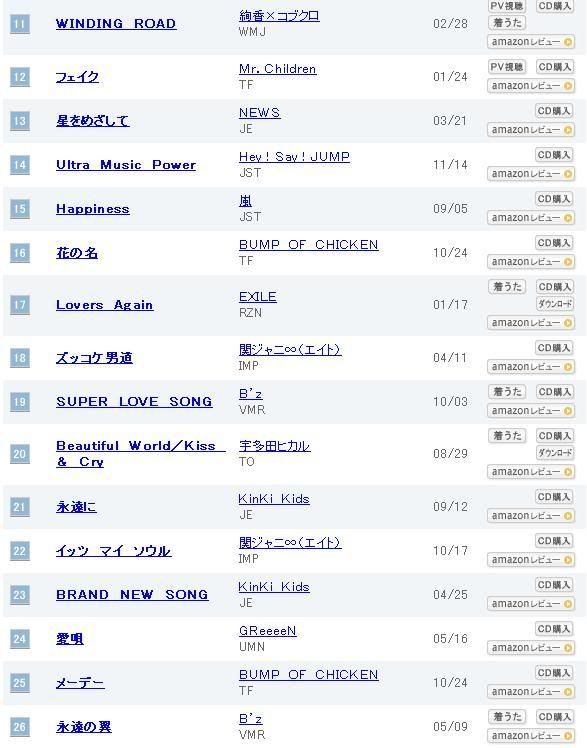 Was quite disappointed that "Winding Road" didn't make it into the Top Ten, much due to the Johnnies... Utada's "Beautiful World/ Kiss & Cry" should had done better as well and was expecting GReeeeN's "Ai Uta" to do better as well.
Once again a lot of Johnnies here with the Heisei-born group Hey Say! JUMP beating evergreen B'z and the likes of Utada and Bump of Chicken for #14
Sad to say no sight of L'Arc...and surprise surprise no Ayumi as well... Only Exile to show for the Avex group.

27 - 41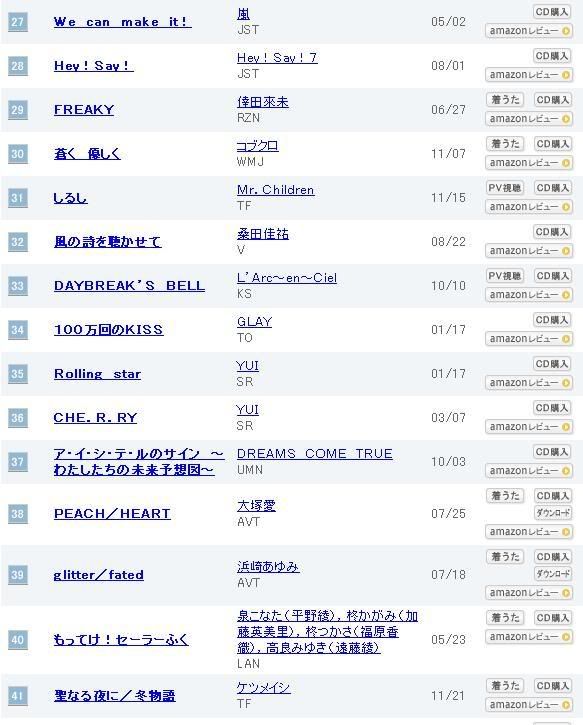 Finally my beloved Laruku only making #33 with their 2nd last single of 2007 much due to it being the OP track of Gundam 00.
Koda Kumi, a steady performer for 2005 & 2006 only managed #29 with "Freaky" while fellow Avex divas Otsuka Ai and Ayumi lag behind...Otsuka's "Peach" was supposed to do better due to the dorama but I was wrong
"100 Man kai no Kiss" help Glay to have a decent showing in 2007 and Dreams Come True's nice ballad "Aishiteru no Sign" help resolve some pain they felt for the year as well.
Can't believe the theme of hit anime, "Lucky Star" manage to edge Ketusmeshi who were holding #2 spot just 2 years back..Expect YUI to make it to Top 20 next year though the 2 singles here are really chart-hitter quality.

42 - 57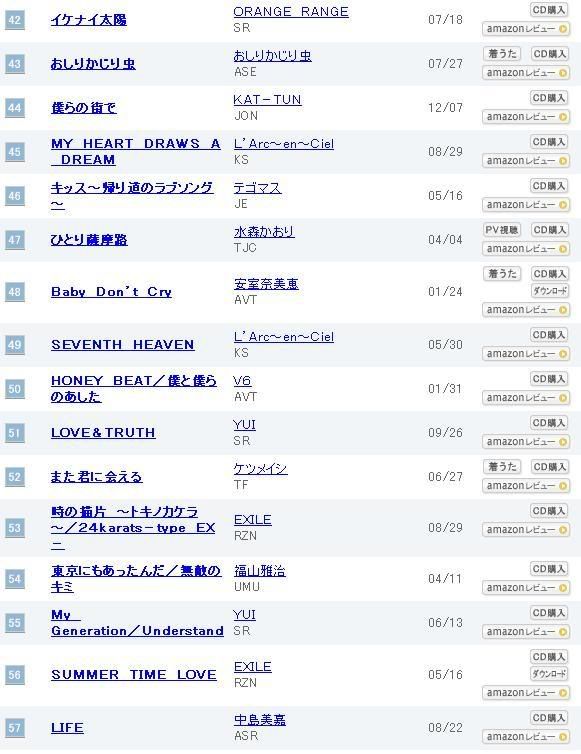 Orange Range's downward spiraling career could be worse if not for "Ikenai Taiyo" which did better on the mobile download chart for sure.
"Oshiri Kakiri Mushi" the irritating anthem of 2007 nearly overtook them.
The first sight of Enka (演歌) with Mizumori Kaori's "Hitori Satsumaji".at #47
Amuro Namie who had an almost non-existent year especially the latter half made her presence with "Baby Don't Cry" at #48; which was still a better showing that Nakashima Mika with "Life" at #57.
Fukuyama Masaharu who too had a quiet year music-wise contributed the theme of "Tokyo Tower" the movie with "Tokyo ni mo Attanda"

58 - 73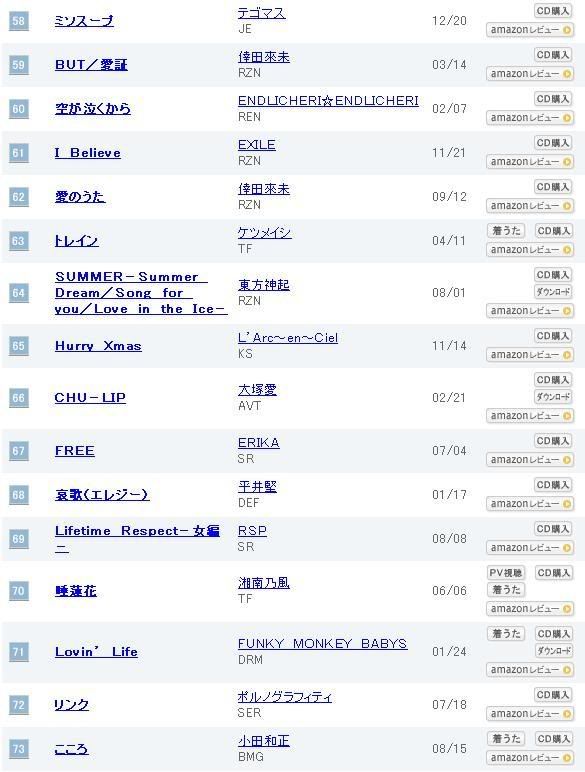 RSP's "Lifetime Respect", Shonen no Kaze's "Suirenka" and Funky Monkey Babys' "Lovin' Life" enjoyed high download rates on the mobile and are very popular with the young people in 2007 but seemingly not selling enough...

74 - 89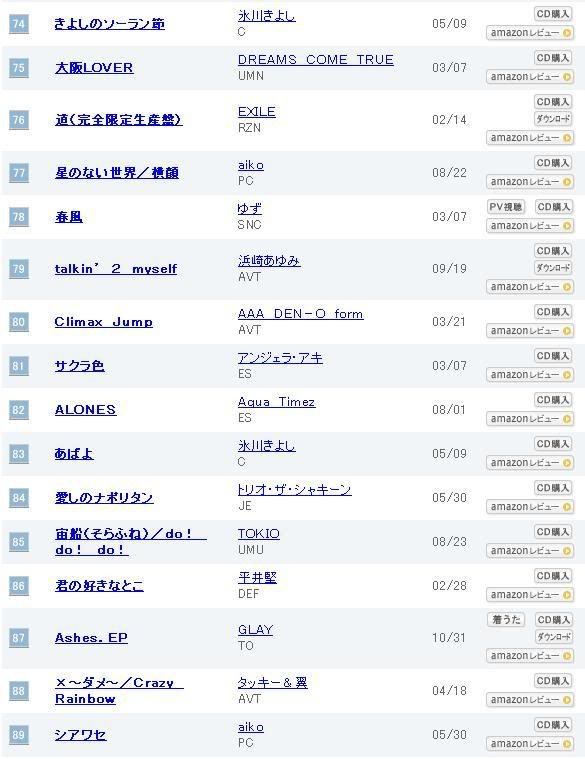 aiko could only land the 77th spot with "Hoshi no nai Sekai" while Yuzu's "Haru Kaze".notched #78 and I was puzzled their collaboration effort Golden Circle didn't made the chart.
AAA had several top ten hits for the past 2 years but it was their theme song for Kamen Rider Den-O to enable them to reach Top 100 with "Climax Jump".
Tokio's "sorafune" was one of the major hit in 2006, and continued to sell in 2007, surely their biggest hit ever. Sadly their follow-up singles didn't do as well.

90 - 100



KOH+'s "Kisu shite" and Kuwata's "Darling" should do better in next year chart after being released in December.
Remioroman who had such massive hit "konayuki" which stretched from 2005 to 2006, had an appalling showing at #97 with "Akane sora"

Some obvious absentees include Rip Slyme, Monkey Majik, acid, Ikagari Monogatari and a host of visual kei bands which I think done pretty well this year including Sid, Gazette, Nightmare and of course Dir en grey.

At the end of the day, the Johnny's boybands are really overwhelming. I have no qualms against them but felt they should have give others a chance to blossom on the charts but I doubt this trend will subside anytime soon...Till 2009...


Japanese word of the day: あまり ~a-ma-ri~(Too Much) While the Johnny's Associates took the scene by storm, where's the musume of Hello Project?
Labels: music