Till 5 in X'mas morning
25th December 2007, Tuesday...X'mas

As the title of this post implies..it was around that time we decided to put our merry time to a close this morning...

The day began when I was sent to La Tendo by the missus where my squad, Team Red (or Black) with the choice of color of the shirts we donned after prior synchronization.
We huddled by the Koufu food court to discuss on the questions we had intended to stumble our opposition with for the "Win,Lose or Draw" and it seems we tried to refrain to be as devious as last year

It was close to 9pm when we set off to EK's place after getting the beverages which included some sparkling juice for the festive mood and tea of all kinds...

Everyone was set for attendance as anticipated till the news of dear Chan (who I had been circulating dubious tale of "Brokeback Mountain" tendency with) has been smothered by the flu virus and decided to recuperate at home...His bubbly presence will be sorely missed but not as much as EK and his Team White...
In replacement, they invited their weekday staff, a lad by the name of Sean to fill the void...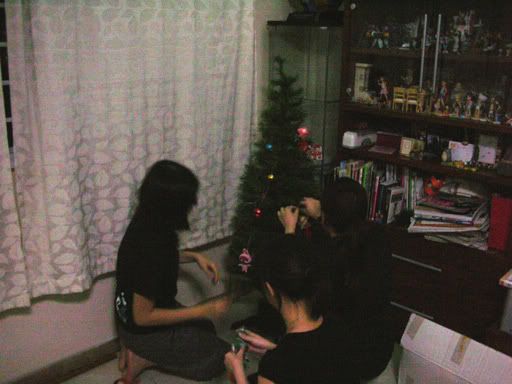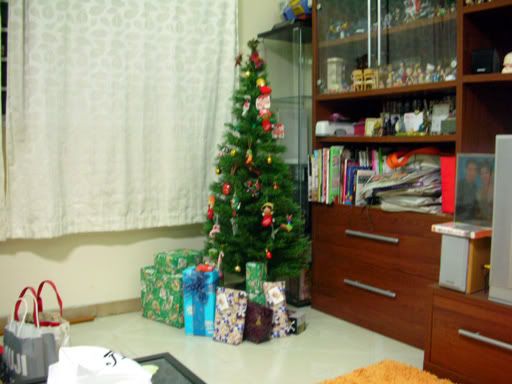 The ladies setting up the tree which EK felt was unnecessary before before we cajoled him to put it up anyway to house the presents...




After Ferris and myself helped the host to pick up the food for the night at the vegetarian deli nearby, we waited patiently for the LT crew to cease operation and arrive and ultimately halt Miyano for her persistent hushing them hurry...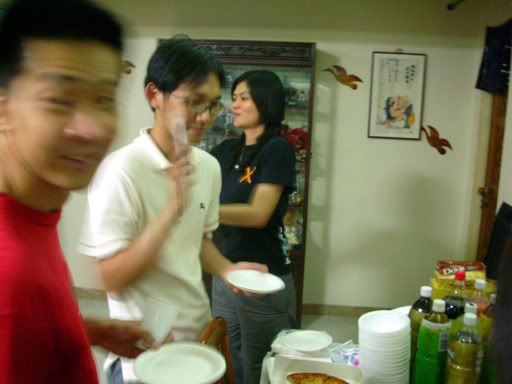 It's a more Western-style cuisine this year round and surely fit the holiday much better. The gang love it, so it must surely be a wise choice on EK's part...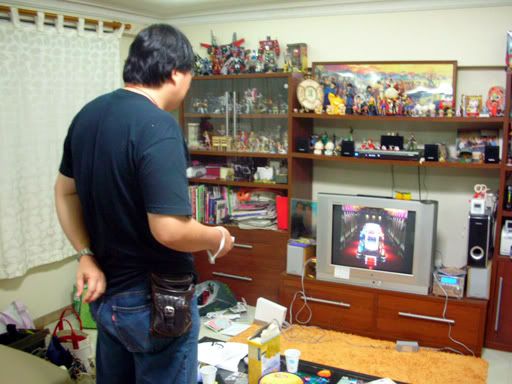 Vincent trying out the "Mario Party" on Wii to see if it was suitable for the game later.





We began the duel with "Mario Kart DS" and it was a nerve-wrecking time for most of us but it was realy fun rigging up 6 NDS for some wi-fi-enabled racing...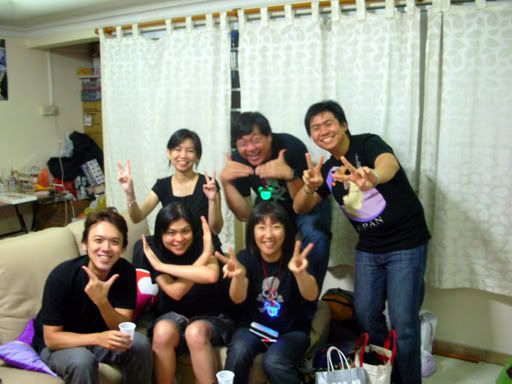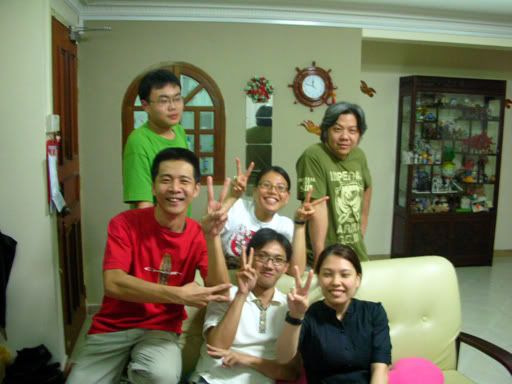 A look at the 2 teams...Easy to see which one has more chemistry.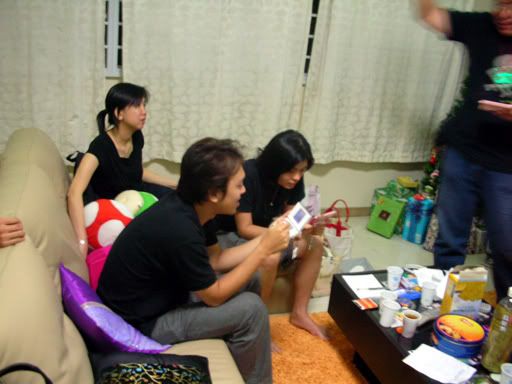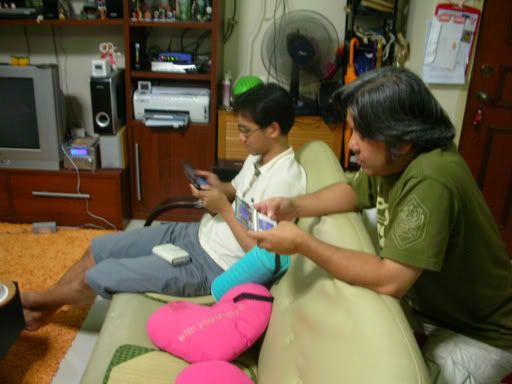 We played 3 rounds and as expected EK was running away the victor in the games he was involved in. Fortunately our team managed to racked up the points with successive good finish...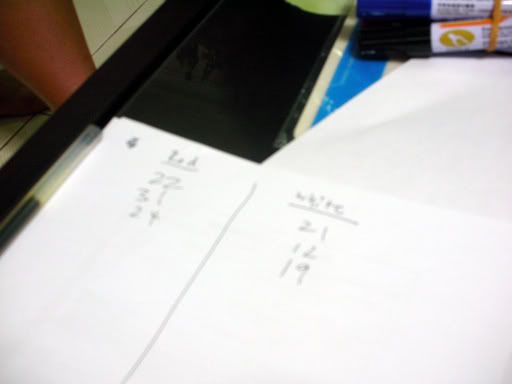 At the end of 3 rounds, we were leading by a massive 25 points...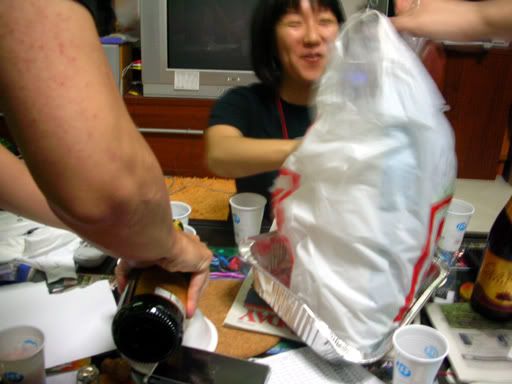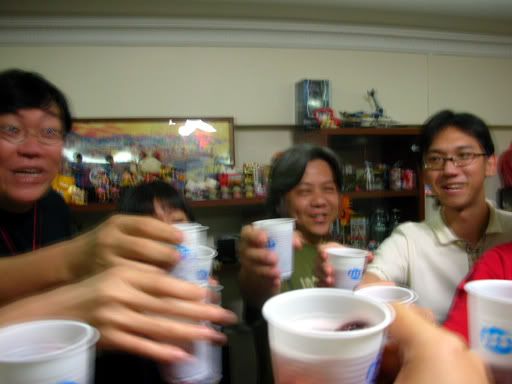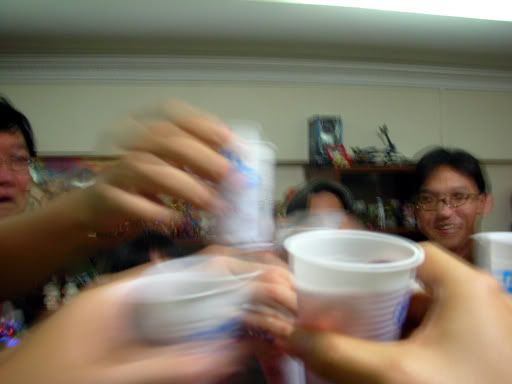 The clock as a quarter past 12 when we were done with our virtual karting and it's time for "kanpai" and when the sparkling juice took center stage.




Next up "win, Lose or Draw"... There were 2 rounds...Category 1: Movies and TV shows
Categiry 2: Everything Things.
And a final speed round with a mix of both categories of 10 questions in succession...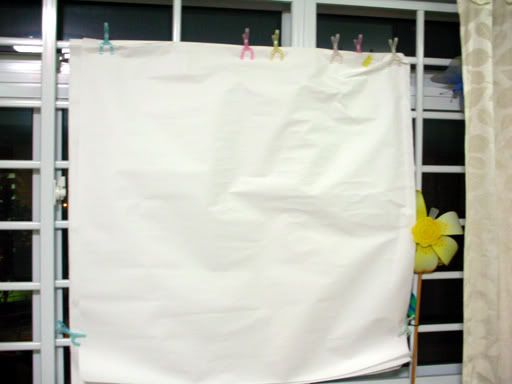 Looks like the real thing, huh?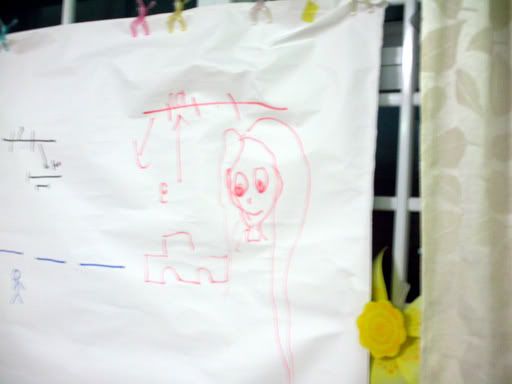 Pocahaunted? "Pocahontas" done by Karen...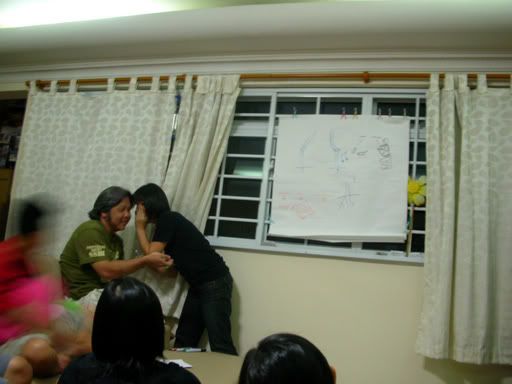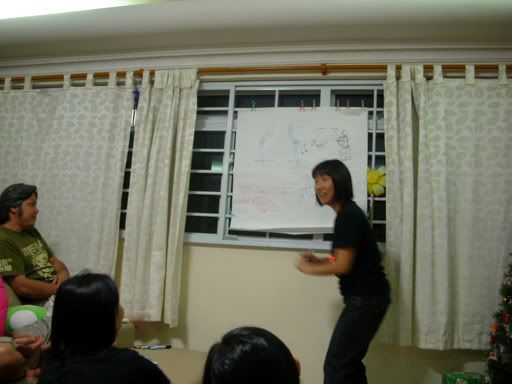 Miyano thought she would crampled under pressure but we all felt she did a good job.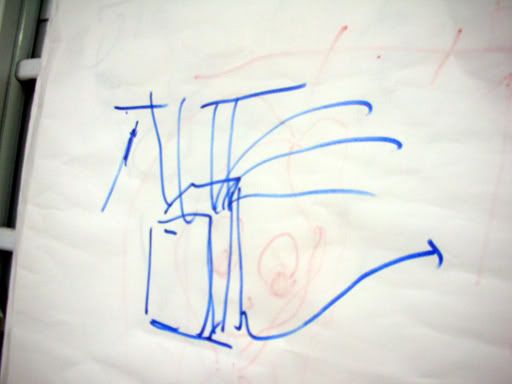 I drew this....Guess what it is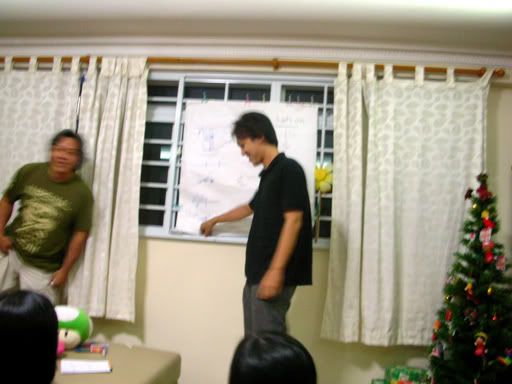 Ferris didn't scored point for us at first but put up a great performance in the speed round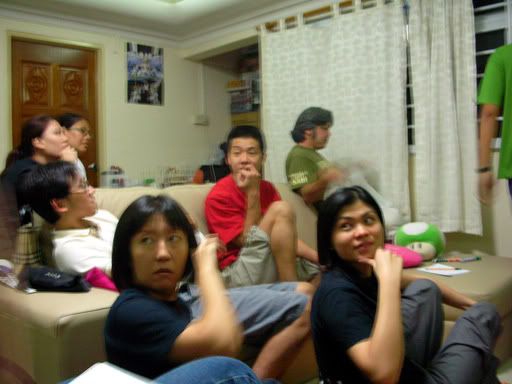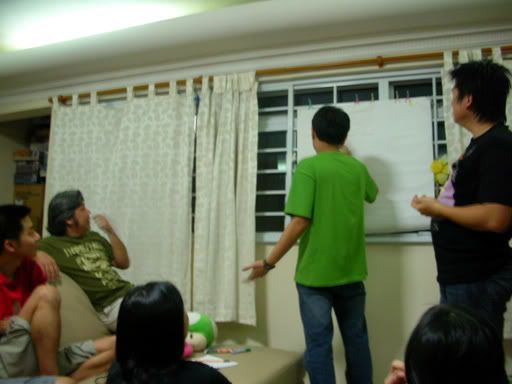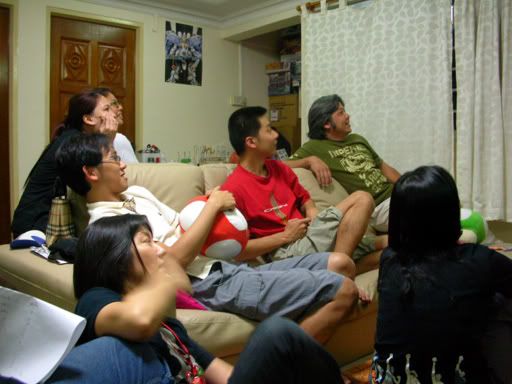 The crowd captivated with Sean's masterpiece .



We were on form with Yanhui giving a good rendition of "dentures cleanser". At end of round 2, we were leading by 40 points...




With that gulf of a score to catch up, Team White has to put in whatever they had with the Wii Sports...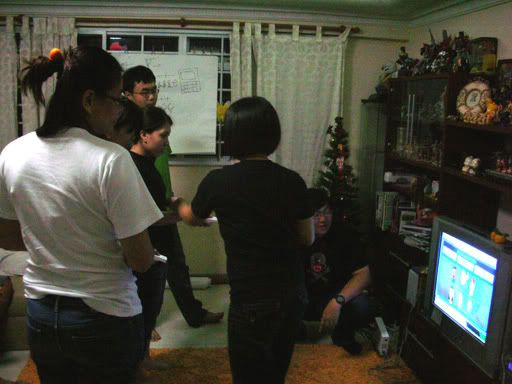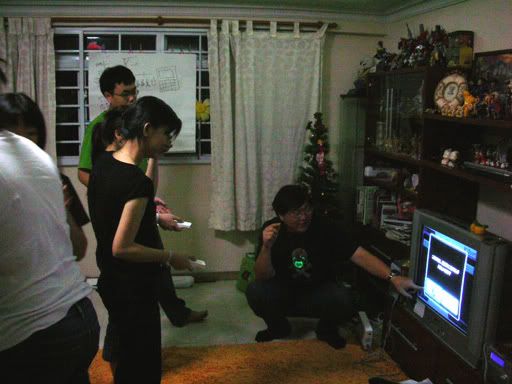 Vincent & wife setting up the controllers as the novice get their first experience of the game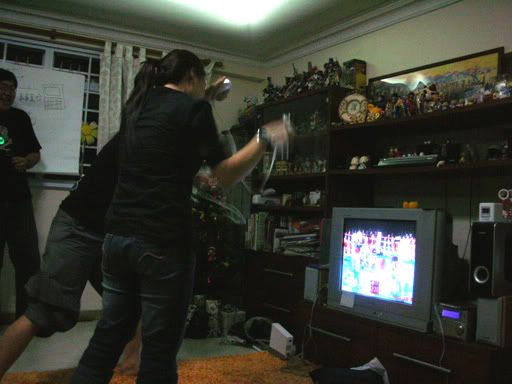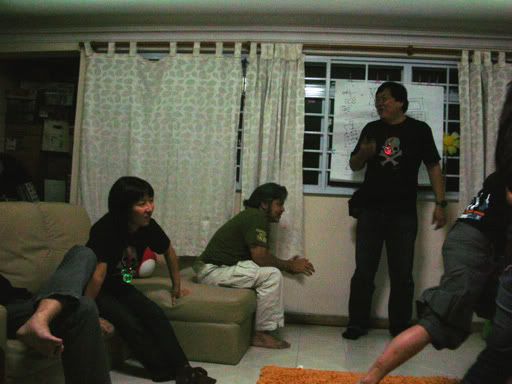 After we routed them in 3 rounds of tennis, EK beat me in the 1st boxing bout. Karen then won the night for us as she put the results beyond doubt as she soundly knock out Lisa to the delight of the spectators...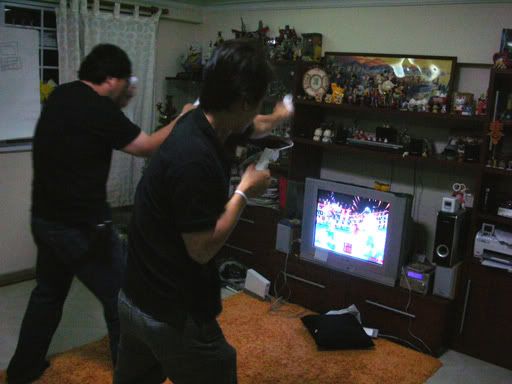 After the victors had been announced, we dabbling with the Wii just for fun. First Vincent versus Ferris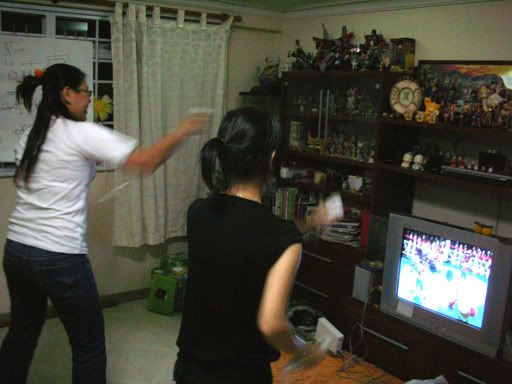 Then Corin meets Yanhui....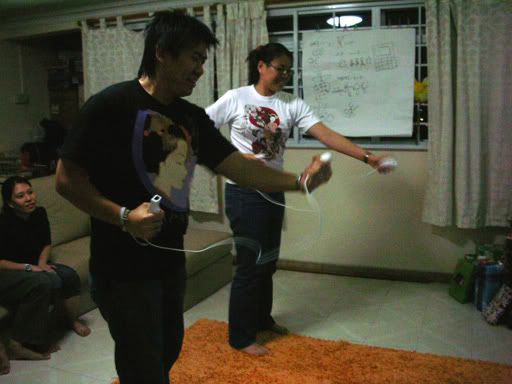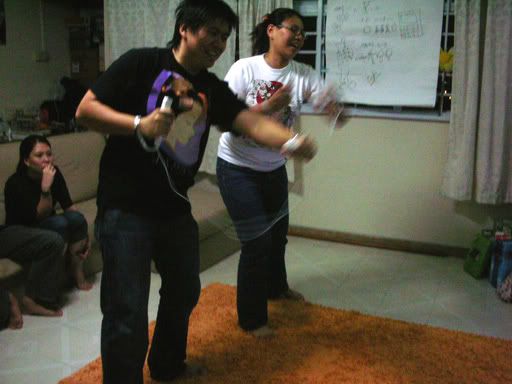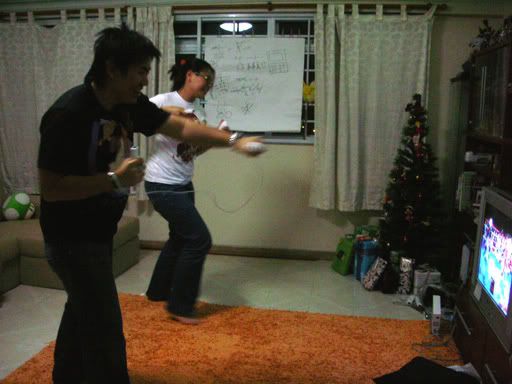 Before we settle some marital differences out in the boxing ring.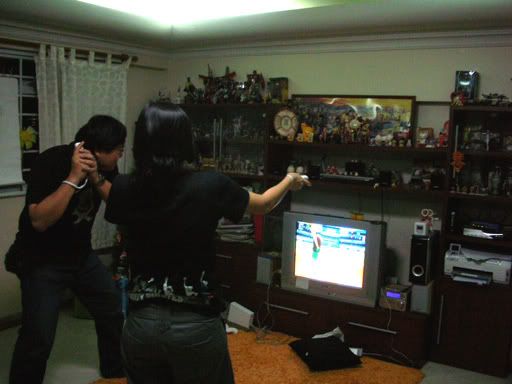 Vincent and Karen hiting some home-runs.




Before we called it a night, we had the gift-exchange session with order of gift-unwrapping determined by the birthdays...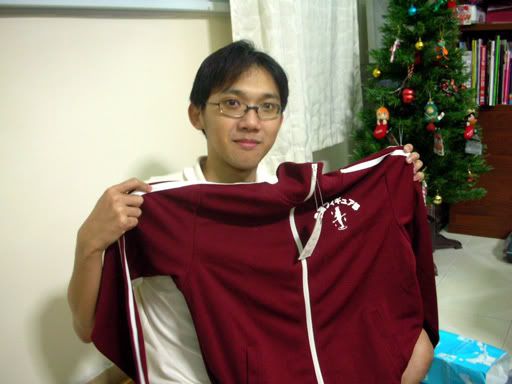 From myself to Bryan: a jacket and long sleeve shirt flown in from Japan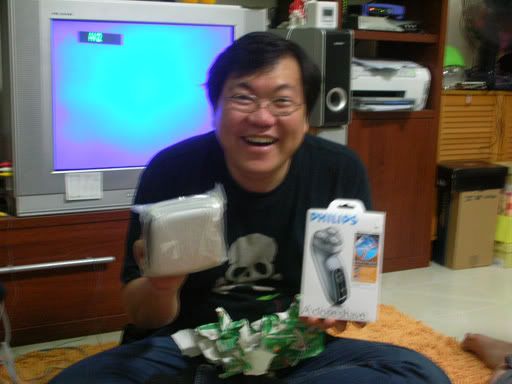 From Tay-chan to Vincent: a motor shaver and a cool CD holder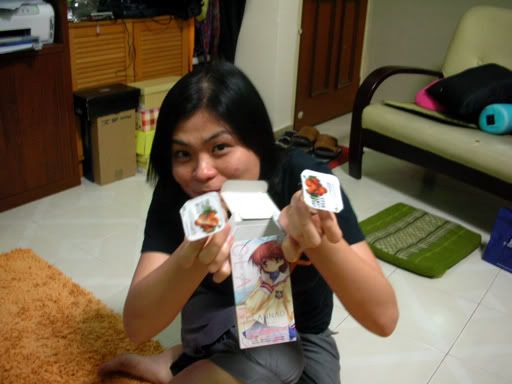 From La Tendo to Karen: a mock gift of trading card box (since she collects boxes for fun) and 2 jelly which everyone assumed was from the absent Chan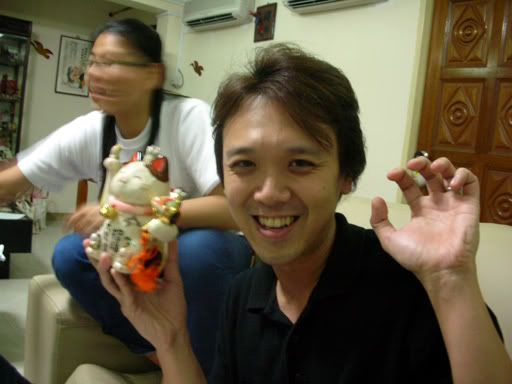 From Vincent to Ferris: a litter of fortune kitties for their new household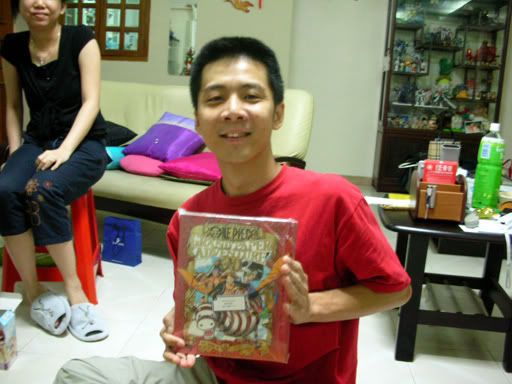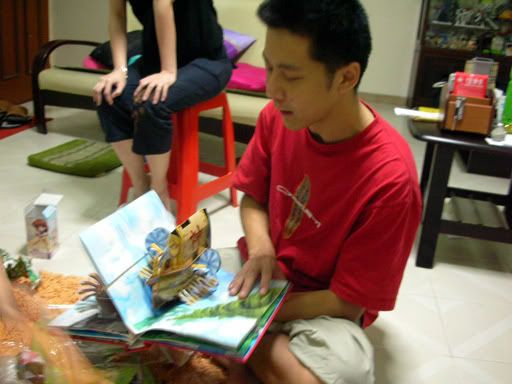 From Bryan to EK: the One Piece pop-up book he had his eyes on for ages now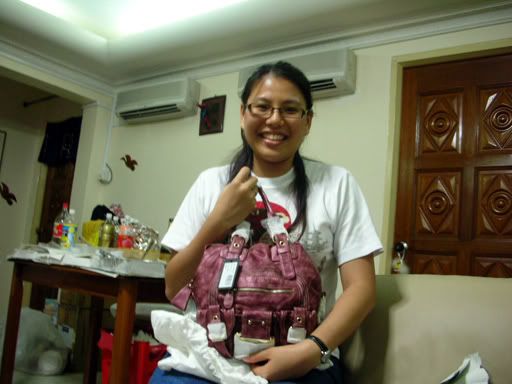 From Yanhui to Corin: a Guess handbag to satisfy her bag fetish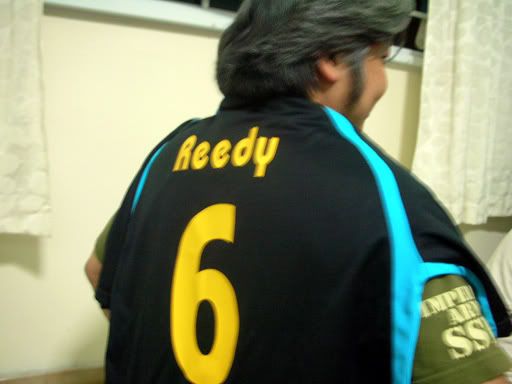 From Ferris to Tay-chan: A nice customised jersey, perfect for our badminton session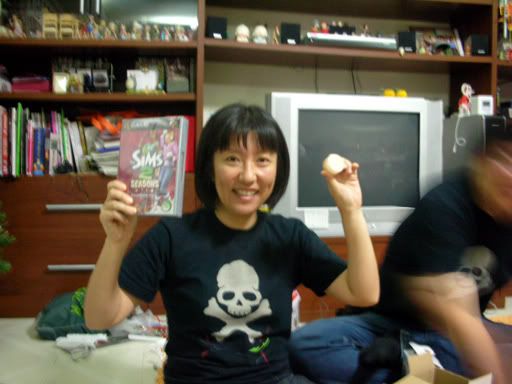 From EK to Miyano: the Sims 2 expansion set she wants and a lip balm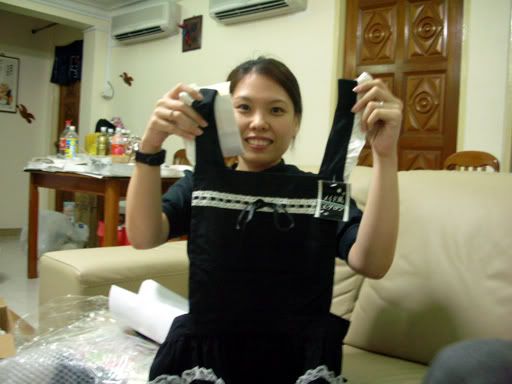 From Corin to Lisa: a French maid apron with complimentary stockings and an amulet for blessing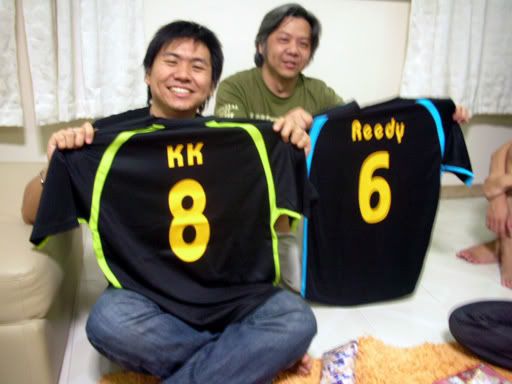 From Lisa to Myself: the matching customised jersey....we can start our own football team now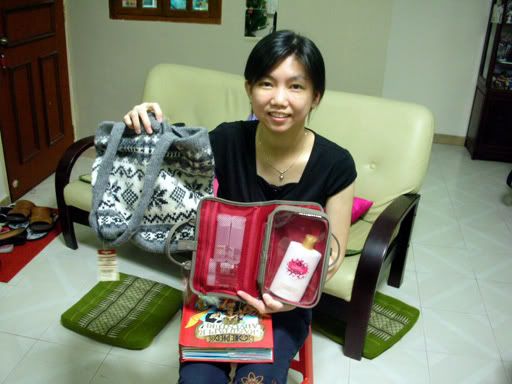 From Karen to Yanhui (for 2nd year running): a woven bag & a travel-use toiletries bag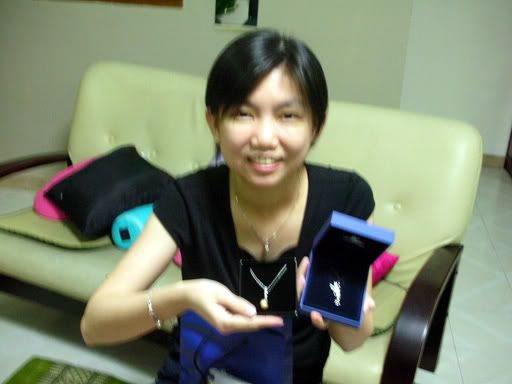 From Corin & Karen to Yanhui for her birthday: a nice pearl-pendant necklace and a Swarovski brooch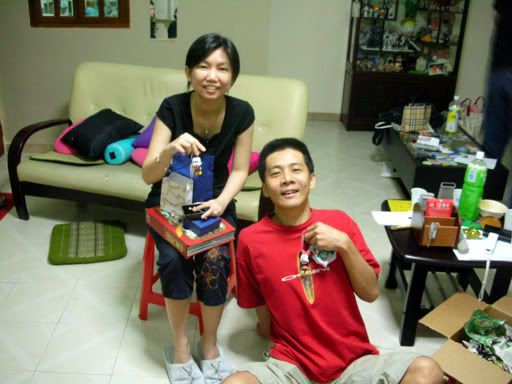 From Vincent & Miyano to EK & Yanhui: Tokyo Disneyland exclusive Mickey & Minnie Mouse keychain figures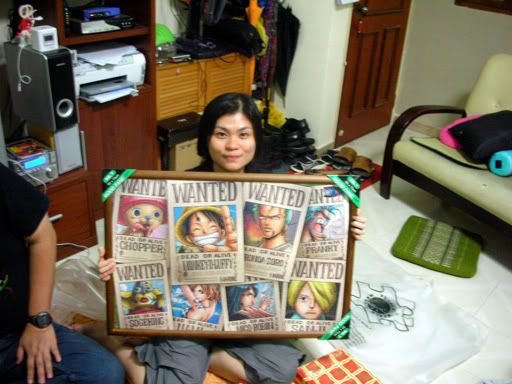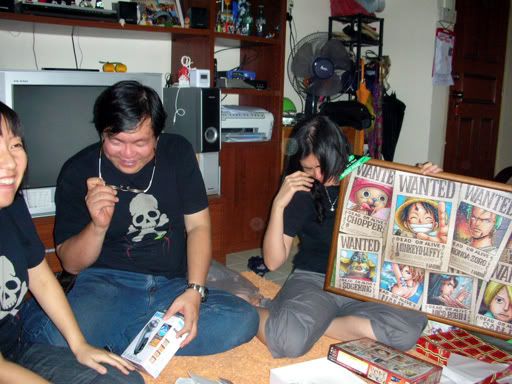 From Chan to Karen: the real deal.. a One Piece bounty collage jigsaw puzzle which he bidded for from online auctions and painstakingly rigged it up and put a nice frame on...Got both the lucky receiver & Vincent moved to tears..I supposed




After the satisfying gift exchange, we had intended to Mr Vexar Chan who we truly missed his absence and had wildly speculating he was having a nice romantic candlelight dinner with a special someone a call to greet him a merry X'mas but in the end it was him who sent a mess SMS at 4 in the morning...

As the rest started to leave for home for a good rest after this great party, the remaining of us stayed over to catch as much rest as we could before departing later in the morning...

Another wonderful party to savor for this end of another great year for our clique..now counting down the 364 days to the next one


Japanese word of the day: 偽の~ni-se-no~(Mock) It's always fun to see someone receiving a mock gift then be overwhelmed with the actual one
Labels: party