Dark...
31st March 2008, Monday

And so we arrived at the end of March, as I stared down the prospect of having to put up to that suffocating living condition in that slum-like mess in the LSD at Kao-hsiung for a good 2 weeks or so...
It would be like serving time as every second trickles by so slowly.... At least I am a bit more prepared on the mental side this time round...

On the brighter side of things, May promise a nice bonus and I am looking forward to buy something to reward myself though the prospect of losing a close confidante at work sure doesn't perks me up...well c'est la vie....

Over the weekend, we went housewarming at Cheryl & Raymond's little pad at Tiong Bahru as scheduled.
Saturday afternoon was a pretty yawning affair as the missus' snippy siesta got us a bit late for the get-together even as we drove there.
Then again after settling for a place to park in the midst of some non-existent lots between blocks and a funeral wake which led to vehicles parked in wayward fashion, we were still to arrive before Foo and Michelle made their call.
The missus was marveled at how stylish Raymond, a architect by trade had designed their living space to be.
I had seen the pictures of the renovation of the house prior but was still enthralled by how well they fashioned their nest to be.

The theme of the house surely has to be "blanc-noir" and in between...
When you step into the living room, it is evident that the white wall on the left has a stark contrast to the adjacent wall while the ground and the TV console wall is grey.
Hovering above the dining table is a light which is perhaps modeled after a bee hive or something but the light it radiates cast a water surface-like effect on the white walls, really cool...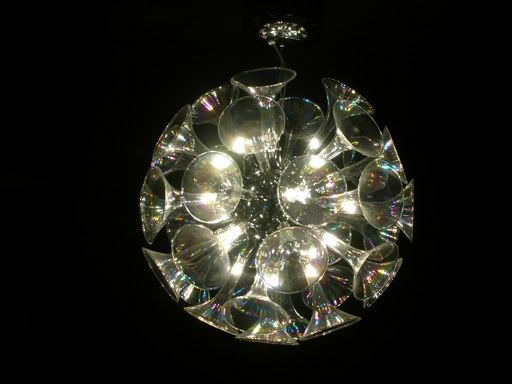 The couple installed many more lighting including a quintet of spotlights for the TV to illuminate an otherwise neat but really dark living room, but still too dim by my own standard.
Of course, it was not very child-friendly but my petite friend was prompt to stress that they most probably would give up the idea of conceiving, thus the design.

The kitchen is long and had considerable space to maneuver around but you'll notice they purposely cemented over the tiles of the wall and flooring in both the kitchen and toilet provided by the developer, talk about refuting the authority...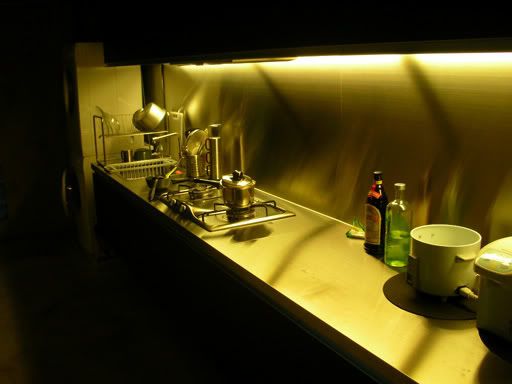 Sorry for the lack of lighting in this picture...doesn't do much justice to the picture




Raymond did some hacking of walls and repiping to create the perfect master bedroom which has a nice relaxing corner where they placed that beautiful Victorian style armchair by the window.
They decided not to get a bed-frame and just do with a mattress which i felt really fit the cosmopolitan style of the house.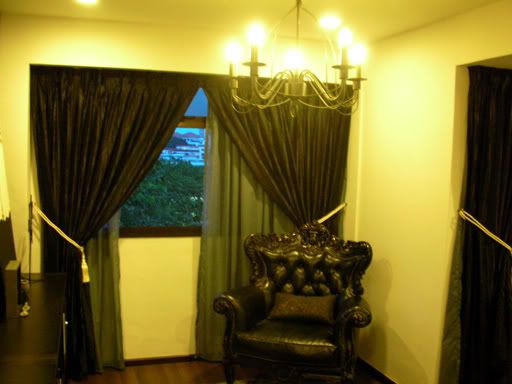 The chair cost a bomb, but sure worth it I feel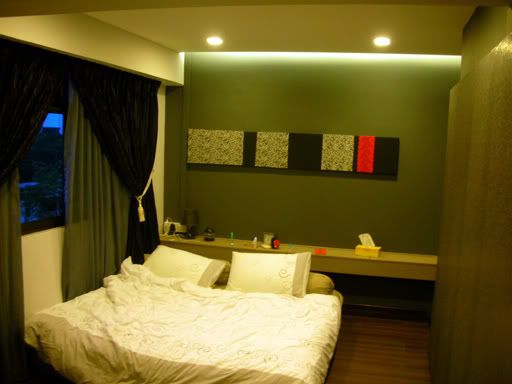 Walking deeper into the room and make a turn right, you will discover how successfully they manage to save space for the room by incorporating the wardrobe into the wall and by sealing the actual entrance of the room, they have a wide area for the toiletries.
Very nice bedroom toilet, as the missus exclaimed "looks like a hotel!"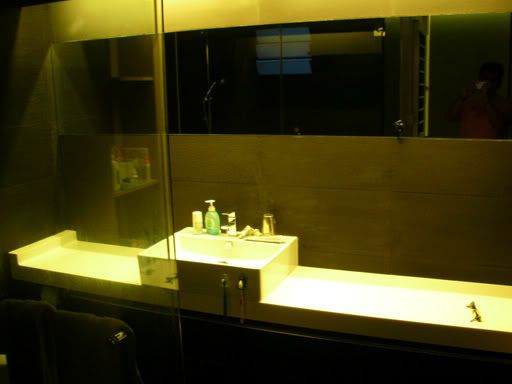 Enough mirror space for 3-4 persons




After a good time admiring the place while catching a Fuji TV variety to promote their 2007 spring doramas as well as the girls giving Cheryl a low down about their customary wedding, we headed towards Akira Japanese restaurant at Link Hotel, a stone throw away from their place.

We had a long history with this particular restaurant, formerly located at Emerald Hill in Orchard area.
Introduced by Michelle years back for authentic Japanese cuisine at affordable price plus nice ambience at a strategic location which not many people will know, this restaurant met its demise in perhaps mid 2000s when we last patronized it.
Had a couple of Valentine's dinner there and it was also the place where a browse at the Shounen Jump magazine purged my interest in One Piece and eventually my passion for gashapon and other miniature figurines from Japan.
However in the bewildered years, the quality of the food sort of deteriorated and before we knew news of it closing down spread among us, till Cheryl made it known to us that it had been relocated here by Zion Road.

Pretty good business on a Saturday evening, and it was wise that Cheryl made reservation...then came the shady part...
"Akira" in Japanese loosely means "bright" or nothing too shady; but the way they coerced us to take the ala carte buffet dinner was just seems the opposite.
In fact we only left the choice since there seems to be a party going on and the chef and his squad were not able to oblige to other orders...
So for the next 2 hours or so, we sat at this brightly-litted "dark" restaurant, trying to make our money worth by ordering whatever cuisine we can from the menu.
Of course sashimi is the top draw and we had a few plates of those, and not too bad in terms of quality of the raw fish.
Then we hit a period when whatever we ordered didn't appear and Selina had to spur up the crew for the food which eventually did arrived when most of the patrons left the restaurant and the dubious party ended.
Overall the quality still is incomparable to that many years back, though it still beats a few commercialized Japanese restaurant we had in Singapore.

While the food ain't that fantastic, we had a great chat about Japan, football, Sel & Kev s' upcoming European honeymoon, work, politics, entertainment and even a minute battle of the sexes before we called it a night...
Doubt we will visit the seedy restaurant in a long time though...heehee


Japanese word of the day: 明~a-ki-ra~(Discernment)It's hard to be discern about whether we had chose a respectable restaurant till you got conned...