Recession? What's That?
28th November 2008, Friday

I've sinned my dear Lord (sorry for the lame Christianity reference...hope I don't offend our Christian friends out there...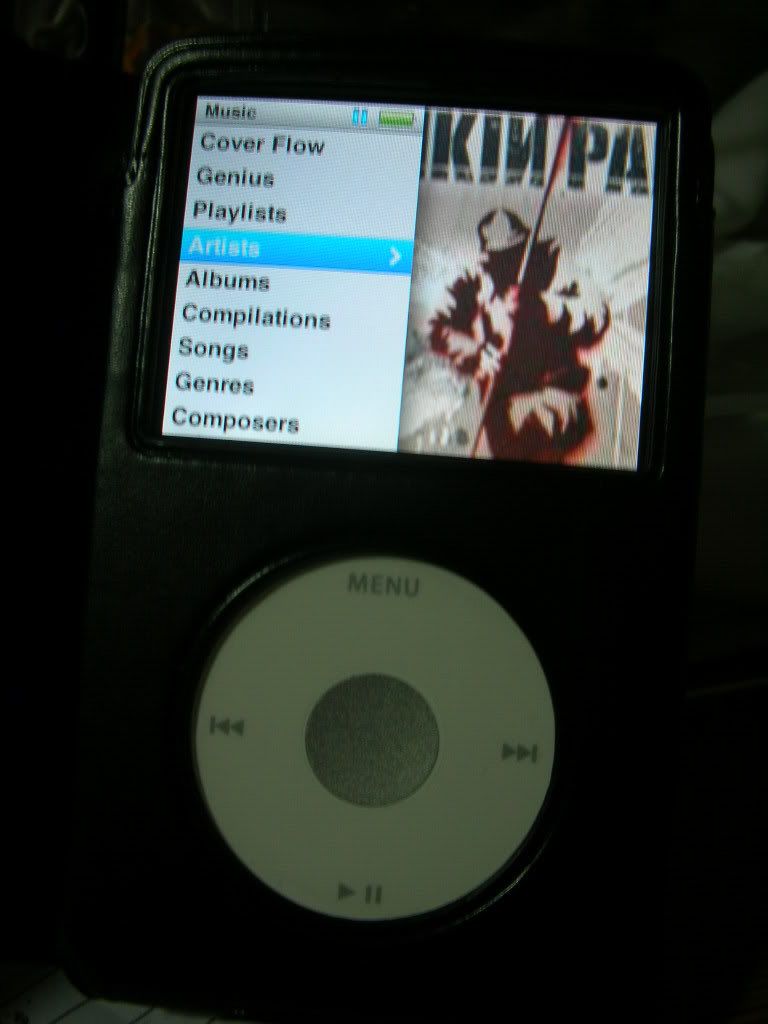 Since the battery in my old 5th generation 60GB iPod had been pushing through a slow death and repairing would mean a replacement of a refurbished (i.e. 2nd hand) unit; I had contemplated with some serious thinking to get a new iPod which was a useful companion for music (at times video) during the grueling time on the road.
After much pondering on the option at hand including getting a refurbished one from Apple themselves, I came with the idea of trading in the incumbent for a newer version.
Thus on Monday during the visit to the Epicentre in Wheelock Place, it took me just 15 minutes to get the above 120GB iPod Classic while retiring the old one for $50 trade in price.
I also recieved $50 voucher for iPod accessories which mean a leather casing and the quiessential screen protector came in almost free dure to Citibank credit card promotion; so overall it's a pretty good deal.
This tilt my spending on IT product for this year (PC, PS3, HDD etc) to perhaps a 2K mark...surely too extravagant a lifestyle...

The visit to town on Monday also seen me spending a bit for dinner for me and the missus as well as getting some new clothing from one of my favorite brand, Springfield.
I wouldn't say it was an utter wastage of hard earnt cash but it now put me to merely $190 from now till 19 days later when the next pay cheque arrives.
With a wedding dinner and perhaps a karaoke session at Diamond Dust as TW had beckoned, I wonder could I survive by then...luckily I would be homebound for quite a few days for the next 2 weeks.

I'm not really peniless in the bank account...just that I am enforcing an embargo on over-withdrawing much due to the pending trip to Japan in middle February next year.

We went to pay Chiaki a visit at the JTB salon to discuss about the possibility to make reservation for any of the onsen resort at Nyuto Onsen in Hachimantai, Akita Prefecture.
Famed for being the best onsen in the whole of Japan, we fancied the idea of dipping in the hot spring while surrounded in a snow-covered scenery in the late winter season.
It is not going to be cheap to lodge in any of the resort especially Taenoyu which we had our hearts on because it is the only one which provide private onsen.
However JTB has only connection with another resort by the name of Ganiba and room availability is pretty limited, so we had to out our name down first.
A few days later we got Chiaki to make a buzz to Tasnoyu to check availability anyway...

This trip is gonna be pretty tough on the pocket...
Firstly the yen rate as compared to our currency is at a 5 years high or something...spending power very much decimated with the increasing yen price as compared to a year ago.
Secondly the fuel/airport tax is alarmingly high for the likes of JAL and ANA (perhaps as much as the ticket itself).

We are still looking at packages which would really fit our budget... the dates are equally important as flights back to Singapore aren't readily available especially on weekends (luckily we are not going to Bangkok..cos the chance of being stranded by be really high in such tumultuous time).
Availability of hotel rooms is also important, fortunately we are not heading there during peak period.

With the weight of a high yen rate acting upon us, it's not desirable to change too much money...let alone spend much.
Things like Sunrise tour (to Nikko which we are interested in), entrance ticket to Disney Sea or the JR pass will all add up dearly due to the hefty yen rate.

This is why we are holding our horses to perhaps the new year, as Chiaki mentioned the fuel tax may be cut while the yen might drop to a comfortable zone...

We surely need a break to the country we love so much especially the missus who hadn't gone to an overseas vacation with substance for a year now.
I did promised to sponsor her abit for the trip knowing how thin her own savings was... but this add further pressure to my own budget...which leads to why I need to go frugal again, so as to save enough for both of us.

The December wage package would come as a form of salvation but very much after savings and some money for the old folks, I have rather little left for a good X'mas but I should be able to make it through without anymore unnecessary spending...and as long as the yen rate be able to drop below the 1.5 mark...which seems rather bleak for now....


Japanese word of the day: 混乱(Turmoil)As if the financial turmoil isn't bad enough, India and Thailand are now making the world pretty gloomy