A Sweet Fruit Tart doesn't sweetens a Bad Loss
23rd December 2008, Tuesday

Something sweet to whet our appetites on Sunday for the family X'mas dinner: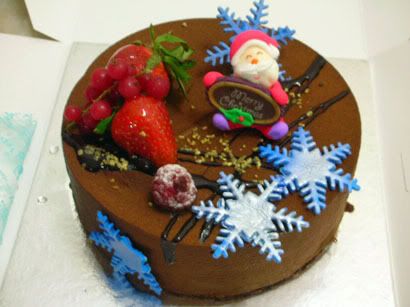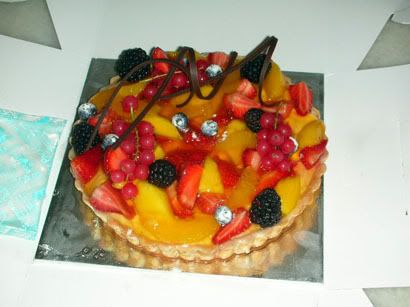 These nice (and costly) pastries from The Patissier as well as the spicy herbs pasta the missus cooked up which I can never get sick of eating as well as Mom's crispy roasted chicken, it was a perfect evening for dining with the family as well as my buddy who came to deliver the white wine.

The dinner also prevented me from heading to the National Stadium (yes it is yet been tore down despite set to do so 2 years back) for the return leg of the AFF Suzuki Cup semi final between our Lions and Vietnam with the first leg ending 0-0 in Hanoi.
I had the luxury of watching it with my buddy at the comfort of my home and that surely had "blessing in disguise" written all over it.

The mission was a simple one...scored against the Viets and we will hold on for a victory and proceed to the final against highly-fancied Thailand.
However that was very much hindered by the resilient Vietnam team following the wise tactics of their Brazilian gaffer, Henrique da Silva Calisto while our boys also showed the lack if luster especially at the final third.

We saw glimpses of brilliance from Sharil Ishak on the left after reinstated to the first team duties after been struggling from match fitness for so long; however the final ball always didn't end up at the back of the net.
In the 2nd half we saw Ridhuan who had been the mired one for most of this tournament coming to form butu his passes and Jiayi's setpieces just aren't doing much for our wasteful forwards.

With minutes ticking away, Vietnam compounded a cruel stroke with 12 minutes to go with a fast counter attacj which saw substitute right back Ismail Yunos being brushed away.
We tried in vain to find the leveler and Raddy's proud unbeaten record in the ASEAN cup came to an end to much joy of the well-represented 5000 strong Vietnamese crowd while our local fans left home, sadly without the chance of seeing our national side claiming the title for a 3rd time in a row.

Well if only the real world would be as easy as how me & TW whipped England and Calamity James' asses in PES2009...



Japanese word of the day: 甘い~a-ma-i~(sweet) Well things can't be sweet all the time...