Death of a salesman...
26th April 2005, Wednesday
No not to delve into the well-known broadway written by Arthur Miller.
It just that there was a pretty persistant yet unprofessional salesperson that really irritated my supervisor yesterday who herself was preoccupied with a product specialist and could not take time off to entertain the tactless salesperson...
Well which leads to realise that in our line, there had been salesperson in and out, trying to get their share of the profit pie from our research institute which is always in need of all sorts of raw materials, chemicals, kits, equipments etc..
There have been a few pretty infamous ones which I would like to list out today...
Before so I would like to introduce to 2 new faces in the music scene which i think should highlight:
Firstly Kimura Kaela,木村カエラ.
She's a 21 years old lass, originated from the prefecture of Kyoto, and heard she had a mix parentage, half Japanese, half Britishm, which explains her sharp features (could be surgery as well)
She might looks like a crossbreed of Kaori Mochida (Every Little Thing) & Ryoko Hirosue, but I was totally infatuated with her in her MV, "Happiness"... her bubblegum rock-chick cuteness takes my breathe away...seems like the "Avril Lavinge-Michelle Branch-Skye Sweetnem" rock babes uproar is spreading to Japan and well represented in Kaela-chan...Well she even has a photo-blog of her own... *Adding to my favorites now*
Next the one that claimed to be "U.K's answer to Justin Timberlake", Tyler James, a 22 year-old lad from east London and took years to break into the scene..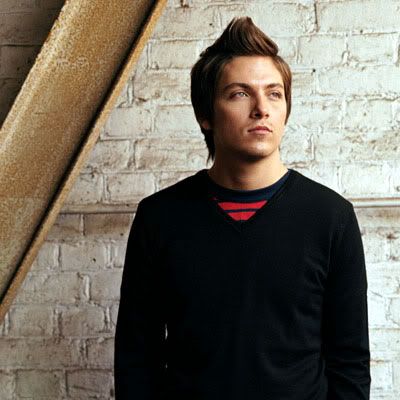 Behind that suave appearance is a real talent of a songwriter... his own composition and 2nd single, "Foolish" has been receiving plenty of air play on local radio and always gets me going.. sounds so much like Prince/the Symbol/the artist formerly known as Prince...
Ok now for the main topic about the list of repugnant salesperson that have graced our workplace over my time here:
M.P.D. It's an abbreviation for "Mo Peng Da"... given by the acid tongues female colleagues of mine.. "Mo Peng" actually means pock-marked, referring to the scarred face of this particular salesgirl from acne/pimples attack... "Da" is for "Big" referring to her wholesome assets which I never take notice myself..this I swear. This is because got that listless "dead" eyes and that inability to hold a conversation (even for 0.3 nanosecond) despite her profession as a salesperson for scientific tools and kits. She was the one that irritate my supervisor yesterday as she tried to pester us to engage on her robotic kits which we had decided to opt for a cheaper alternative. Using her looks (what looks!?!) she always enchants our dear JxMMy D. within her fingers and they sure is a match made in heaven with those "dead-eyes".... Once when she invited us for lunch and she was sitting at one end and JxM at the other, I swear the entire stretch could be as "dead" as Parliament...
Szesze... Close to blood-sucking African fly Tzetze, but actually his name is P. Sze. He was the one that used to provide us with the clean-up kits which had recently discontinued... Overall he is okay but he gives people the feeling that he is always trying to save his own ass, and not willing to go that extra stretch to asisst people. Like for the case in which the products had been discontinued & we had sent the purchasing order for past batches that they had yet fulfilled. He simply asked us to cancel the order which could be pretty cumbersome and he even failed to produce an official letter of discontinuation... This salesman loves to use Mandarin for conversation even when I initiated one in English.. the worst part is that he is a pretty touchy guy, who once had caressed my thigh....urgh...
Da Niao... The most notorious of the lot. "Da Niao" (大鳥) was actually derived from his name (go figure).. and this guy used to be an acquintance of mine back in my 1st 3 months in Serangoon Junior College. He was always a pretty passive guy who seldom talked much, so knowing that he had took up this profession sure bewilders me. The problem is that he wasn't that good of a salesman either. That was once he was to distribute their latest catalouge for my supervisor to browse through. We were all in our lab doing some routine stuff, he would waltzed in, without a greeting or a sound... slowly approached my supervisor's workstation and realised she wasn't there. He just placed the catalogue and waltzed his way out of the lab, all these while taking granted of our presence without uttering a sound....He's the best! Once we shifted to our new location, he was been "head-hunted" (rumoured to be) to the same company as M.P.D. as the company has acquired the distribution rights of the brand of products which Da Niao is well-versed of and been selling for ages. His continuing presence really started to irritate the girls and once again an ally to JxMMy D (oh believe me, he is buddy to every mother's sons/daughters) whom he tried to clinch many deals with JxM's recommendation. However its the girls who are in charge of the purchase and they totally ostracize his products. LF even sent an e-mail to his boss to complain about his unprofessional behaviors, till he was been banned from our vicinity! It reached a boiling point when a former colleague of his told the girls that he took a fancy of another of my female colleague, Y.M...Last heard he as been fired from the company, truly wish him well and out of my sight....
Not all salespersons are as repugnant as those mentioned above. There was one they called "Frog" due to his slighty protruding forehead, thus slanting his eyes a bit like frog does. This well-attired, tactful and professional salesman is based from the company they provided us with the our main working machines and the related chemistry, acessories etc. Our supervisor took very highly of this guy and he would tie up all loose ends almost instatneously upon our requests. Of course he was also under the banter of "Y.M. Fanclub", noticing her every move and difference and he once had to stressed he spent $250 for a couple of boxes of high class Godiva chocolates (which doesn't taste as well as to jusitify that high cost),this fact that he had to emphasize did not go too well with the girls ...
Well there would be more sales people to appear now and then and time to get judgmental by then...

Japanese word of the day:セールスマン ~se-rusu ma-n~ (Salesman) Some are professional, the rest just dunno why they are there...