Feeling Patriotic?!
10th August 2005, Wednesday
9 days to go to my Japan trip...

Back to work after National Day, and still reeling from the effects of the day out which I would narrate in a while time.

Today's main thing is the Drug Target and Design Symposium which once again translate to gobbling down free food the entire day..man we are such hungry vultures...
However the topic been featured today is abit too "cheem" for me to keep my concentration that I nearly snoozed for a few times...

It's Bobby's 2nd day at work but you could feel he was still abit tense about the new environment and new responsibilities...
JxMMy is back and I was jittery about the fact that he might grew too attached to the guy somewhere in some aspects resemble him in terms of been "pretty dead"
However I feel quite satisfied to act as a bridge between Bob and the girls which would only be good to my cause; however the strigent, to-the-book lad wasn't too impressed with our time off from work such as going for the tea at 3pm or planning to dine at LingZhi next week...

So on National Day, the weather was excruciating and the humidity and the still air comes well-coordinated with the unforgiving sun making manoveuring around our Lion City pretty uncomfortable..But that did not hinder a huge crowd to flood Yishun as of other locations on the island to be busking in the granduer celebration of our nation's 40th birthday...

While walking towards my lass' place, one would notice the military vehicles that got plenty of "mountain-based turtles" skipping for a joyride in full enthusiaism...

We made our way down to Queensway Shopping Center where our usual fashion haunt residing with a retailer-uncle knew what style of jeans we favored..
It seems like he seemed to hit the jackpot with the jeans my girl woul cast her eyes on and without 2nd warning she grabbed 2 into her shopping cart as her successful training routine has seen her losing a few inches of her waist to garner enough attention to get new jeans to prep for the pending trip next week...
Me..I got a pair myself after try on one pair of god-bestowed piece which just simply assimilate onto my thighs without any need for alteration and love it on first sight..
Our shopping took quite a while which ran a bit late in schedule to get down Vincent's place in Jln Membina despite the availability of a direct bus there with a journey less than 15 minutes away...

Taking the high ascending elevator to Vince's "penthouse" on the 30th floor sure have pressure gathered in the ears and once the door was opened, we can see some of Vincent's boisterious acquintances having some friendly card game..The clique are stuck by the buffet table as Miyano had threatened us to eat first before admission into the apartment..Actually time is ticking down as the caterers would be coming down by 6 to clear it up but there was plenty of food left...
Vincent wasn't around the entire time we were there as he was summoned to proceed to the the Padang to help out in some of the fireworks display brought together by Unusual Productions...

5 plus, the NDP is starting and the comperes are psyching up the crowd at the various locations while over at our side, Vincent's place has a great view of the landscape and Padang isn't too far away, so we could easily spot the planes and parachuteers from the sky which was exhilarating to watch live...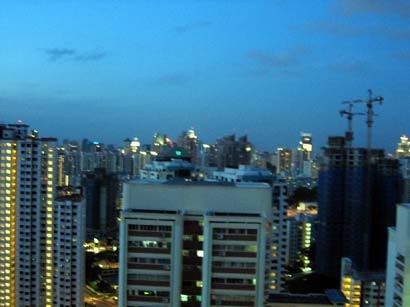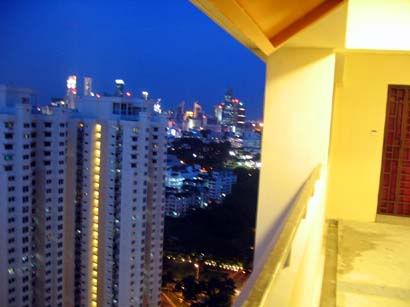 Meanwhile we had an opportunity to see the display cabinet Vincent had been waxing lyricals about and sure look nice with cool lighting and all..
The One Piece's "Portrait of Pirates" figurines are nicely posed in a complete set and Miyano's Disney figurines and miniatures are displayed assertively as well...
But the damaged Transformers Binaltechs sure do not go well with Reset Vignette series...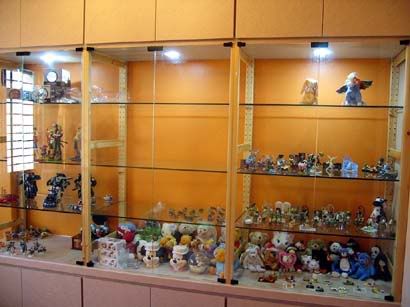 Could have done better with the display...


The parade got pretty hot up as Vince called his wife to keep tab of the time of the fireworks...
Somehow there was plenty of false alarms with Chan kept insisting he smelt "gunpowder" (which might not be used in fireworks)
Ferris who had attended the preview show a couple of weeks back also tried to guide us through the programs but just could not give the exact moment the fireworks would be coming on...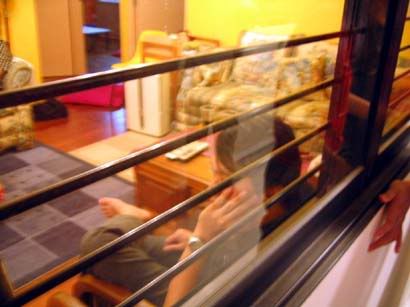 Ferris sitting comfortably in the apartment alone while the rest of us camp outside hoping to see fireworks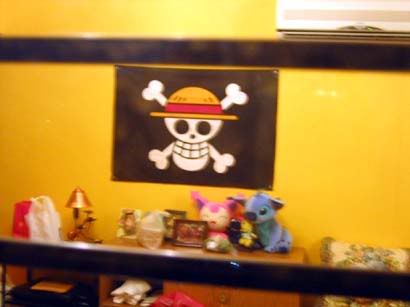 Someone mentioned that the helicopter should hold this flag over Padang instead.

My girl was in a frenzy and camped outside the apartment to be able to capture the actual sky illumination..By this point, Matthew and his girlfriend, Carol were around to watch the procession with us.. Jackson was the last Kagoshima member to stay behind to watch with us as well...and Miyano was a superb host as a true blue Japanese housewife is all well capable of dishing...sabisu, sabisu...

By around 8, the parade was near the climax and by now the usually quiet neighborhood suddenly had neighbors gathering by the corridor to have a good look of the fireworks, so are the entire gang and we were not disappointed with the beautiful display which always managed to steal the show in all NDPs past and present...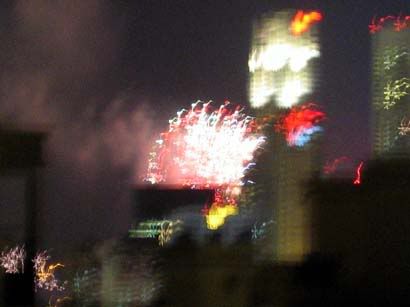 Please don't mind the lousy shot....this is the best I can conjure in the nick of time.

Vincent mentioned they would be one firework display scheduled at 9pm which we simply laughed it off and seriously it did not happen..We conclude the cosy and eventful housewarming with a slideshow of the photos taken by Eng Kiong from the last Hong Kong vacation Chan, Ferris, Ziwei etc. had went as well... Miyano also had a hilarious ribbing of past Singapore Idol contestants who had a series debutting later on the night which was doomed to crash and burn, she ponders on how come Singaporeans could go ga-ga over the biggest loser, named Sly and gave Olinda the nickname, "Fatty Girl"...

Got home by 11 plus after a long bus journey in 851 which most probably had coverd 3/4 of the island, and shagged us out to the core... and still felt the goverment should just award us another day of rest after a tireless celebration given by most citizens...

Japanese word of the day: 花火~ha-na-bi~ (Fireworks) Everyone sure will go ga-ga over the beautifully designed display...me included...