Time to Cut Down
7th April 2006, Friday

So Part 1 of the furnishing project has been done...well almost...
Took time off from work yesterday to "supervise" the Brokeback Mountain contractor of mine and his lads who remotely resemble those from the same gay haven... Dressed in checkered shirt and jeans, he surely seems straight out of a cowboy model, but much softer and subdued version especially from the way he communicate with his subordinates.
They came in by 9 am and slogged it through till around 5pm to intricately assembled the parts of the display cabinet and the shoe rack into place and did a splendid job in terms of worksmanship as well as a sturdy one which I hope would last as long as it looks to be.
I did much of my supervising job in my room as I really doubt I would be of much help standing there whole day long and checking whether the Indian worker that accompanied the contractor would be slacking off somewhere.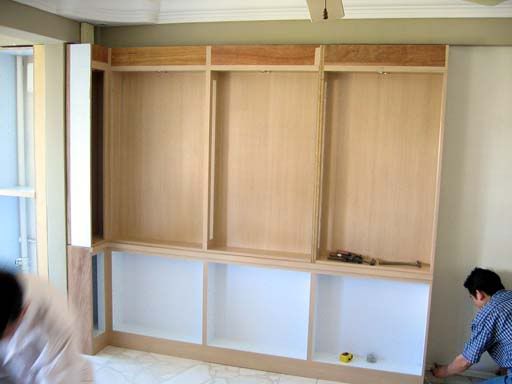 The 2 halves of the cabinet joining up; that's the Brokeback mountain dude at the bottom right corner.

When I mentioned almost done, it was due to the fact that the door hinge for the last glass panel (the L shaped side) was duplicated when you need a set of different hinges for the top and bottom, which was down to the supplier's mistake and he would need to come back again to finish up the work.
In addition to that, the original blueprint for the number of glass plates to hold the figurines are too little to suffice that large quantity I possess which was an issue I had addressed to his wife cum decision-maker and she had snubbed my request by insisting I relate it to the contractor himself. Well so Mom and I set up the plates in accordance to the right measurement on just one column of the display cabinet and it was noted that I still need another 8 plates or so.
I was quick to call him up about my request this morning and he said the soonest the glass factory could cut that dimension for him would be mid next week and thus I had to endure the weekend not able to finish up with my displaying.
It's by no mean an easy task when I had to wipe the mildews and dust away from the figurines that had been housed in my room for a year or more now.
A couple of the PVC-made figurines got really sticky which was a common problem when you kept in under intense heat for prolong period (my room is been blasted by great heat from the setting sun on daily basis).
Some diorama ones I need to put them through running water to totally rid of the dust in unreachable regions.
By end of the evening I guess I am barely 10% done with the transfer of the figurines from my room to the cabinet: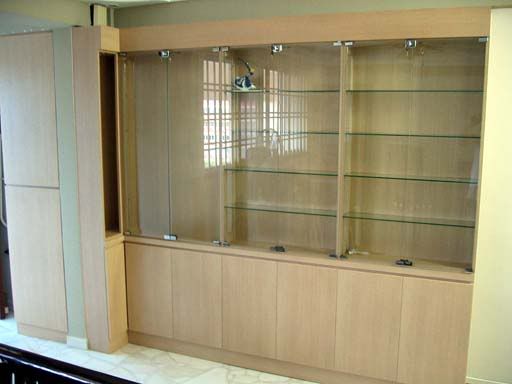 The 1/8 scale Saber from "Fate/stay night" is a benchmark for my glass panel since it is the biggest figurine in my collection, thank goodness I refrain from large figurines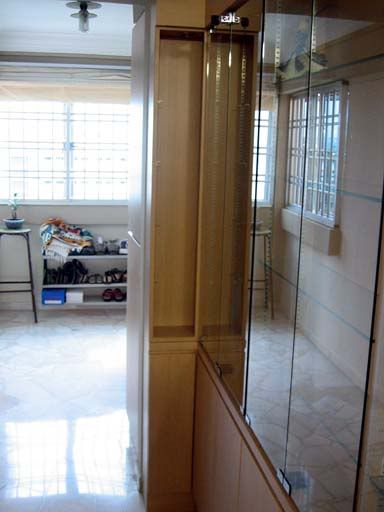 This is the L-shaped region devoid of the right hinge thus need to wait a bit longer to be completed.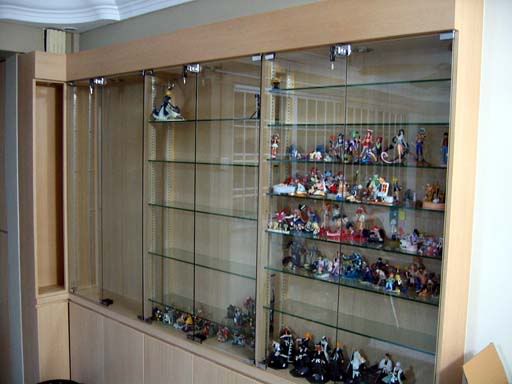 Partial shifting, and you might say the display seems to crowded but when you are facing the same space restriction as I am; every inch is god sent and had to be utilized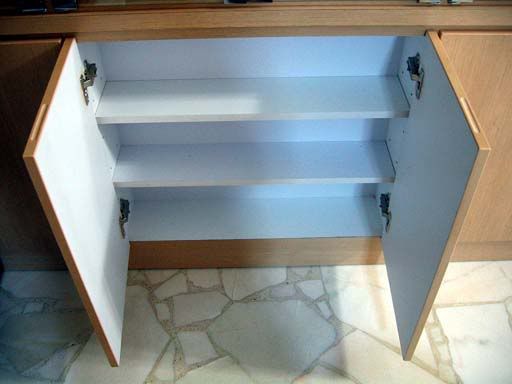 Good enough to put those looses ones which I want to exclude from the display as well as flattened packaging boxes and catalogue slips etc. And maybe some useless stuffed monkeys.


Well the display cabinet aside, the shoe rack was done impeccably and perhaps took a lot of shine away from the cabinet itself. It definitely looks easier than actually been conjured. The arch-way which seperates the living room from the front porch is slightly slanted and the carpenter had to assimilate the slanting by adjusting the structure which was supposed to be straight. There are several water pipes and a circuit box at that region and he had to cut at precise positions to house each and everyone of them.
The result is a simple yet elegant shoe rack which really seems to be in synchrony with the display cabinet which in turn truly matches the color of the supporting wall.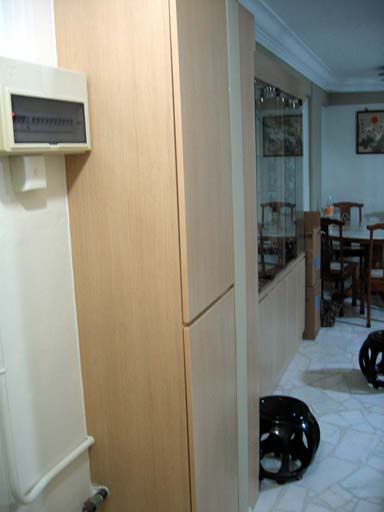 The shoe rack/cabinet was a surprise hit among the family including yours truly.


Er... Aren't it supposed to house shoes rather than tissue paper boxes?


Overall a job well done and we were glad we picked the right man to do it and now I am salivating over the prospect of how the furnishing of my master bedroom would turn out.
Of course Dad seems to be basking in personal glory that he had got everything in place nicely..well let him enjoy the moment.

Well as the title of this post implied, it is evident that I am already running out of space for my current collection and with the prospect of new additions coming in like waves along the beach, I better try to scrutinize my rampant collecting habit and surely has to buy the ones that I truky want most and fit to be put in the display case...
But then been a hardcore collector for 2 years now, it is easier to be said and done...
The major news yesterday would be the confirmation of my lass' depature to Italy which was carved in the stone tablet to be on the 15th which is a Saturday and she would be taking Air France to be transit in Paris I think.
So I had seriously less than 2 weeks to spend quality time with her and despite the fact that 90 days seem like a short span and would passes before you notice it, I am sure I would dearly miss her presence.
I might become distraught which might lead me to be binge-collecting of figurines which truly contradict what I just mentioned...Perhaps I will seek professional help by then.
She mentioned the stated return date would be on 8th July but I would have to brace for perhaps end July when I see her again perhaps carrying with her some "Italiano" aura.
Been reprising Tom Hanks and Meg Ryans' roles in "You Got Mail" with Foo today as we had exchanged e-mails almost every hour much like chatting without using a Messenger or ICQ. Not the most effective and rapid way to chat but ideal median to rekindle that lost closeness we had before been in sparse contact for the last couple of years.
Foo even took the initiative to organise a lunch outing on next Saturday (the day my lass is flying) and almost everyone can make it for that.
Well with the World Cup drawing near and with my lass' absence perhaps a rekindled friendship with one of the Wreckers buddies is a great buffer for me to pass the days by.
On the work front, Bobby came in the morning stating LF had tendered her resignation and would be leaving for supposedly NUS research laboratory soon.
It would void her performance bonus which is a pity at this juncture as we are like a week away from receiving it; but I am sure she had valid reason to make that decision as the other side could be wanting her help badly.
By contrast, a more astonishing discovery would be the depature of an old NUS mate of mine, KJ who had been a staple staff of my workplace even before I entered the company.
He had been headhunted by the equipment vendor company which offers him better wage package obviously and his departure surely undermine the fact that everyone is indeed dispensable.
Once again with more and more older staff leaving, it surely does not goes well with me in terms of morale of the entire place and surely things are pointing to a my inaugural job-hopping.

Japanese word of the day: 買い過ぎて~Ka-i-su-gi-te~ (Bought too Much)I am definitely reaping the seed that I had sow in terms of getting too many figurines of late.