Budget.... can be hard and the pain on my finger is not helping...
1st May 2005, Sunday

Labour Day Sunday... and as mentioned today is the day my entire family as well the extended members (my gf and sis' beau) would go to Yumcha for a nice "tim sum" breakfast/lunch/brunch... served as a belated birthday celebration or advanced Mother's Day celebration for Mom of course...
Wanted to hop on the MRT for everyone till my gf suggested taking her brother's car but Dad would have to be the driver to navigate around the complicated roads of Chinatown area... well Dad was pretty reluctant at first due to the fact that he does not fancy taking on other people's vehicle but eventually obliged to facilitate the transport process...

I was really glad I made the prior reservation as the beeline started to form slightly after we made our entrance and it would really be a looooonnnngggg wait for those impromptu suckers....

The hungry worms within our stomachs prompt us to savage on any "tim sum" presented on the round stone table we were residing...
I brought the camera and promised to take more pictures, but my hunger won the inner battle and I couldn't stop to take a picture or two, but I did take the pictures of the nice desserts that soothed our main meal and put our feasting to a wonderful conclusion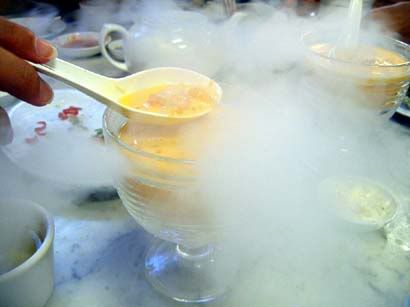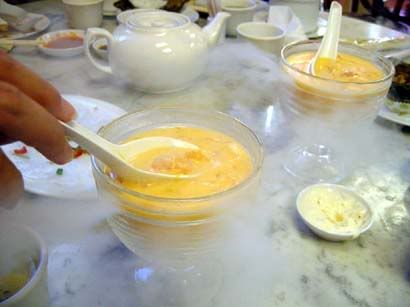 My fave dessert: 金枝玉露, cold milk with mango mix and pomelo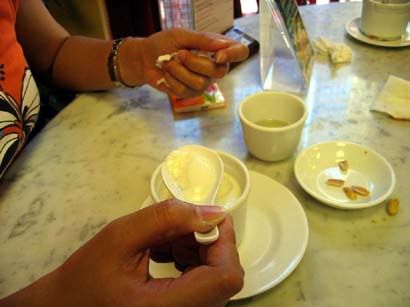 姜汁燉奶, curded milk with ginger essence... taste a bit like "Dao Hua"


I was really glad the bill totalled up to slightly above my budgeted sum and not too extravagantly superceding that amount....
Which leads me to the problem that is bothering me for these few days... I was happy to have a bit of surplus from the unexpected bonus package but suddenly a string of event starts to eat into that surplus which I deemed important to sustain any extra expenses after what I have exhausted for the Japan trip...

Firstly a couple of "acquintances" of mine from NUS known as B&J are getting married in June and this fact is already made known to me for sometime now, and I would be sure that me and my gf would not be invited as we weren't that close to them.. However it seemed like we always bumped into them.. whether it's seafood dinner at Turf City or wheeling & dealing at the NATAS Travel Fair.. we of course would bring out the impending wedding and so they would always remembered to invite us from then on... and thus an imminent "red bomb" waiting to take away part of my budget...

Then my formal shoes who I had bought for like 3 years now suddenly had both soles almost stripping off .. there's the problem with cheap brands....
So my mum suggested me getting a pair of good ones and I felt I have to as well (just for the B&J wedding banquet at Rasa Sentosa perhaps)
So that's a hefty sum devoted to that as well...

Plus looking through the list of items coming for the next few months on my wish list I am seeing my back up budget diminishing as day gone by...

It's hard to keep a budget I swear, even if I bring my own lunch to work everyday, reject the ideas of watching movies at the theater or dining outside unnecessary or even coaxing my father to pick me up from work just to safe that puny $1 or so from my transport budget, I still could not meet all the predicted budget I have conjured up...

Recently I pricked my right index finger out of the blue...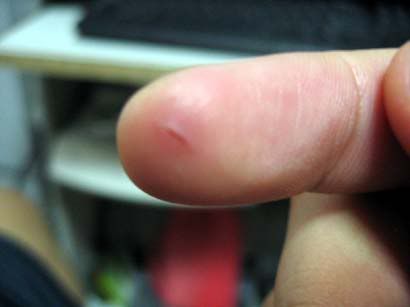 It can be really incovenient with that pain constantly bothering my most useful finger ... for typing, for using the scroll on my mouse, for digging my nose , for scooping the hair gel to apply on my hair, for scratching, and 1001 other uses....

I hope I don't prick my right index finger ever again...


Japanese word of the day: 痛い ~i-ta-i~(Painful) My finger sure is at the moment...