Mass Rapid Torment
5th May 2005, Thursday
It's 4.16p.m and I am awaiting my knock-off time and freezing as usual as outside the buidling it's raining cats and dogs, sure help to alleviate some heat and humidity accumulated over the past week or so....
Well since Dad is recuperating at home for the past week, I do not enjoy the luxury of a free trip home, and once again reliant of the public transport which never feel to drive me crazy... MRT (mass rapid transit)...
Namewise:
Mass - Oh yes, there are aplenty... as statistic shows about 2 million people uses the MRT everyday, and I'm sure all of them (including myself) commutes during peak hours (morning and evening)
Rapid - It depends, morning trips are generally very smooth unless bad weather, electrical shortage or someone decided to join the national sport of jumping into the railway tracks (aka commit suicide but there was once a victim tries his best to recover his dropped $2.50 "Tat Sing" flip-flop but failed tragically)
Transit - This is apparent, to serve as a transport mode and for around 17 years now it has served it's purpose...
But the true meaning of MRT goes beyong that 3 words...
SMRT is the governing company which also controlled SMRT buses (formerly known as Trans-island Bus or drivers from hell) as well as a division of cabs...
And many actually take MRT for 2 main reasons: fast and economical.
Fast as it is, I always feel there are some unexpected occurences when the schedule would go haywire and of course commuters get cranky, and when commuters got cranky, all hell break loose...
There are also cases when if I miss a train the next one would only arrive 10 minutes later (!?!), so much for the rapid part...
Economical...I don't so, hośe... a trip between Yishun to Bouna Vista (where I work) would easily cost me S$1.54... multiply that by 2 for back anf forth trip and 5 days a week, plus additional trips on Saturday..one week I would be glad to keep the fare at under $20... which is why I am always exhilarated when Dad could pick me up off work, I could scrimp and save a bit which will eventually adds up over the months... now the company wanted to increase the fare again in July by 2.4%..sigh we just can't win...
My journey everyday covers the following stations: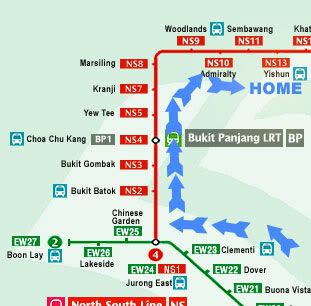 I will need to transit at the Jurong East Interchange and that exchange thoroughly resembles the 18th level of eternal hell... where commuters (usually lowly-educated blue collar workers and army boys) try to rush for the latest train as if as we Chinese said "rushing for reincarcination"... I could understand urge to get back home to have a good rest and a sumptous meal after a hard day at work... But that doesn't mean you have to do it in such ugly, unruly manner... Of course they don't really care about self-image nor they give a damn about the "courtesy" campaign the government is holding whatsoever... Their aim : "To grab a seat" ... even the commuters who would drop in the very next station which is just 3 minutes away, is adamant that he/she needs that seat...more than any handicapped person, pregnant moms, elderly...you get the point...
For me I don't not having a seat but sandwiched between some body-odour ladened workers/soldiers is not exactly what I envision to be the ideal way to get home as well...
Well the smell I can tolerate, but the noise at times can be out of the limit especially when you have some hyper-active devils scampering around, making a din like this is their play group..then the embarrassed parents intervined, give them a smack, they wept like no tomorrow.... hey papa/mama, that doesn't help the situation a single bit!
There are all sorts of colorful characters to watch on the train... lecherous uncles (chee ko pek), scantily-clad nubile beings (to be eyed by the chee ko pek); uncles communicating over their GRID walkie talkie loudly as if everyone on the train needs to know their conversation; youngsters showing off their library of handphone ring tones/ talking about everything under the sun which usually doesn't make any sense and you could do without & live a much fuller life/ snuggling and making out in a corner/ sharing the loud music from their radio/mp3 player/Discman; tired people who could snooze the minute the train moves; voyuers who take pictures of sleeping people & scantily clad girls; and of course "hard life" people like me irritated by each & every individual on the train...
Not to forget, mentally-challenged people tend to appear now and then on the MRT...
There was this boy on my morning train sometime back who would start humming songs in the most twisted and out-of-tune manner imaginable loudly while everyone is dozing off on the train...and the scary part is I actually some of the songs he is humming...
But the most extreme case I have seen is a middle aged man, who would glide around the train and pressed himself upon every passenger who is standing on the glass panel by the doors of the carriages....Luckily he gave me a miss....
Well there is thousand and one thing to talk about a innocent-looking, common MRT trip, which I would perhaps whine about later on... No matter what, it sure is much cheaper than owning a car...
How I wish I have a direct bus between my workplace and my home... maybe by then I could then rant about the irritating I met on the bus....
Japanese word of the day:電車 ~den-sha~ (transit train) Ours still lag behind their Japanese counterparts.