Revenge of the Shit!
12th May 2005, Thursday
Estactic yesterday evening when the team I was rooting for in "Amazing Race 7" came back from adversities as they finished last in the final pit-stop in Jamaica which was also a non-elimination one, but void them of all their money and possesion and they had to strive for everything they could to survive the final leg....
From begging for money at the Montego Bay, Jamaica to lagging a few hours behind Rob & Amber (of Survivor fame) as well as former P.O.W. Ron & pageant queen, Kelly, Uchenna and Joyce managed to scale back to even grounds in Puerto Rico and eventually cajoled the American Airlines to board a plane which was moments for departing for Miami, and found a good cab driver to lead them to the final clue ahead of Rob and Amber who were completely baffled by the location.. It was so fortunate as well as they nearly lost it due to the fact that they had to beg around for money to pay that particular taxi driver.. it would be too cruel to lose that way anyway...
Well for fellow fallen contestants, they truly deserved to win due to their kindness as well as Joyce sacrificing her hair in a "Fast Forward" in India... of course no one wants Rob and Amber to win another million as they had done so in "Survivor: All Stars".
Sis who as supporting Rob's team was pretty devastated by the result while we were stuck to the google-box on AXN for the final result after the exciting 2 hour finale...
Ok back to the main title...it has nothing to do to the return of the diarrhea I had on Tuesday, but that in a week's time George Lucas' highly anticipated finale to his Star Wars series, Episode III: Revenge of the Sith (not Shit) is about to go on world premiere...
I don't know, I was never a big Star Wars junkies like many of my friends and perhaps 78% of the world population.. I knew the Episodes IV to VI was revolutionary in the late 1970s, but after our local TV been re-running it every 2 weeks or every New Year, Chinese New Year, X'mas, Father's Day, April's Fool etc... It was reaching saturation point but the demand is still there, because the horde of fanboys just could not give up...
The original trilogy sure will blow minds away with the galatic concept and propel Lucas and his ILM team to the top of its industry but beside the adorable Ewoks and cool Stormtroopers nothing else really grip my affection and the hippie-hair, whiney Mark Hamill (Luke Skywalker) doesn't helped the cause and till these days I did not understand why every single being would gasped like with such astonishment with Darth Vader (sexy voice by James Earl Jones) revealed that he was actually the father of Luke.. I was more stunned by the dismembered hand from the light saber attack...Talking about light sabers, they are just florescent lamps with anti-heat handles...

Then come the prequels in 1999 with Episode I: "The Phantom Menace", sounds very menacing but the only malice creature was Jar Jar Bink which irritate many (except me) throughout the show... That show was pale as compare to its predecessors but it did spawn tons of merchandies which made up for poor box office showing... Then came Episode II:"The Attack of the Clones", I completely skipped this one and did not miss it altogether... I think a lot of fans were looking for some redemption with this last episode in which Anakin Skywalker (Hayden "should be a Scandanavian" Christensen) complete his transformation into the sinister Darth Vader...and a classic duel with Obi wan Kenobi (Ewan "Come what May!!" McGregor) to be follow by... But seriously i still feel no hype about this even if they are showing it free on local TV, that's why I rejected Chan's kind invitation to a movie outing on next Friday, the 20th without a second reconsideration...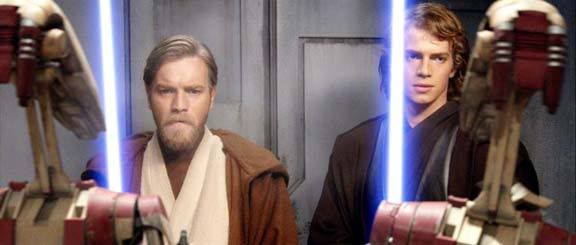 The most anticipated duel of the year other than Jennifer Aniston & Angelina Jolie

I know I would really offend some hardcore Star Warroirs (I guess that's how you call them, since fans of Star Trek are known as Trekkies)...but I would choose "Lord of the Rings" anytime.... and yes Sauron would kick Darth Maul's ass anytime....


Japanese word of the day: スター ウォーズ ~su-ta wo-zu~ (Star Wars) Yes even the Japanese are crazy over it!