All Lined Up
3rd October 2005, Monday
One start of the week in a long while which I don't feel lerthagic to kick start everything. However for once, Bobby was ahead of me to arrive to work as my time at the loo took a bulk of my preparation time...
We had a couple of attachment students over here and from our supervisor they are just in a long series of attachement students our lab would be taking in, as she hopes that they could be a short term fill-in for the departing BY in terms of manpower... However from the girls at the rate things are going now, with YM and Bobby around, they should be enough hands to settle the daily project stuffs even if BY was to leave in a fornight's time while JxMMy & myself are good enough to take care of the service side.
So guess how I spent my Sunday when my lass did not pay a visit due to her own obligations..?
I played "Dungeon Siege II" the entire day and I could now safely say I am sort of addicted to it..Thanks CS, for ruining all my planned schedules..sigh..Psst..if you are reading this, perhaps my days of joining you in "Guild War" should be sooner..heeheee
ahem..anyway the game which we used to known as "Dungeon Shit" was pretty ok at first but got really captivating as I entered "Act II" and some interesting secondary quests that got my head cracking on what to be done, in accomplishing them would give me a sense of satisfaction which I haven't had for a while since I don't do gaming as much these days..sure a great way to heal that all-wrecked ego of mine... especially when I used cheats and trainer and yet I managed to be defeated....damn
But one thing was very true from the IGN's review is the haunting soundtrack & sound effects which is top draw...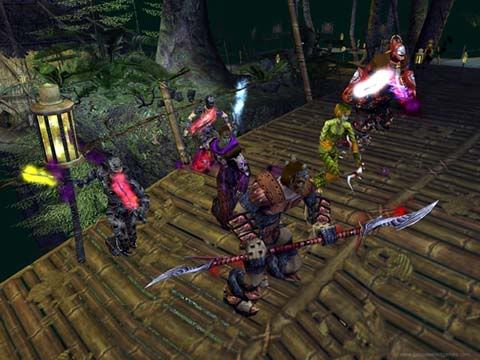 This is the culprit to make me discard all my other plans

But wait before been caught into such unwanted wrath, I was supposed to accomplish a hefty list of tasks:
1) Do my online travelouge...one of the few things I had managed to accomplish, all except the online part as I am in douldrums whether to get a domain that wouldn't failed on me and by using ftp, should at least make uploading thousand over JPEG files a breeze
2) Work on my travel video, this I kept procrastinating... firstly from waiting for my new PC to set up to correcting my DVD writer error..now everything is ready to go, but I do not feel inspired enough to edit that 2 hour plus of video taken during my Japan trip which I did back in 2003 in a matter of days despite using a muc inferior PC and having to edit 5 hours of stuff back then..one word..I had grown lazy...
3) Uploading pictures and reviews of my toys collections... Actually I am quite eager to go back to my vibrant days of doing my toys review, but once again securing a permenant domain seems like the stumbling block and that kills a bit on the enthusiasim. But I could see myself getting back to do that once I had settled my travel video which leads to the point of when I would be finishing my video...crikeys....anyway if I am to do a single review a day I think I had collections enough do reviews for a good 4 to 5 months...double crikeys...
4) Finish watching all the anime I had. I had watched 20 episodes of Gundam Seed DVD borrowed from Chan...not Seed Destiny but the 2003-2004 prequel and I couldn't relate to anyone in that show... as I find the lead, Kira Yamato, a whiny sleazebag who wouldn't think twice to sleep with his best friend's women (alas Rick Springfield) and the story about the war between the naturals and coordinates aren't too appealing to begin with... luckily the dames in the show are quite sweet and i think I would continue watching and see how this series managed to left many in spellbound...
Beside that I still had plenty of other series to catch up:
Wolf's Rain, TW gonna kill me as he had lent me this series way back in 2003 and I had only managed to watch 4 episodes. But look promising already. 22 more episodes to go
Samurai Champloo. Watched 3 episodes I was quite into the story (as of all Samurai/Ninja fare available) 23 episodes to go.
Fullmetal Panic. The original series, another one lent by TW back in 2003 and only felt I should watch for the purpose to enjoy "2nd Raid". 26 episodes to go.
Azumanga Daioh. I thoroughly enjoyed "School Rumble" and many said it followed the style of Azumanga so now I had to watch all 26 episodes of it to see whether that is true.
Cowboy Bebop. This Sunrise production is highly raved in the anime scene and I got both the series and the movie but yet find the time to enjoy it all.
Ragnarok the Animation. Always love RPG style storyline, got this and it looks promising, but not yet even begin to watch a single episode of the 26 episodes long series.
Naruto. Ferris lent me the entire 150+ episodes to date and thought I had the free time like Karen who could finish anime series in the matter of a night.
I still have episodes of "Basilisk", "Trinity Blood", "Kamichu!", "He's my Master", "Ichigo Mashmallow", "Tsubasa Chronicle", "Bleach", "Konjiki no Gash Bell" to be contempt with as well week in week out, so you can figure out why i am struggling with time management...And I still got the cheek for wanting to watch the likes of "Mai -Hime-", "Tenjo Tenge", "Berserk", "Eureka Seven", "Erementar Gerard" etc...shame on me
5) Planning for my life...yes the big M thingie..got to start planning now especially the full budgetting 'cos I am not born with a silver spoon in my mouth with wealthy parents to cover my entire expense and should emulate a university mate of mine, Bernard who had started planning since his college days and did not think twice to commit 60K for his whole wedding get-up ..cool but I rather spend a huge portion of that on re-decor my place.. well really have to sit down and do proper planning with my lass soon...

Once again I was hoping to have 48 hours a day for me to utilise but by then I would most probably indulge 47 of it on playing my "Dungeon Shit"....heehee


Japanese word of the day: 怠け者~na-ma-ke-sha~ (Lazy) to start on my video editing project