Wrecking Once More
14th May 2006, Sunday

It's Mother's day SUnday but my mom was no where in sight since I had woken up this morning.

I doubt I had slept like more than 7 hours for the past long weekend especially when my buddies "dawned" over my place on Friday evening.I am not sure whether I would have enough energy to endure a full 5 days working week next which most probably sees me tendering my resignation...

My lass should be busking in the remnants of ancient Rome at the moment, and would be glad that my buddy had brought back an electronic Japanese dictionary/ translator on her fervent request...

So with his sister's marriage solemnization on Vesak morning, my buddy made a long-awaited return to his home country for a long while and we took this golden opportunity to meet up with CS as well.

After spending the bulk of Vesak Day home-bound to rush up some updates for my webpage as it been the number 1 item on my weekend agenda, CS came over to pick me up after a much delayed at work (yes that slave-driving company of his coerced him to return to work on yet another public holiday). A good 20 minute to TW's new place at Telok Kurau near Eunos and we caught up with our Osaka-based game artist friend, once more with a unkemped hair-do to match his personality and profession.
Throughout our journey our insufficient knowledge of the surrounding area shows when we kept going the wrong way.
Eventually we came to Lorong G of this high end residential area lined with 3-storey bungalows with high fences and were duly greeted with the newly weds as well as the rest of the family whom I had yet seen as well for a long time.
And yes they still got that concept that I might be moonlighting as the gay partner to my buddy despite the blatant fact that there was a wedding band visibly on my finger.

After a buffet dinner where CS was gorging himself with oily otah and gallon of yam paste (which I only knew is a delicacy he had a soft spot on), we drove back to my place for a night of "confession" as we expected CS would do... Of course before that along the journey he would give a rather grotesque description of how a fellow colleague of his just lost 4 fingers in a freak accident to prepare the place for an impending visit by their CEO...which is totally unnecessary.

As expected the guys were awe-struck to see my display cabinet in the living which CS was quick to point out that it should have spread through the entire length of the wall, yeah he was walking on a thin line there...
More comments on my newly set-up master bedroom with more constructive ones instead of
disparaging ones...
Despite it's in the middle of the night and all of us had a long day, the reunion of the wrecking crew can never be lack of silly stunts for the camera to commemorate the occasions as seen below: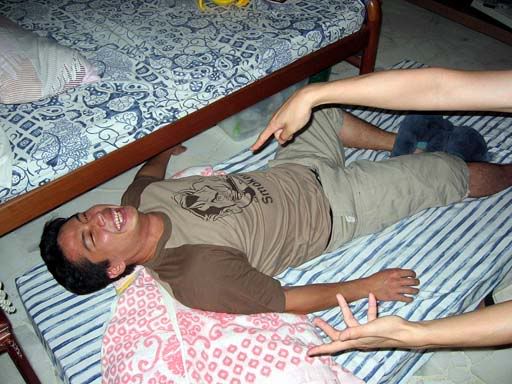 Over the course of the next few hours while worrying about the expiry of his parking coupon as well as constant checking (more like hounding) from his family as well as girlfriend, CS made a earth-shattering confession upon persistant cajoling by both of us as if he could not share with us. who he should be feeling safe with, he would have to coop inside himself for the rest of his life...
Of course I had made the right hypothesis months before and it is crazy it became true..
Due to the senstive nature, I felt it's better kept a secret till my vexed friend would be able to resolve eventually at his own will.
However his narration is out of the conventional mundane lives we usually lead, thus we always love for the unpredictable CS to dish out his stories at regular basis...
Wish we could do more than giving him mere advices.

On the lighter note, we went down the memory lane as we recollect some the interesting incidents which we are glad to be part of our memories and particularly we had experienced it together.
We even open the vault of TW's bleak love life.

It was a shame that CS had to leave by around 3 am with the fact that he needs to go back to work in hours time.
After he left, we contnued to ponder about that massive news he just shared with us moments before and what repercussions it would bring.

TW duly left in the morning after some delicacy my mom had served for my closest friend in my life whom she had not seen for a while now as well.

I was thinking I would spend a rare Saturday solely at home with the sky been gloomy the entire day and I was decimated with "空虛感(spiritual emptiness)" after watching " I"s" episode 4 when the male lead finally confessed his love for the female lead...
I got SMS from Tay-chan that an item he had bidded for me from Japan yahoo auctions had arrived and I left after dinner with La Tendo my desitnation by early evening.
I met a departing Karen along the way and Bryan was there but no sign of anyone else till Ferris came later.
A Nagoya-based toy supplier was here in town and I had a friendly Japanese conversation and was pleasantly surprised that we could hold one for more than a minute.
I left at around 7 plus as I took MRT few stations down from Bugis to Eunos and felt my topo skill surely had risen considerably by managing to make my way to TW's house after been there the day before only.

After a conversation with him with regards with how his immediate would be once his stint with Capcom ending in July, his father then sent him to Changi Airport Terminal 2 for his flight at the unearthly hour of 1 am.
By mere coincidence, the Nagoya toy supplier I was chatting a while back too was departing at the same time and was been sent off by the likes of Vincent, Tay-chan, Miyano and even Chan whom had met him during their winter Wonder festival trip.
It was close to 1 when TW's parent sent me home in their new Toyota MPV and I complete my weekend marked with a precious time with my buddies by reminiscencing the travel video of our 2000 "Tokyo Wrecking" trip... sure is rolling good times with out the big-haired Lauretta Alabones...


Japanese word of the day: 回想~ Kai-sou~(Memories) Unearthing the happy onese together...