Put your name on the Paper!
16th June 2005, Thursday
Yes...it's only Thursday...and my yearning for the weekend grows even larger...well just 48 hours more to go...
Today got a call from the HR department to collect my new contract extension as the previous 2 year contract is up in a few months time...
Well this would be my 2nd extension and the last extension I remember having a pay hike but not so this time as informed by my colleague, LF about her own extension a year back...
I am also pleasantly surprised that after my little episode with the "illegal exploitation of company's network", they still "treasure" me as a efficable staff.
Well as expected no pay rise and no increase of paid annual leave days, and just a mere 2 years' extension (unlike LF's 3 years extension)...
I always find such contract-based employment is advantageous for the company as if they want to retrench you, they'll just wait for your contract to run out and need not pay a single dime of retrenchment fee..although we still have some fellow colleagues who have work 8 years or more still bound to the old "permenant contract" basis....such as BY and JxMMy...
Didn't waste too much time to ponder about my contract unlike Rio Ferdinand at Manchester Utd, as I got it done by the afternoon and submitted back to the HR department before the 10 days grace they had given on the contract itself...
With employment assured for the next 2 years, I could actually take a breather and plan for bigger events such as one of holy matrimony...and perhaps an inquest for greener pastures...
"Batman Begins" actually begins (sorry about the pun) today but somehow the entire frigging world have already watched it and put their comments on the forum (perhaps some Mainland China Friendly edition)...
This Christopher Nolan's vehicle actually depicts how a youthful Bruce Wayne slowly assume the dark knight of Gotham City whom villians love to loathe, the one and only Batman..
Starring a relative unknown actor in the lead role of Wayne, Christian Bale who is famous for "American Psycho" as well as the voice of Howl in the English version of Studio Ghibli's "Howl's Moving Castle" as the brooding hero and he sure looks good in the Bat suit and perhaps a better actor than his predecessors...
The cast is completed with the likes of Katie Holmes (Tom Crusie's current squeeze) as Wayne's love interest, Morgan Freeman (yes the same Vincent the Vegetable Vampire from "Electric Company"), Micheal Caine as Alfred (no better choice than this), Liam Neeson (still think he looks like a younger Harrison Ford), Gary Oldman (if he can't portray a villian, no one can) and Ken Watanabe (from "The Last Samurai") as Ra's Al Ghul...
Great cast, nice gothic backdrop, good directorship and a hefty budget to blossom an action-packed blockbuster, this 5th instalment of the theaterical features of Bob Kane's classic comic sure set to be the one blockbuster you cannot miss in 2005... (don't even begin to give me the Star Wars crap)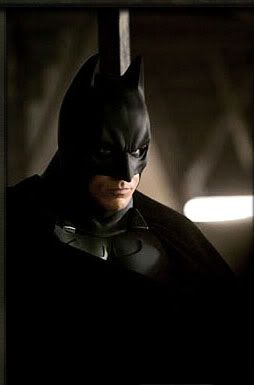 Bring on Keaton's, Kilmer's and Clooney's asses, I'll kick them all at once!

After a tussle about who would be the organiser for the "Batman Begins' movie outing, in which Eng Kiong was touted to be the one, Chan finally step into the role he fits to a "T"...so I'm anticipating a cool Saturday evening blockbuster get-together...woohoo...


Japanese word of the day: 契約 ~kei-ya-ku~(Contract) Relief to get an extension